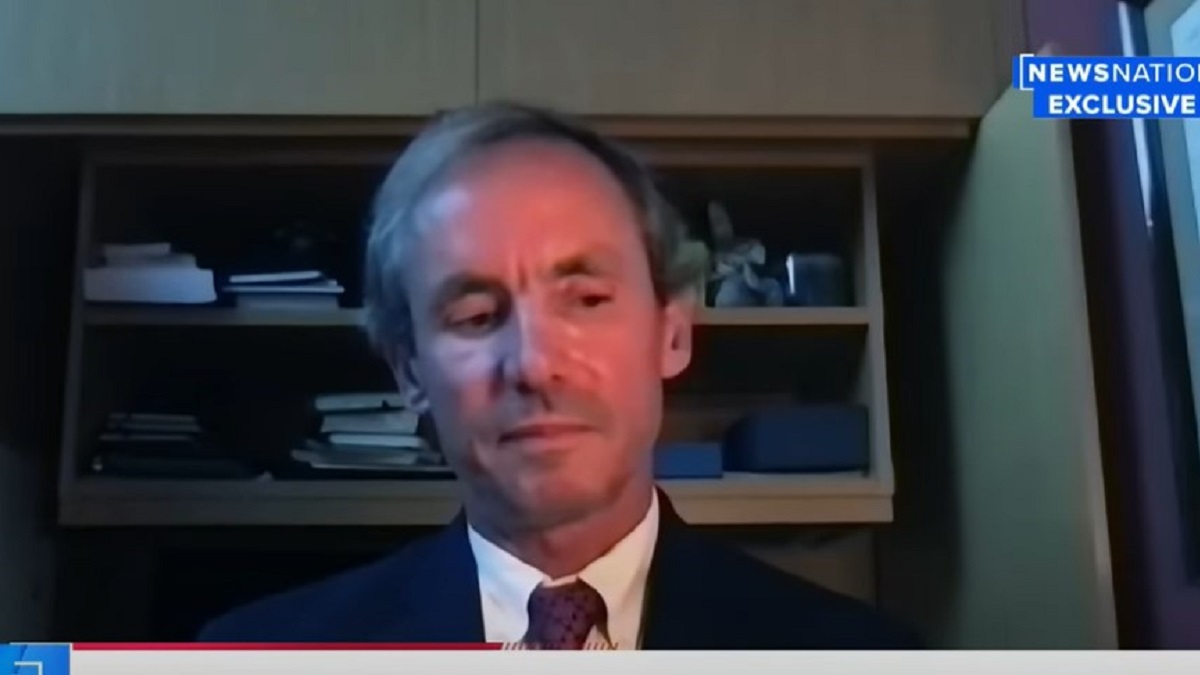 Former intelligence official said UFO whistleblower David Grusch will provide new info public has not heard before at congressional hearing. Pic credit: NewsNation/YouTube
Christopher Mellon, a former deputy assistant secretary of defense for intelligence, said that people should expect new revelations from UFO whistleblower David Grusch during the congressional hearing slated for Wednesday (July 26).
He said the former intelligence officer will likely "provide some new information that we have not heard before."
Defense officials confirmed government has alien technology
Mellon, who severed under Presidents George W. Bush and Bill Clinton, told NewsNation's Chris Cuomo that top defense and intelligence officials he spoke with confirmed Grusch's allegation that the government recovered crashed UFOs of non-human or extraterrestrial origin from crash sites.
The comments by the former senior intelligence official come after Paranormal Papers reported that the House Oversight Committee named David Grusch, David Fravor, and Ryan Graves as witnesses at the upcoming UFO hearing.
[Learn more about the three witnesses here.].
According to NewsNation, Mellon helped bring them forward to testify.
UAPs are violating American airspace
Mellon told Cumo that the hearing would give Americans insight into why some in Congress believe that the issue of UFOs violating American air space is of topmost national security concern. It will also let people appreciate why the members of Congress have been pushing for government transparency on UAPs.
He added that Americans will hear more disclosures about allegations that the military and intelligence agencies are in the custody of alien technology.
Govt recovered alien UFO from Italy during World War II
Mellon told Cuomo that he believed Grusch's claim that the U.S. recovered a partially intact UFO from Italy during World War II.
Grusch told NewsNation and Le Parisien that he learned from intelligence sources that the U.S. obtained a bell-shaped flying saucer about 10 meters across from Italy in 1944.
The alleged UFO crashed outside Magenta, in Lombardy, northern Italy, in 1933. Benito Mussolini's men recovered it from the crash site near Milan and transported it to a hangar near Vergiate operated by the aerospace company SIAI-Marchetti.
Mussolini then established a research group, the Gabinetto RS/33 (Special Research Cabinet 33), to study and reverse-engineer the craft.
He appointed the famous inventor and Nobel Prize winner Guglielmo Marconi to head the project.
According to Grusch, the Vatican got wind of the secret project, and after the fall of Mussolini's regime in 1943, Pope Pius XII tipped off the U.S. government about it.
The pope allegedly helped President Roosevelt retrieve the UFO in 1944.
Mellon reportedly leaked Pentagon UFO videos
Multiple media sources identified Mellon as the official who leaked three Pentagon UFO footages to the media in 2017.
Paranormal Papers reported that the three Pentagon videos, the FLIR, GIMBAL, and GOFAST videos, contain footage from the encounters of Air Force pilots with UFOs during training missions.
The FLIR video, for instance, shows the case involving Lt. Cmdr Alex Dietrich (ret.) and Navy Cmdr David Fravor (ret.), former commanding officer of the Black Aces (Strike Fighter Squadron 41/VFA-41).
The two fighter pilots encountered the so-called Tic-Tac UFO during a training mission with the Nimitz Carrier Strike Group off the San Diego coast on November 14, 2004.
The video shows the UFO descending from 80,000 feet to 20,000 feet within a second and hovering before disappearing.
A second UFO footage, the GIMBAL video, shows a 2015 incident involving former Navy F/A-18F Super Hornet pilot Ryan Graves.
Graves's UFO encounter occurred over the waters off the East Coast. His unit, The Red Rippers (Strike Fighter Squadron 11/VFA-11), was deployed on board the USS Theodore Roosevelt (CVN-71) as part of Operation Inherent Resolve.
Pentagon denies whistleblower allegations
The Pentagon has denied the allegations by Grusch and other UFO whistleblowers that the military is in the custody of alien technology.
Dr. Sean Kirkpatrick, director of the All-Domain Anomaly Resolution Office (AARO), told Congress in June that his agency had no evidence that the authorities retrieved extraterrestrial technology from crash sites.
DoD spokesperson Sue Gough also told NewsNation that they did not have any information confirming whistleblower claims that the government is running a secret UFO retrieval and reverse-engineering program.