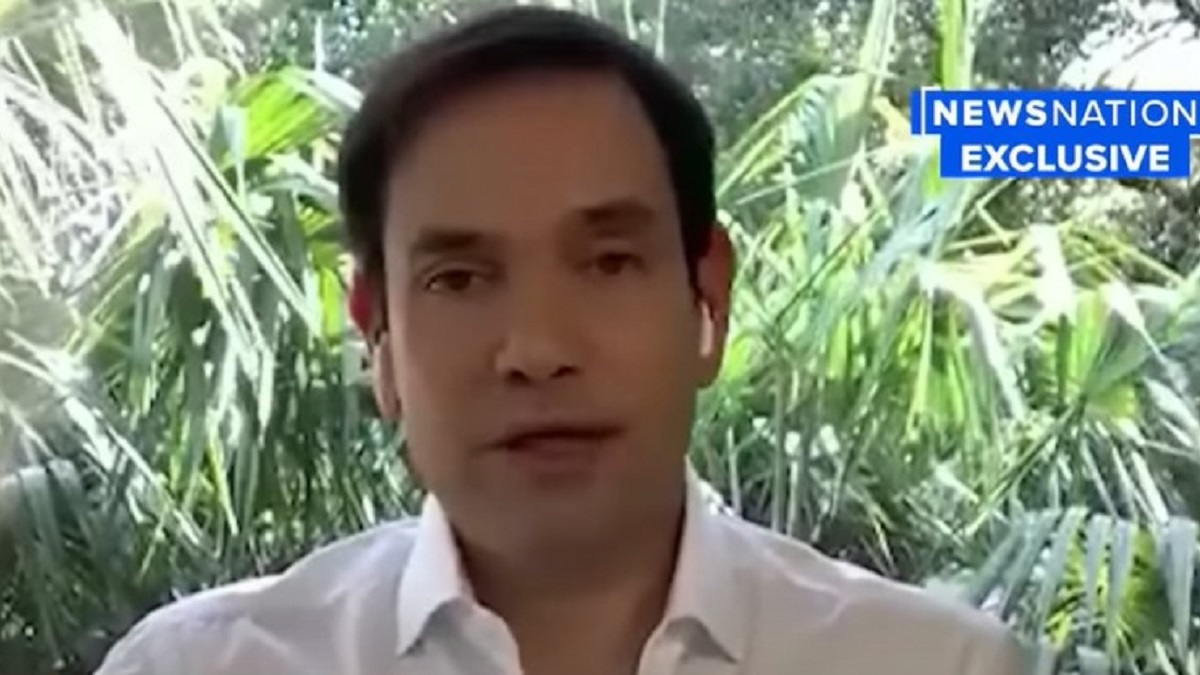 Senator Marco Rubia says other UFO whistleblowers have come forward. Pic credit: via NewsNation/YouTube
Republican Senator Marco Rubio has said that UFO whistleblower David Grusch is not the only former official to make allegations that the government ran a secret alien UFO retrieval program.
The Senator from Florida told NewsNation that others came forward to share first-hand accounts with Congress (see video below). He added that some were senior officials with high-level clearances.
Rubio serves as vice chair of the Senate Select Committee on Intelligence investigating recent claims that the U.S. government secretly retrieved UFOs from crash sites and ran an alien spacecraft reverse-engineering program.
So he is privy to information that UFO whistleblowers shared with Congress.
The House Oversight Committee is also reportedly investigating the recent allegations of alien technology retrieved from crash sites.
Congress now has first-hand accounts
NewsNation's Joe Khalil, who spoke with Rubio, noted that Grusch admitted he was only a second-hand witness sharing information he obtained from others.
However, Rubio told Khalil that some of the former officials who came forward after Grusch's explosive interview with the news outlet included people who were first-hand witnesses. Some of them were also public figures.
The latest development comes after Paranormal Papers reported that Republican Senator Josh Hawley accused the government of concealing UFO sightings from the public and urged Congress to investigate whistleblower claims about a secret crashed UFO retrieval program.
Paranormal Papers also reported that an MP for Manitoba (Brandon-Souris), Canada, said his country and its Western allies recovered UFOs from crash sites and analyzed them for reverse-engineering purposes.
UFO whistleblowers were fearful of harm coming to them
Rubio did not name any top official who came forward. He also did not delve into the details of their accounts. He said he wanted to protect them because some still work in the government.
The senator explained that people have been sharing information over a "couple of years" and that some were likely the people Grusch talked about in his media interviews.
However, many feared their decision to talk with Congress could negatively impact their lives and careers. Some were reluctant to share more details because they feared harm could come to them.
"Frankly, a lot of them are very fearful… fearful of their jobs, fearful of their clearances, fearful of their career… and some, frankly, are fearful of harm coming them," Rubio said.
Responding to Khalil's question whether he considered the whistleblowers credible, Rubio said he and his colleagues in Congress tried to avoid prejudgment.
"Well, I don't find them either not credible or credible," he said. He added that the claims were "beyond the realm of what any of us has ever dealt with."
He explained that they only tried to absorb the information and put the pieces together. However, because many whistleblowers held very high positions and clearances, he did not see why they would come forward with false claims.
Grusch claimed government retrieved alien UFOs
During his recent interview with NewsNation and The Debrief, Grusch claimed that the government retrieved "non-human origin technical vehicles."
"Call it spacecraft if you will," he continued, "[they were] non-human, exotic origin… vehicles that either landed or crashed." (See video below).
When NewsNation asked whether he meant that "we have spacecraft from other species," Grusch answered, "we do."
Grusch, 36, worked with the National Geospatial-Intelligence Agency (NGA) and the National Reconnaissance Office (NRO).
According to NewsNation, the government currently runs an unidentified aerial phenomenon (UAP) task force, the All-Domain Anomaly Resolution Office (AARO), under the supervision of the Office of the Secretary of Defense.
The AARO investigates UFOs.
Pentagon denied the UFO whistleblower allegations
However, despite reports that high-level government officials came forward with information about retrieved alien spacecraft technology, the Pentagon continues to deny it.
A Department of Defense spokesperson Sue Gough told NewsNation that the department did not have "any verifiable information to substantiate claims that any programs regarding the possession or reverse-engineering of any extraterrestrial materials have existed in the past or exist currently."