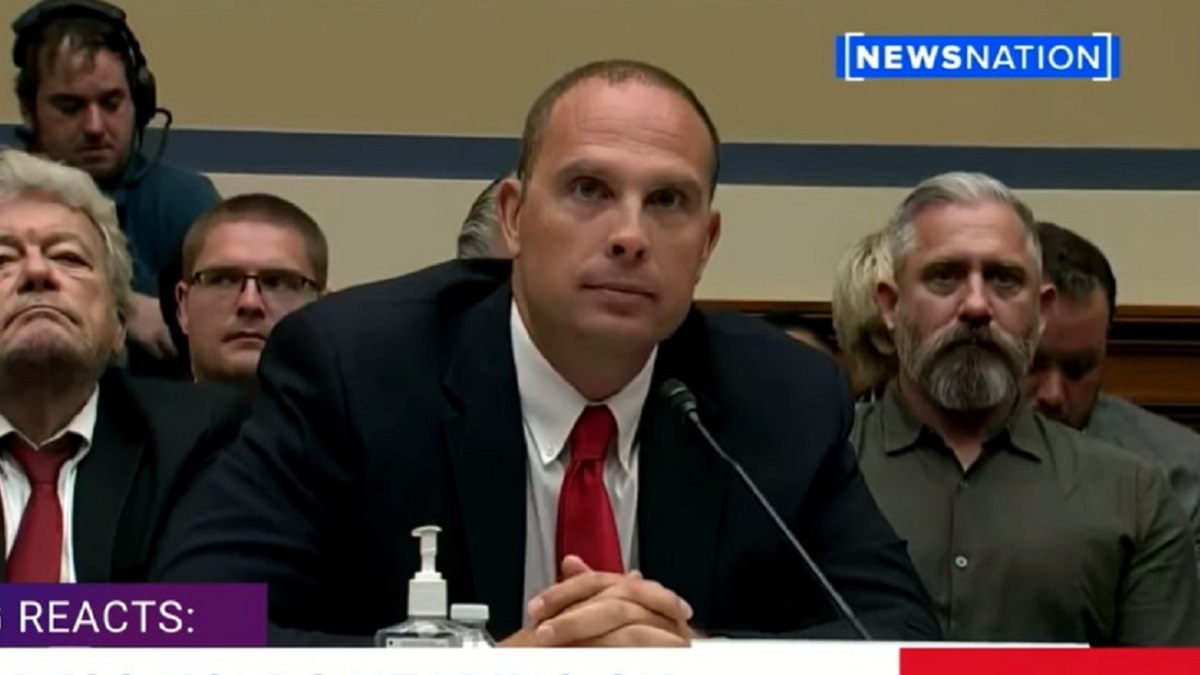 UFO whistleblower David Grusch claimed the government recovered "non-human biologics" from crash sites. Pic credit: The Hill/YouTube
On Wednesday (July 26), UFO whistleblower David Grusch testified under oath alongside former military pilots David Fravor and Ryan Graves at the House Oversight Committee hearing on UFOs.
The former intelligence officer once again reaffirmed some of the explosive claims he made during his NewsNation interview with investigator Ross Coulthart.
He claimed that officials involved in the alleged secret UFO retrieval program said "non-human biologics" came from crash sites.
Who were the witnesses at the hearing?
Grusch is a former intelligence officer. He was a Senior Intelligence Officer and representative of the National Reconnaissance Office (NRO) to the Unidentified Aerial Phenomena Task Force. He was also a Senior Technical Advisor for UAP analysis with the National Geospatial-Intelligence Agency (NGA).
Navy Cmdr. David Fravor (ret.) was the commanding officer of the Navy's Strike Fighter Squadron 41 (VFA-41), also known as the Black Aces.
Graves is a former Navy F/A-18F Super Hornet pilot.
[Learn more about the witnesses here.]
Govt has "non-human biologics" from UFOs
Congresswoman Nancy Mace asked Grusch whether he believed the U.S. contacted extraterrestrial intelligence.
Grusch said he could not discuss specifics about it.
Mace then shifted her inquiry to crashed alien craft and bodies allegedly recovered from them. She asked whether the government recovered alien bodies from crashed UFOs.
Grusch answered that he had previously stated in his interview with NewsNation that "biologics" came from some UFOs recovered from the crash sites.
The Congresswoman from South Carolina asked whether the "biologics" were human or non-human.
Grusch answered that, in the opinion of individuals with knowledge of the recovery programs, the recovered bodies were non-human.
Mace inquired whether the dead alien pilots were documented through photos, videos, or eyewitness accounts.
Grusch anwered he could only talk about the specifics in a Sensitive Compartmented Information Facility (SCIF).
John Greenwald Jr., the UFO investigator who runs The Black Vault website, told The Hill that Grusch's claim that some of the recovered UFOs had alien pilots was explosive.
However, since his testimony was only second-hand, his sources and officials with firsthand knowledge needed to come forward.
People harmed in efforts to protect UFO secrets
Representative Tim Burchett asked him if he had any personal knowledge that people were harmed or injured in efforts to conceal UFO secrets.
Grusch answered that he had personal knowledge of people who suffered harm.
When asked whether he knew of people who were murdered, Grusch said he had to be careful about how he answered the question. He said he directed officials who knew of such incidents to the appropriate authorities.
Paranormal Papers reported that Coulthart claimed that Grusch alleged people were murdered to protect UFO information.
Grusch also claimed that non-human intelligence may have hurt or killed humans.
During the NewsNation interview with Coulthart, Grusch said he learned from sources that aliens were responsible for "malevolent events" and that they may have killed humans.
He also claimed the authorities did "un-American things" to protect its UFO secrets.
Experts studying UFOs suffered injuries
Grusch also told NewsNation that people handled alien technology at considerable risk to their safety.
He said experts studying and analyzing UFOs for reverse-engineering purposes suffered injuries due to "nuclear, radiological and biological risks."