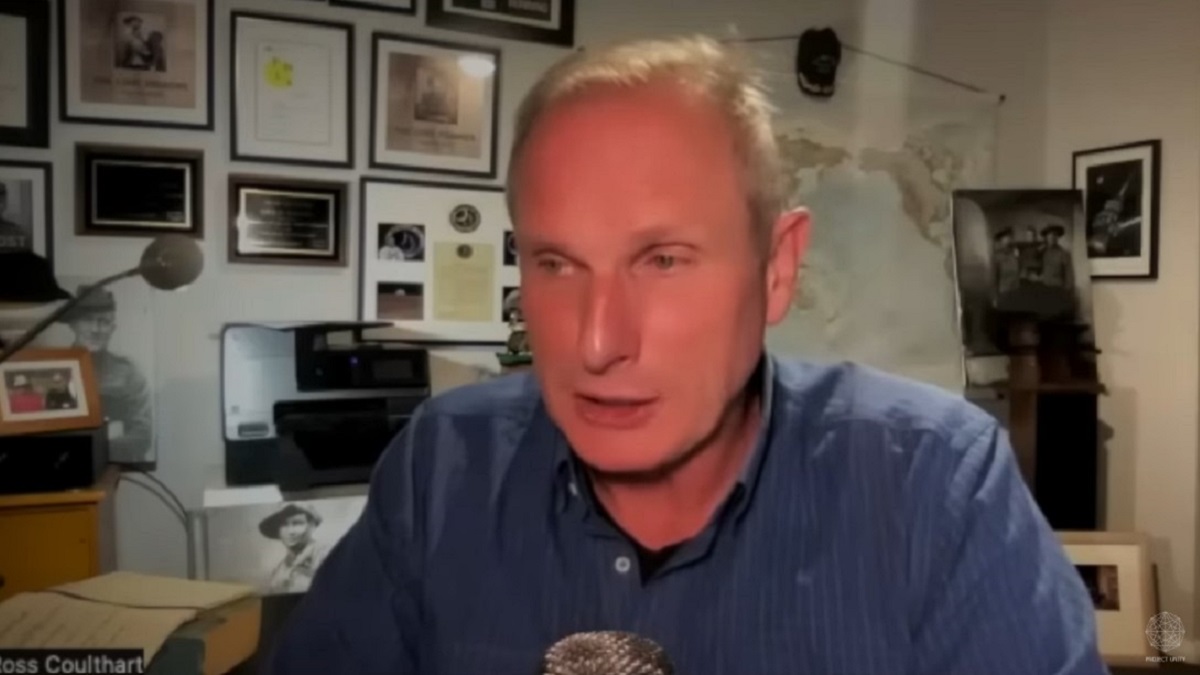 UFO investigator Ross Coulthart alleged that the government built a structure to hide a giant UFO they couldn't move. Pic credit: Project Unity/YouTube
UFO researcher Ross Coulthart claimed the government discovered an alien UFO too big to be moved. So instead of trying to move it, they erected a structure to conceal it.
He added that the structure is a landmark in a country outside the U.S. But unknown to the world, the authorities built it to hide a giant alien spacecraft.
Coulthart's latest sensational claim comes after he conducted NewsNation's explosive interview with whistleblower David Grusch.
Coulthart: UFO 'so big it can't be moved'
Coulthart made the shocking claim during a conversation with Project Unity host Jay Anderson on YouTube (see video below from 2:00).
They were discussing recent moves by the U.S. Congress to pass bills to ensure that government agencies cannot fund secret UFO programs without the approval of Congress.
During the conversation, Coulthart mentioned a new bill that requires agencies in the custody of exotic material to make it available to the All-domain Anomaly Resolution Office (AARO) within six months.
Anderson commented that allowing government intelligence agencies six months to make newly retrieved alien technology available to the AARO only gave them time to hide it.
Coulthart paused before announcing he was about to share information that many viewers would doubt.
"What if [the UFO] is so big it can't be moved?" he asked Anderson.
Anderson wanted to know whether he was sharing new information or merely hypothesizing.
Coulthart responded that he was relaying information from sources he considered reliable.
Giant UFO too big to be moved is in a country outside the U.S.
Anderson wondered how a UFO could be so big that they couldn't move it.
Coulthart reassured him that he learned from reliable sources that it was so big they couldn't move it to a storage site. So they had to construct a structure to hide it from sight.
Coulthart claimed the alien spacecraft was in a country outside the U.S. However, he did not say whether the country was an ally of the U.S. He also did not say whether the U.S. was involved in securing it in a foreign territory.
But he challenged skeptics, suggesting that they support a full congressional investigation if they wanted to disprove allegations about UFO phenomena.
He assured viewers that bombshell revelations would follow.
Coulthart knows where the giant UFO is
Coulthart then said he knew exactly where the alleged giant UFO was.
"Imagine having an object so big it is not even conceivable to move it," he said.
Anderson replied that he could not comprehend it.
The researcher said he also did not believe the story when he first heard it. But he was sure the truth would come out.
Speculation on social media
Coulthart's sensational claim about a global landmark structure hiding a giant UFO sparked online speculation.
Enthusiasts suggested many possible locations. The most popular was South Korea.
Coulthart interviewed Grusch for NewsNation
Coulthart conducted the explosive NewsNation interview with Grusch in June.
During the interview, Grusch, a former intelligence officer, claimed the U.S. and its allies ran a UFO retrieval program for decades without the knowledge of Congress.
He alleged that the program retrieved multiple partially and fully intact UFOs from crash sites. He also alleged that the governments of many countries worked on reverse-engineering UFOs for military purposes.
Paranormal Papers reported that the U.S. Congress is investigating Grusch's claim. The House Oversight Committee has reportedly scheduled a hearing on UFOs for late July.