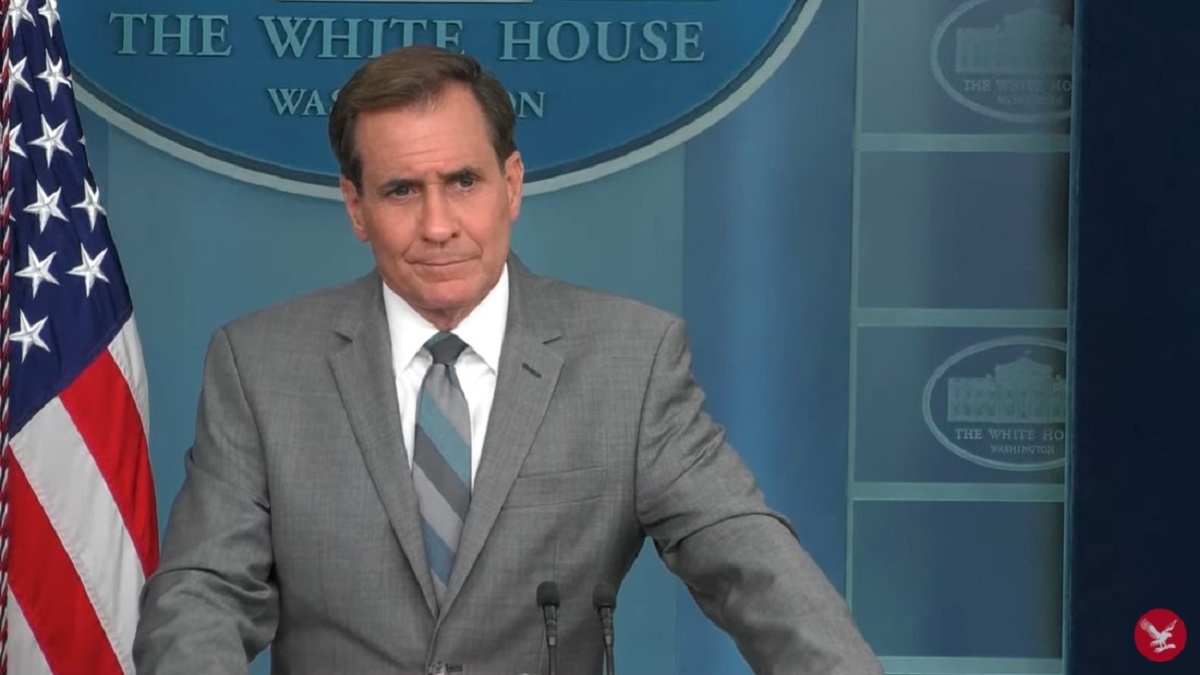 Rear Admiral John Kirby (ret.) admitted that UFOs are impacting the training of military pilots. Pic credit: via The Independent/YouTube
White House National Security Council spokesperson Rear Admiral John Kirby (ret.) admitted during a recent press briefing that UFOs are impacting the training of fighter pilots.
While speaking with media representatives on Monday (July 17), Kirby, the National Security Council's Coordinator for Strategic Communications, said the government believed the issue of UFOs is relevant to national security.
He added that the Biden administration considered it a "legitimate issue."
Is the Biden admin committed to transparency about UFOs?
Kirby first responded to a question about the level of transparency the administration was willing to commit to regarding UAPs (also known as UFOs).
A media representation posed the question in the context of the House Oversight Committee's scheduled hearing on UFOs and Senate Majority Leader Chuck Schumer's proposed legislation to declassify UFO files.
Kirby declined to comment on Senator Schumer's proposed legislation, noting that Pentagon was already committed to transparency. He affirmed that the administration wanted to be transparent with Congress and the people without compromising national security.
Does the administration consider UFOs a legitimate issue?
Another media representative asked whether the administration believed that the UAP phenomenon was a legitimate issue after more than six decades of downplaying it.
Did the administration believe that getting to the bottom of the UFO question was of concern?
Kirby answered that the government took the question seriously. He said Pentagon and other agencies wouldn't collect information and analyze UAP reports if the government did not take them seriously.
UFOs are impacting pilot training
He then went on to say that UFOs were impacting the training of U.S. military pilots.
"Some of these phenomena, we know, have already had an impact on our training ranges," he said.
The former Navy officer explained that when military pilots train in the air and see UFOs but don't know what they are, it compromises their effectiveness.
The fact that pilots need to prepare for encounters means that UFOs impact military training.
But he cautioned that while the government was taking UAPs seriously and trying to better under them, they were not saying they knew what they were. They only meant that pilots were seeing them. So they needed to take them seriously and try to understand them.
He then declined to answer a question about whether he believed whistleblower allegations that the government was in the custody of alien spacecraft and bodies.
Senator Chuck Schumer introduced bill to declassify UFOs
Kirby's admission comes after Senate Majority Leader Chuck Schumer led a bipartisan group of senators to introduce legislation establishing a nine-member commission to review UFO files for declassification.
The bill promotes transparency amid growing concern that officials are concealing critical information about extraterrestrial intelligence. It also grants the federal government eminent domain over alien tech and biological evidence of non-human intelligence.
Many observers see the sections of the bill that address the status of "technologies of unknown origin (TUO)" and "non-human intelligence (NHI)" as an acknowledgment that government and private military contractors may possess retrieved alien tech and bodies.
Paranormal Papers reported that a new poll conducted for Newsweek on July 6 found that 57% of 1,500 eligible U.S. voters believed the government was covering up UFO information.