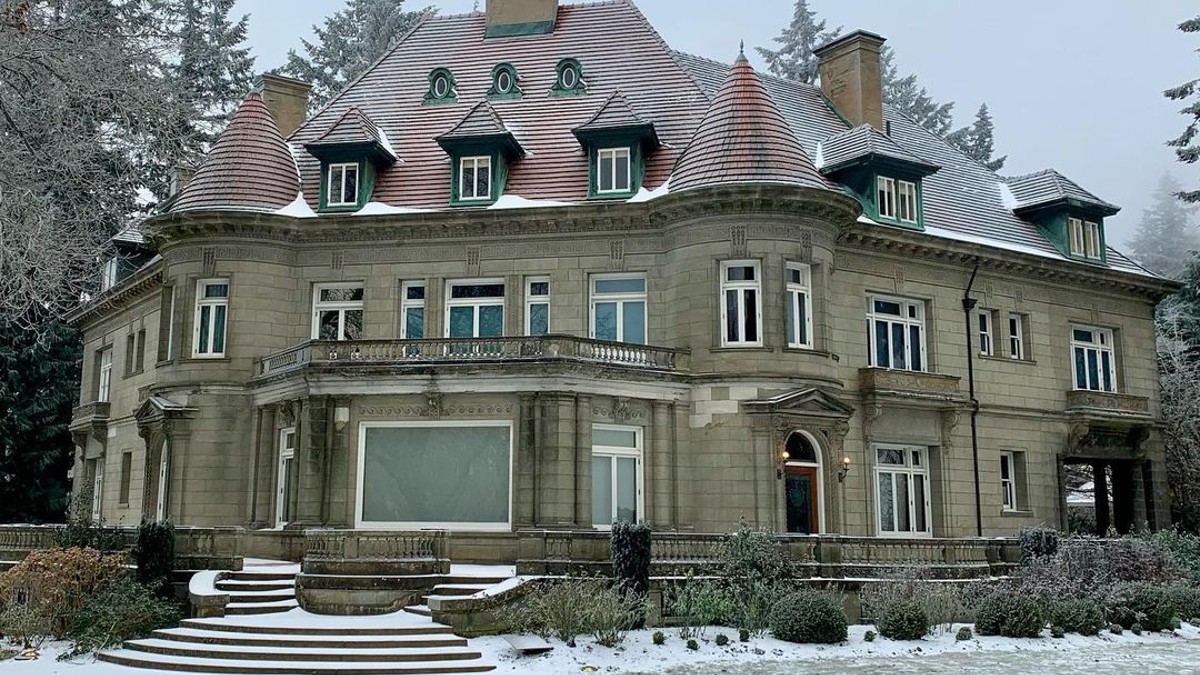 Pittock Mansion is located on a 46-acre estate 1000 feet above Portland, Oregon. The building is thought to be haunted by the benevolent couple who built it.
History
Built by Henry Pittock in 1914 as a place where he and his wife, Georgiana, could retire, Pittock Mansion was a very progressive design for its time.
The architect and builder was a forward-thinking man called Edward T. Foulkes. Instead of having traditional hallways with rooms off them, the rooms were accessed via a central spiral staircase and the hallways were round instead of straight. Think of the spokes of a wheel and you will get the idea.
The mansion was technologically very modern, with a central vacuum system, an internal phone system, and individual room thermostats. The building was designed to be cooled by the morning air, meaning there was no need for fans to cool the building in the summer.
Local artisans produced the fixtures and fittings using fine materials such as marble. The design emulated the French Renaissance, English Victorian, and Turkish design styles.
Henry Pittock was a self-made man. Although he grew to be extremely wealthy, he retained his social conscience and was known to be a very progressive man. He and his wife were great philanthropists and engaged in a lot of charity work.
Georgiana was passionate about improving the lives of Portland's women and children and founded The Ladies Relief Society in 1867. This society went on to create the Children's Home, which looked after poor children.
Georgiana passed away in 1918, and Henry followed her a year later. Pittock Mansion stayed in the family and was used well into the 1950s.
In 1958, the family concluded that the mansion had become too much for them to maintain. The building was put up for sale, but no buyer was found. Then, in 1962, a great deal of damage was caused by the Columbus Day Storm and the interior was exposed to the elements for eighteen months.
The situation became so dire that the building was almost sold to developers, which would surely have meant that the beautiful mansion would have been knocked down to make way for new buildings on the prime piece of land.
Instead, local people raised money and managed to help the city of Portland to buy Pittock Mansion in 1964 at a cost of $225,000.
Opened as a museum in 1965 after extensive renovation, Pittock Mansion remains open to the public and holds a special place in the community's heart, as does the memory of Henry and Georgiana.
Cases
The Presence of Henry and Georgiana?
Innumerable visitors have said that they feel the presence of what is presumed to be Henry and Georgiana. The feeling is that the spirits or entities are at peace and are happy that the mansion has been restored to its former glory.
Some people have reported a feeling of being shown around the mansion, something a good host such as Henry would do.
Footsteps have been heard in different parts of the mansion, items have moved around the building seemingly of their own volition, and windows have been alleged to have opened and closed all by themselves.
A portrait of Henry as a young boy has been moved to different locations around the mansion – it is presumed to have been moved by Georgiana. The portrait is normally kept in a bedroom but will sometimes mysteriously move to another location.
Georgiana herself has been sensed in the mansion. She loved flowers and there is often a scent of roses (her favorite flower) in the air, even when there are no roses in the building. Whenever this scent is apparent, Georgiana is thought to be nearby.
Georgiana is said to have been seen in the reflection of a glass-fronted painting and as an apparition in the basement. In the latter case, the lady who reported the sighting had felt as if there was someone in the room with her. When she turned around, she saw an elderly woman standing next to her. The woman disappeared just moments later.
Tour guides have told tales of figures standing in various rooms on the ground floor before the museum opens up for business in the morning. Another frequently told story is that of the sound of heavy boots trudging in and out of the back entrance.
Got something to say about this case? Leave a comment or get in touch if you have new information or media you think we should add.
Videos
Photos
This slideshow requires JavaScript.
| | |
| --- | --- |
| Other Name/s | N/A |
| Address | 3229 NW Pittock Dr, Portland, OR 97210, USA |
| Location | United States, |
| Type | House |
| Activity reported | Haunting |
Where to find
Explore
In the media
The Haunting of Sarah Hardy (1989).
Unhinged (1982).
Links
Official Site
Instagram
US Ghost Adventures
References
hauntedhouses.com, "The Pittock Mansion Museum," accessed August 01, 2017,
ghostsandcritters.com, "Pittock Mansion," accessed August 01, 2017,
seeksghosts.blogspot.co.uk, "Portland's Pittock Mansion," accessed August 01, 2017.
Outside image of Pittock Mansion Pic credit: @pittockmansion/Instagram
Entry Details
Published
Last modified on March 22nd, 2023 at 2:31 pm
Comments