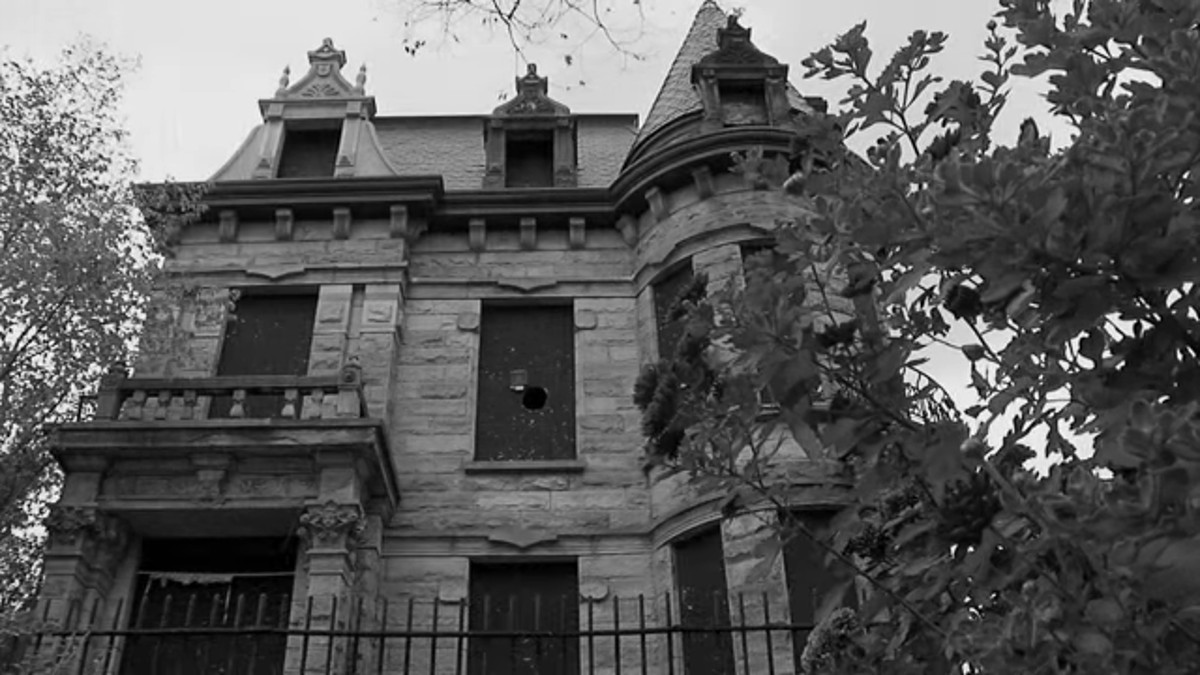 Franklin Castle in Cleveland, Ohio, is one of the most notorious and purportedly haunted buildings in the USA, thanks to a tragic history and a myriad of ghoulish stories.
History
The turreted, iron-gated castle was built in the 1860s by Hannes Tiedemann, an exceptionally wealthy grocer-turned-banker.
His wealth may have been enormous, but he suffered equally enormous tragedies over the course of his life.
Franklin Castle was the site of the deaths of many of his loved ones. His 15-year-old daughter, and three more children who were mere infants, all died in the building, as did his mother and wife.
These deaths were cruelly close together: Emma, his daughter, is recorded as dying of diabetes in January 1881 (although there is a story that Emma was actually found hanging by the rafters in the attic). She was followed a few weeks later by Tiedemann's mother, Wiebeka.
Between 1886 and 1888, the three infant children passed away. Tiedemann's wife, Luise, died of liver disease in 1895.
The numerous gargoyles, extra rooms, and elaborate turrets are rumored to have been constructed in order to distract Luise from the seemingly ceaseless deaths that were occurring.
Tiedemann is also suspected of having killed one of his mistresses and a young servant girl called Rachel. Rachel is thought to have been hacked to pieces with an axe… There is, however, absolutely no evidence to support the theory that Tiedemann was murderous.
After Luise's death, his family having been decimated, Tiedemann sold up and moved away.
During the 1930s, the house became popular with mobsters trying to avoid prohibition laws, thanks mainly to the large number of hidden rooms and tunnels that are reportedly underneath the building.
The property then became a German cultural center for the next few decades, and there were rumors of Nazi activities going on within the house.
The house changed hands again in 1968 when it was bought by the Romano family, who then sold it in 1975 to Reverend Sam Muscatello of the Universal Christian Church.
The stories of alleged hauntings did not begin to appear until the 1960s. People started to report the sound of babies crying and the sight of a woman in black.
As the decades passed, lots of stories emerged – including an axe murder, Nazis being shot in the basement, and even the supposed hanging of Tiedemann's illegitimate daughter and the murder of his niece.
In the 1970s, the skeletons of at least a dozen babies were found inside a small, previously sealed room. A coroner examined the bones but could only conclude that they were very old.
The bones could have been medical specimens, but the disturbing potential alternative is that they are the bones of Tiedemann's other children.
Franklin Castle has changed ownership many times – for a while, it was even the home of Michael DeVinko (better known as Mickey Deans, Judy Garland's last husband).
It was abandoned for several years following a fire and is currently owned by Oh Dear! Productions LLC.
Cases
Franklin Castle is said to house a number of spirits. Here are some of the more famous cases:
Woman in Black
Probably the most famous spirit associated with the house, the woman in black is thought to be Rachel. She is reported to have been seen on balconies and in rooms upstairs since the 1960s.
Ballroom
This room is also thought to be haunted by Rachel. A woman in white was seen by a newspaper boy, but it is unclear who she might be.
This room is also known for the sound of crying children, various disembodied faces, and cold spots.
A large bloodstain is sometimes said to appear on the marble floor.
Ghost of a Young Girl
This ghost was reported by the Romano family, who asserted that the ghost appeared and interacted with their children.
The ghost is said to have instigated the family's departure from the house because it told the family of an impending death.
Other Phenomena
Chandeliers have been known to spin seemingly of their own volition, faces appear in woodwork, doors are said to open and close by themselves, and ectoplasm apparently forms inside the rooms.
Voices have been heard coming from the walls, and even Tiedemann himself has been spotted in the park where he died.
Got something to say about this case? Leave a comment or get in touch if you have new information or media you think we should add.
Videos
Photos
This slideshow requires JavaScript.
Where to find
Explore
In the media
Paranormal Lockdown Season 1, Episode 3 on Destination America.
Ghost Adventures: Franklin Castle Season 20, Episode 2 on Travel Channel.
Links
References
atlasobscura.com, "Franklin Castle," accessed October 17, 2017,
weekinweird.com, "Haunted by Its Infamy: Investigating the History of Cleveland's Eerie Franklin Castle," accessed October 17, 2017,
deadohio.com, "FRANKLIN CASTLE," accessed October 17, 2017,
Cleveland.com "Franklin Castle, one of Ohio's 'most haunted houses,' is looking for brave visitors to stay the night," accessed April 20, 2023.
Entry Details
Published
Last modified on April 20th, 2023 at 11:49 am
Comments