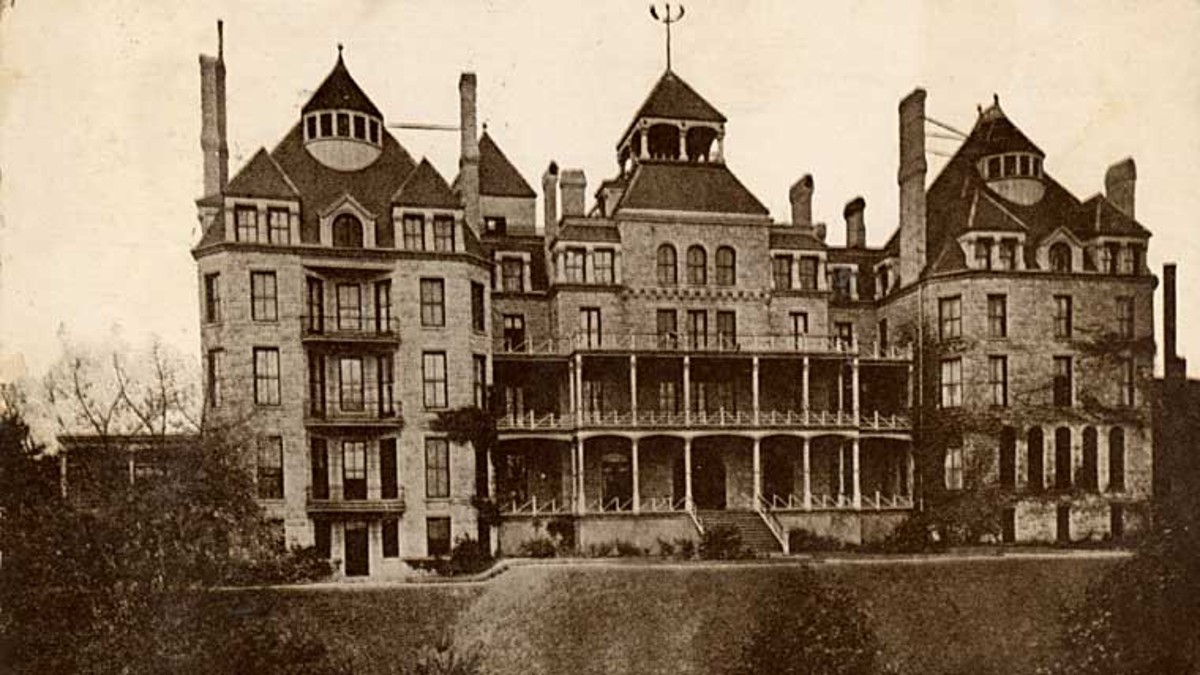 The Crescent Hotel in Eureka Springs, Arkansas, is recognized as one of America's most haunted hotels and has been used for a variety of purposes over the decades.
History
Built at a cost of $294,000 and opened in May 1886, the 78-room Crescent Hotel was initially operated by The Eureka Springs Improvement Company as an exclusive retreat catering to the rich.
A stable was provided for guests' horses, tea dances were held regularly, and there was a swimming pool, tennis courts, and even an in-house orchestra.
By 1908 the hotel also housed the Crescent College and Conservatory for Young Women which ran during the fall, winter, and spring. This was in order to make up for the loss of revenue during the off-season, and the building resumed its normal function as a hotel during the summer.
The college and hotel were forced to close when the Great Depression hit the USA. Sadly, in 1924 the building was abandoned. But in 1930 it reopened as a junior college though was closed again by 1934.
The demise of the junior college led to the building being repurposed in 1937 by a charlatan called Norman Glenwood Baker and being renamed Baker's Cancer Curing Hospital.
Baker had a penchant for the color purple, painting many parts of the building in his favorite color. He was also famous for wearing white linen suits and purple shirts.
Fooling people into believing he was a doctor, he used the building to treat cancer patients, with people coming from all over, hoping they would be cured. Needless to say, a shocking number of people died.
Baker was later imprisoned for four years and was found to have defrauded patients out of around $4,000,000. In 2019, landscapers found hundreds of items belonging to the conman buried on the grounds.
The somewhat grisly find included jars with his so-called cancer cure formula, but also some jars with human tissue inside. They also uncovered medical instruments such as bone cutters.
During World War II, the building was empty once more. It remained so until 1946, when four Chicago businessmen bought it and began to restore it.
Although it didn't revive its glory days, the building enjoyed a second lease of life as a hotel until 1967, when a fire swept through the fourth floor of the south wing.
The following 30 years saw the hotel being passed from owner to owner, with various renovation works being completed.
In 1997 Marty and Elise Roenigk purchased the hotel and embarked upon a program of renovation designed to bring it back to its original splendor. They completed their project in 2002 at a cost of £5,000,000.
The Crescent Hotel remains open to visitors – well, those brave enough to spend the night.
Cases
Staff and visitors have related all manner of paranormal experiences for which there do not appear to be any reasonable explanations.
Michael
Michael is the name given to the spirit alleged to frequent Room 218. Michael was one of the stonemasons who helped build the hotel. He fell to his death while working on the roof.
Michael is said to be a mischievous spirit who plays with lights, doors, and the television, as well as pounding on the walls.
Some people have said they saw hands coming out of the bathroom mirror and heard the cries of what sounded like a man falling.
"Dr." Baker
The infamous Norman Baker has been seen in the recreation room and at the bottom of the first-floor stairway. He is dressed in his trademark white suit and purple shirt and apparently looks rather confused.
The descriptions given by witnesses are almost identical to photos of Baker.
Dining Room Apparitions
Another oft-reported sighting is of Victorian dancers in the dining room. Apparently, many ghosts have been seen here, including that of a well-dressed gentleman who says he saw a beautiful woman there the night before and is waiting for her to return.
These alleged spirits are considered benign and more than a little cheeky. Staff have been known to come into the dining room in the morning to find menus scattered about the room or to find chairs that have been moved around.
One Christmas, the Christmas tree and all its packages were mysteriously moved from one part of the room to another.
Antique Switchboard
The original switchboard was used for a time, but its use was discontinued after it kept receiving calls from the empty basement. The basement was where Norman Baker spoke to cancer sufferers and convinced them to hand over vast sums of money for their treatment.
Theodora
Theodora is a ghostly figure who is said to appear to people on a regular basis. Seemingly, she introduces herself as a cancer patient before quickly disappearing.
Other strange occurrences
The hotel has been plagued with plenty of other strange sightings and apparitions. Odd clouds, mists, and shadows have occurred in and around the building, and odd distorted-looking faces have appeared in mirrors and on walls and windows.
Got something to say about this case? Leave a comment or get in touch if you have new information or media you think we should add.
Videos
Photos
This slideshow requires JavaScript.
| | |
| --- | --- |
| Other Name/s | N/A |
| Address | 75 Prospect Ave, Eureka Springs, AR 72632, USA75 Prospect Ave, Eureka Springs, AR 72632, USA |
| Location | United States, |
| Type | Hotel |
| Activity reported | Haunting |
Where to find
Explore
In the media
Ghost Hunters Season 2, Episode 13.
Links
References
crescent-hotel.com, "Crescent Hotel History," accessed September 5, 2017,
legendsofamerica.com, "ARKANSAS LEGENDS The Haunted Crescent Hotel in Eureka Springs," accessed September 5, 2017,
hauntedtravelsusa.com, "The 1886 Crescent Hotel and Spa – Eureka Springs Arkansas," accessed September 5, 2017.
Top image pic credit: Unknown photographer/Public domain
Entry Details
Published
Last modified on June 8th, 2023 at 4:42 pm
Comments