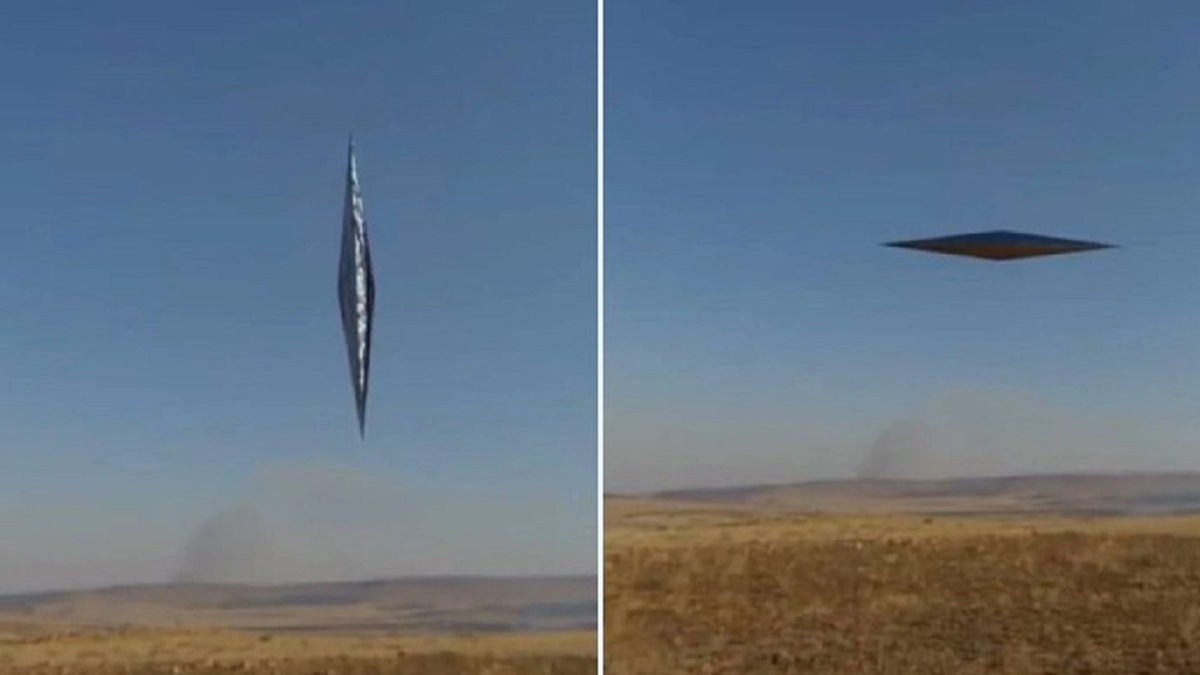 A UFO hunter photographed a Diamond-shaped UFO over southern Argentina. Pic credit: via Neil Goodman/YouTube
Residents of a small town in southern Argentina allegedly sighted a mysterious UFO hovering in blue skies in broad daylight.
A resident snapped a photo showing a mysterious silvery object described as arrow-, star-, or diamond-shaped.
UFO hunters believe the object was an alien spacecraft surveying the Argentinian countryside.
Local authorities are reportedly investigating the strange phenomenon.
Diamond-shaped UFO over Chubut, Argentina
The strange UFO allegedly appeared in the skies over El Escorial, a rural community in the Chubut Province of southern Argentina.
Photos that appeared on social media show a mysterious silver-colored object with four corners. The shape was an elongated star, diamond, or arrowhead.
One photo shows the object hovering in the sky in a vertical position, while another shows a silhouette in a horizontal position.
A journalist reportedly shared image on social media
The Daily Star reported that journalist Calaverita Mateos first shared the images on social media.
Mateos claimed that a UFO hunter friend resident in Chubut sent the images but wanted to remain anonymous.
"The best photos of a UFO in Chubut," Mateos wrote. "Photos sent to me by a resident in the area who asked to remain anonymous."
The journalist added that the local authorities contacted experts to analyze the image.
Aliens are among us?
The photos sparked discussion on social media, with some saying the object proved that "aliens are among us."
Some questioned the decision of the UFO hunter who allegedly snapped the photos to remain anonymous. They wondered why the person wanted to stay anonymous if they believed the image was authentic.
Others recommended that the Argentinian national aerospace authorities investigate the claim to confirm the authenticity of the photos.
Skepticism on Twitter
Many Twitter users were skeptical, saying that modern CGI could fake anything.
"There's a lil bit of image on those CGIs," one Twitter user quipped sarcastically.
"Nothing about these pictures look real," a second agreed.
"AI image generators like Midjourney have made photos as evidence worthless," another skeptic said dismissively.
One Twitter user compared it to the Calvine UFO and noted that the image looked fuzzy.
"I'm highly suspicious if these recent photos," they concluded.
The Calvine UFO was a diamond-shaped aerial object photographed over Perthshire in central Scotland in 1990.
Enthusiasts hailed it as one of the best UFO pictures ever taken. The mystery surrounding the image deepened after enthusiasts accused the U.K. Ministry of Defense officials of covering up information about the origin and nature of the object
The latest sighting comes after Paranormal Papers reported that a witness in Mexico filmed a luminous UFO flying in the sky during stormy weather over the West-Central State of Nayarit.