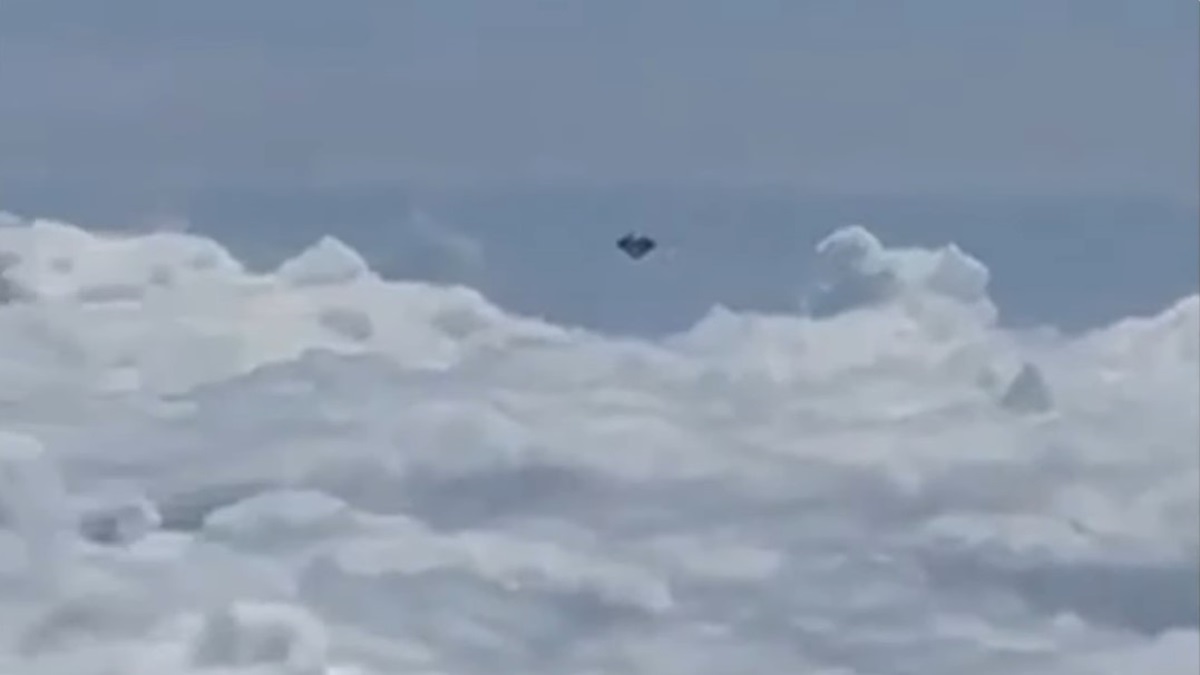 A "classic" saucer-shaped UFO filmed over Colombia. Pic credit: via LUFOS/YouTube
A recently filmed video allegedly shows a "classic" saucer-shaped UFO cruising at commercial jet altitude (31,000-42,000 feet) over Colombia, South America.
A person flying in a passenger plane filmed the UFO through the window during a flight from Colombia's capital city of Bogota to Salento.
YouTuber Ensaladilla first shared the video on YouTube, but The Hidden Underbelly 2.0 claimed it originated in the Spanish language forum Forocoches.
UFO has "classic" saucer shape
According to The Hidden Underbelly 2.0, the sighting occurred sometime in mid-October. He described the object as having a "classic saucer shape."
The UFO enthusiast noted that Colombia has a high incidence of UFO activity. He speculated that it could be an experimental government aircraft or an alien spacecraft from a base located in the local area.
He argued it was unlikely to be a drone because of the altitude. The shape was also unlike any known human-made airplane or helicopter.
He then asked his subscribers for their opinions concerning the object.
Reactions on YouTube
The footage sparked considerable interest on YouTube.
Many UFO enthusiasts reacted with expressions of amazement and awe. They praised the quality of the video and said it was one of the best they had ever seen.
"Wow, that's an incredible sighting! It's not every day you get to see a classic flying saucer-shaped UFO during a commercial flight," a YouTube user said. "The video quality is impressive."
Others argued that the straight path of the object, steady pace, and speed ruled out suggestions that it was a balloon.
"There is no wobble as would be expected with a balloon," an enthusiast commented. "It is flying perfectly straight. This looks a lot like the saucers that have been seen over the years over Mexico and Mount Popo."
Some took the opportunity to share their personal experiences.
"I saw something extremely similar to this when flying back from India to the UK in 2000," a subscriber wrote. "We were over Russian airspace at the time."
"I have always put it down to a man-made advanced technology," the enthusiast concluded.
UFO similar to GIMBAL
A viewer suggested that the object looked like the UFO from the famous GIMBAL/GOFAST footage (see video below: start: 0.08).
Former Navy F/A-18F Super Hornet pilot Lt. Graves and his Red Rippers (Strike Fighter Squadron 11/VFA-11) reported the sighting documented in the GIMBAL/GOFAST footage.
The encounter reportedly occurred during training missions in preparation for deployment for Operation Inherent Resolve onboard USS Theodore Roosevelt (CVN-71) in 2015.
Graves testified before Congression during the hearing on UFOs in July.