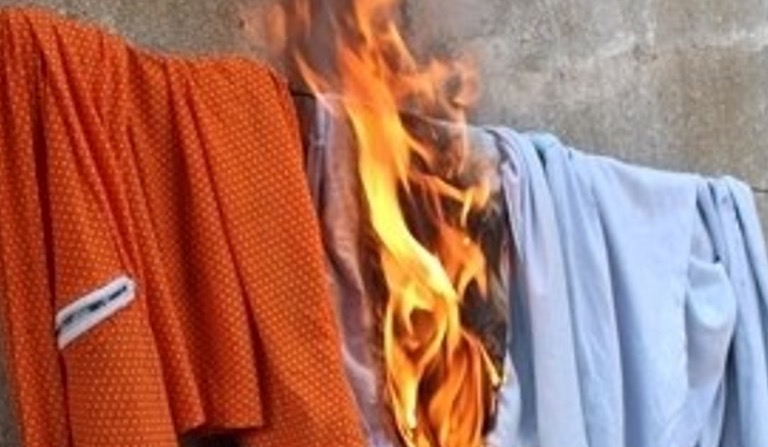 Various objects are catching on fire inexplicably in a Vietnam household, prompting locals to believe the cause is a fire poltergeist.
The house is in Long An, Vietnam and is inhabited by Nguyen Van An and his daughter, Nguyen Thi Mong Tham. Items in and around the house keep spontaneously catching on fire and no one really knows why. Nguyen Thi Mong Tham, the daughter, says that there are between 1-4 fires a day, with over 30 fires having happened during a 3 week period.
Long An Province's Department of Science Technology has been investigating the source of the fires, but they don't know much yet. This is what they have learned:
The fires are only happening during the day
Objects that are being burned are made primarily plastic or wet cloth. Objects made of wood or paper aren't being burned.
No fires are breaking out in nearby houses
Objects are not close to fire
The family shut off power to the house and aren't using any electronic equipment, just in case.
The fires are not coming from natural gas, short circuits or any natural or electrical causes.
From this information, the authorities have concluded that someone is using a chemical with highly anti-oxidative properties. They theorize that whatever the chemical is, when exposed to air, it causes fire. So, they're saying that someone started the fires, and that they're using chemicals to do it. Some of the locals have problems with this vagueness and believe that a fire poltergeist is to blame.
Aspects of these fires are bizarre. Things like wood and paper, which are flammable,  aren't burning. Things that are made of plastic, cloth and metal are the primary targets of the fires. Even more interesting is that some of the cloth that caught on fire was wet. And a blanket that had been over a wooden cabinet caught on fire, but the cabinet didn't.

Since no one really knows what's causing the fires, the family has taken precautions in order to try to prevent them and to keep them all safe. They've turned the power to the house off, just in case it could be faulty, moved all of their belongings outside and don't sleep with blankets at night. Hopefully, for their sake, this mystery gets solved soon, because that all seems terribly inconvenient and scary!