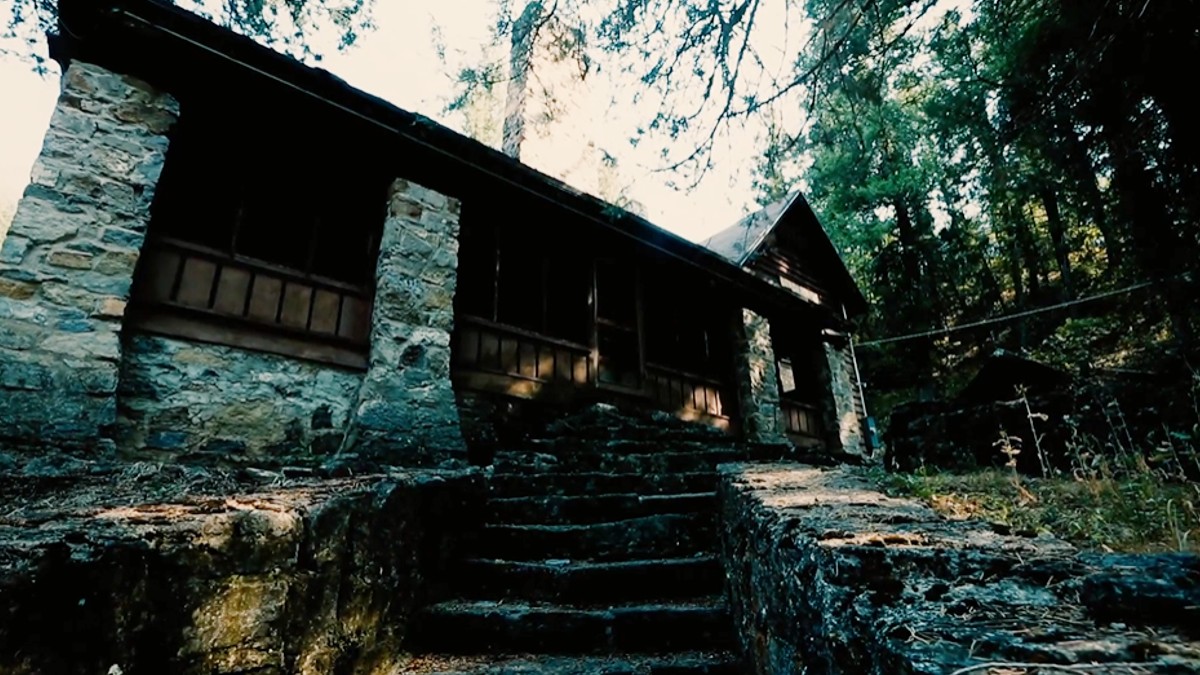 St. Anne's Retreat, sometimes spelled as St. Ann's, in Logan Canyon, Utah, has been subject to several reports of both ghosts and demonic activity.
People who have crossed the rickety old bridge into the property have reported being attacked by unseen forces that have left them with marks and cuts.
There have also been reports of individuals being followed from home the site and declared instances of possession.
History
The retreat was built in the early part of the last century by the Hatch family, who were local to the area. They started with a simple cabin before later adding a swimming pool and other cabins.
Later it became a summer camp until it passed into the hands of the Catholic Church during the 1950s. The Church used it as a summer retreat for nuns. The nuns only appear to have used the retreat for one summer. After 40 years, the Church decided to close the site, citing problems with trespassers and vandalism.
In 1992, the property was acquired by Mark Epstein along with some investors. They hoped to build vacation homes on the spot; however, according to the archives at the USU library, the project never got going. The archives claimed Epstein had underestimated the legends and strong feelings about the property, which centered around mistrust between the Catholic and Mormon faiths.
More recently, in 2015, the compound was acquired by someone who hoped to revamp it into a desirable summer vacation spot. This, too, appeared to end in failure.
The land itself is protected by the Forest Service; anyone who agrees to purchase the land is required to make it available for public use.
St. Anne's retreat came up for sale again in 2021, and as of August 2022, the land is still on the market.
The site is near the town of Logan and is nestled between Logan River and Highway 89. Potential buyers would acquire 21 buildings and structures, two main lodges, six smaller cabins, a playhouse, and a generator house, along with a fireplace and a rickety old bridge to access the property. And, of course, a haunted swimming pool.
Cases
One of the recurrent legends for St. Anne's involves the period when the camp was used by the Catholic Church as a summer retreat for nuns.
Ghostly Images of Dead Babies
The story goes that the church used the camp as a place to send nuns who had broken vows and, more specifically, had gotten themselves pregnant.
Many of these babies are said to have perished, and the ghosts of these children are to be seen floating in the abandoned swimming pool. Ghost hunters are said to have seen crying babies and nuns wandering around this pool. 
In one horrific story, one of the nuns is alleged to have drowned their baby in the pool before slitting their own throat. 
Demonic Possession
There are tales of people being possessed by demons while at the site. And there was one particularly violent incident in the 1990s that we know definitely happened: the irrational nature of the crime led some to suspect that the perpetrators had been possessed by demons. 
In October 1997, a group of teens took a trip up to St. Anne's seeking some Halloween season thrills and got more than they bargained for when the security guards watching over the camp subjected them to a terrifying ordeal.
According to the teens, the men caught them trespassing near the empty swimming pool. They were armed with shotguns and knives and demanded that the teenagers freeze, even firing a shot over their heads.
19-year-old Kevin Thompson, who was with the group, told local press that they threatened to "slit our throats if we moved" and that one of the men singled out an Asian boy and told him that he'd killed Vietnamese people in Vietnam and "wasn't afraid to do it again."
The group were tied together by their necks and kept in the pool, the whole time being jabbed with guns. They were also told the wire used to tie them was a detonation wire that would blow their heads off if they struggled.
A gun was also fired very close to one of the teen's heads, with some of their friends thinking that they had been shot dead.
Around three hours later, deputies arrived from the Cache Country Sheriff, though they were seemingly less than sympathetic.
Later one of the girls also alleged that a watchman fondled her while he was searching her for weapons.
The watchmen were hired by Mark Epstein, a San Francisco-based lawyer who owned an interest in the camp and several of its associated buildings.
Later the three men were charged with six felony counts of aggravated assault and the leader, John Jeppson, with forcible sexual abuse. 
They made a plea agreement, and Jeppson pled guilty to two felony accounts of aggravated assault, his son-in-law to two counts of attempted aggravated assault, and the third man the same.
The alleged paranormal element of this story comes in relation to why three grown men seemingly lost the plot and held over a dozen teens for hours in such bizarre circumstances. Some have suggested that the men were, in fact, possessed by some demonic force, causing them to act in such a reckless way.
This is what the Travel Channel's Ghost Adventures team investigated in one of their episodes when they visited the site and took a psychic with them.
Psychic Possessed
On Episode 9 during Season 12 of Ghost Adventures, Zak Bagans and the team headed to St. Anne's to investigate the legends and determine what might be true.
During the show, the psychic brought along to help with the investigation appears to be possessed and lose control of her senses.
The host, Zak, wonders if the same force could have affected the watchmen on the night in October 1997 when they went out of control.
The crew also heard multiple unexplained noises from the nearby woods. And in a cabin by the pool, they heard footsteps, and one of the team felt something brush u against him. 
An encounter with ghoulish handprints
In 2022, Utah Stories reported on the creepy case of Andrew Tims. St. Anne's Retreat. When their car pulled up to the property, they saw a group of people screaming and running to a car before speeding away. Despite this, Tims and his friends continued inside. 
But after a while, one of their group began to feel ill. At first, they thought it was nothing, but then Tim's pal worsened. They began shaking violently and vomiting. The group got a little scared and decided to leave. 
As they hurried back to their car, the group began to hear eerie noises all around them. They became increasingly terrified and ran to their car, speeding off in a hurry, just like the other group of people they'd seen. 
Tims claimed that when they later pulled into a brightly lit gas station, they were chilled to discover 60 to 70 handprints covering the outside of their car.  
Got something to say about this case? Leave a comment or get in touch if you have new information or media you think we should add.
Videos
Photos
This slideshow requires JavaScript.
Where to find
Explore
In the media
Ghost Adventures Season 12, Episode 9 on Travel Channel
Links
https://www.facebook.com/thenunnerylogan/
References
Utah State University, "There's been a Scandal, Here are the Facts: St. Anne's Retreat Legends," accessed May 16, 2017,
Desert News, "Charges likely for watchmen in Logan Canyon scare," accessed May 16, 2017,
Desert News, "3 canyon guards each face 6 charges over retreat terror", May 16, 2017,
USU Digital Exhibits "We're guilty: St. Anne's defendants accept plea bargains," accessed May 22, 2017.
https://www.travelchannel.com/videos/st-annes-retreat-in-utah-0261256, "St. Anne's Retreat in Utah," accessed January 27, 2023.
https://kjzz.com/news/local/legendary-utah-nunnery-rumored-to-be-haunted-is-for-sale, "Legendary Utah nunnery, rumored to be haunted, is for sale," accessed January 27, 2023.
https://utahstories.com/2022/10/the-scariest-place-in-utah/, "The Scariest Place in Utah," accessed January 27, 2023.
Entry Details
Published
Last modified on January 27th, 2023 at 3:01 pm
Comments