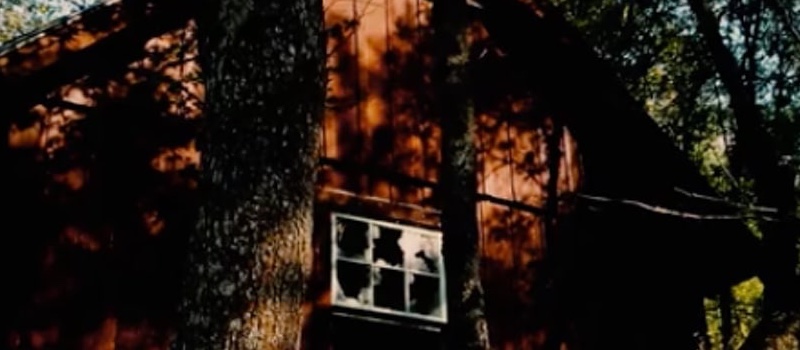 St. Anne's Retreat in Logan Canyon has been subject to several reports of both ghosts and demonic activity.
History of St. Anne's Retreat
The retreat was build in the early part of last century by the Hatch family, who were local to the area. They started with a simple cabin before later adding a swimming pool and other cabins.
Later it became a summer camp until it passed into the hands of the Catholic Church who used it as a summer retreat for nuns. The nuns only appear to have used the retreat for one summer and later it was abandoned due to constant vandalism, before after 40 years the church sold it to a private developer.
More recently in 2015 the compound was acquired by who hopes to revamp it into a desirable summer vacation spot.
The land itself is actually owned by the Forest Service, with a permit and annual fee part of the usage agreement.
Cases
Ghostly Images of Dead Babies
One of the recurrent legends for St. Anne's involves the time period when the camp was used by the catholic church as a summer retreat for nuns.
The story goes that the church used the camp as a place to send nuns who had broken vows and more specifically had gotten themselves pregnant.
Many of these babies are said to have perished and the ghosts of these children as said to be seen floating in the abandoned swimming pool (There's been a Scandal, Here are the Facts: St. Anne's Retreat Legends 2010).
Demonic Possession
In October 1997 a group of teens took a trip up to St. Anne's seeking some Halloween season thrills and got more than they bargained for when the watchmen guarding the camp subjected them to a terrifying ordeal (Charges likely for watchmen in Logan Canyon scare, 1997).
According to the teens, the men caught them trespassing near the empty swimming pool. They were armed with shotguns and knives and demanded that the teenagers freeze, even firing a shot over their heads.
19 year-old Kevin Thompson, who was with the group, told local press that they threatened to "slit our throats if we moved" and that one of the men singled out an Asian boy and told him that he'd killed Vietnamese people in Vietnam and "wasn't afraid to do it again."
The group were tied together via their necks and kept in the pool, the whole time being jabbed with guns. They were also told the wire used to tie them was detonation wire that would blow their heads off if the struggled.
A gun was also fired very close to one of the teen's heads, with some of their friends thinking that they been shot dead.
Around three hours later deputies arrived from the Cache Country Sheriff, though they were seemingly less than sympathetic.
Later one of the girls also alleged that a watchman fondled her whilst he was search her for weapons.
The watchmen were hired by Mark Epstein, a San Francisco based lawyer who owned an interest in the camp and several of its associated buidlings.
Later the three men were charged with six felony counts of aggravated assault and the leader, John Jeppson, with forcible sexual abuse. (3 canyon guards each face 6 charges over retreat terror, 1997)
They made a plea agreement and Jeppson pled guilty to two felony accounts of aggravated assault, his son-in-law to two counts of attempted aggravated assault and the third man the same.
The alleged paranormal element of this story comes in relation to why three grown men seemingly lost the plot and held over a dozen teens for hours in such bizarre circumstances. Some have suggested that the men were in fact possessed by some demonic force, causing them to act in such a reckless way.
This is what the Travel Channel's Ghost Adventures team investigated in one of their episodes, when they visited the site and took a psychic with them.
Psychic Possessed
On Episode 9 during Season 12 of Ghost Advetnures, Zak Bagans and the team headed to St. Anne's to see for themselves what was urban legend and what might be true.
During the show the psychic brought along to help with the investigation appears to be possessed and lose control of her senses.
The host Zak wonders if the same force could have affected the watchmen on the night in October 1997 when they went out of control.
St. Anne's Retreat News
Got something to say about this case? Leave a comment or get in touch if you have new information or media you think we should add.
You May Also Like
Videos of St. Anne's Retreat
Photos of St. Anne's Retreat
This slideshow requires JavaScript.
How to find St. Anne's Retreat
Explore
In the media
Ghost Adventures Season 12, Episode 9 on Travel Channel
Links
References
Utah State University, "There's been a Scandal, Here are the Facts: St. Anne's Retreat Legends", accessed May 16 2017,
Desert News, "Charges likely for watchmen in Logan Canyon scare", accessed May 16 2017,
Desert News, "3 canyon guards each face 6 charges over retreat terror", May 16 2017,
USU Digital Exhibits "We're guilty: St. Anne's defendants accept plea bargains", accessed May 22, 2017,
James Wray updated St. Anne's Retreat on 28 Nov , 2016. [mashshare]