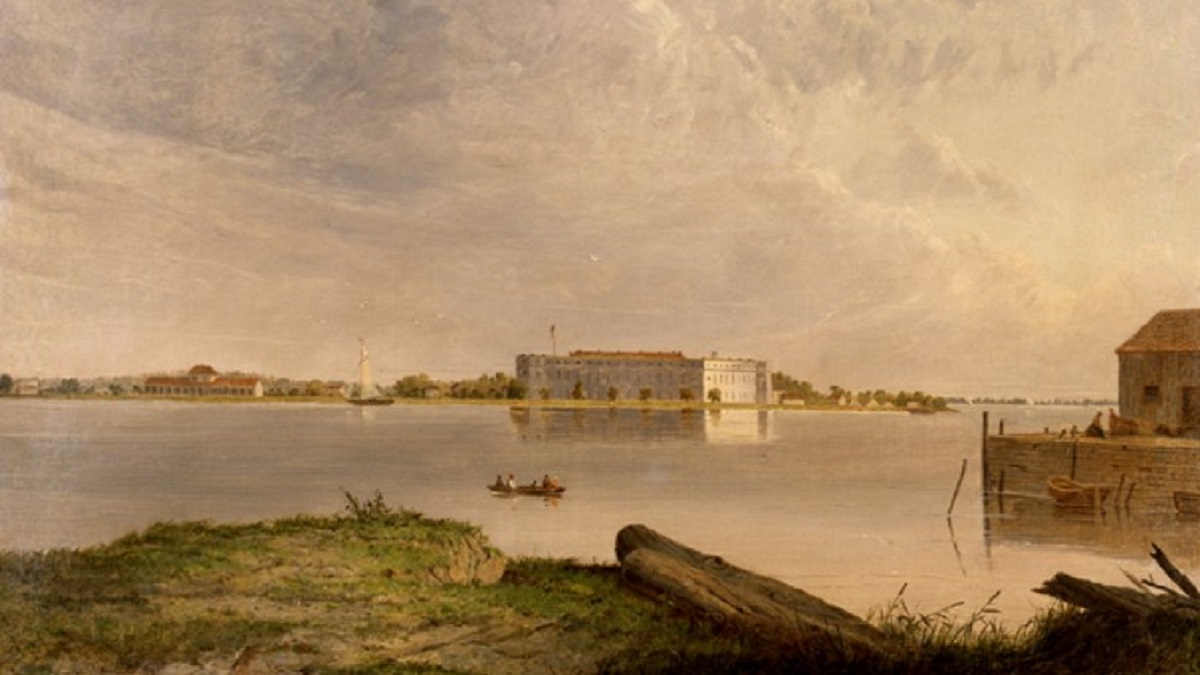 Fort Delaware is a military defense structure on Pea Patch Island situated in the Delaware River.
Arny engineer Joseph Gilbert Totten designed the facility in the mid-1800s to prevent hostile forces from going upstream to attack the ports and harbors of Wilmington, Delaware, Philadelphia, and Pennsylvania.
The military designed the facility for harbor defense and not for holding prisoners of war. However, the Union authorities imprisoned tens of thousands of Confederate soldiers at Fort Delaware during the Civil War, and many died there.
Folklore claims the ghosts of Confederate soldiers haunt Fort Delaware.
History
Dr. Henry Gale of New Jersey
Fort Delaware is part of the 288-acre Fort Delaware State Park facility on Pea Patch Island in New Castle County, Delaware.
The Pea Patch Island on which Fort Delaware stands was originally the private property of Dr. Henry Gale of New Jersey under rights granted by the government of New Jersey. The island, about 1.5 kilometers long, is in the Delaware Bay.
In the late 1700s, engineer Pierre Charles L'Enfant recommended the island to the U.S. government as an ideal spot for a defensive structure protecting Wilmington and Philadelphia ports.
The federal government approached Gale with an offer to cede the island. When Gale refused, the federal government pressured the state of Delaware to intervene. The state authorities determined that the island belonged to Delaware and that New Jersey did not have the power to confer valid legal rights on Gale.
Delaware seized the island from Gale and ceded it to the federal government in 1813.
Fort Delaware construction under Captain Babcock
Efforts to fortify the island started during the War of 1812 (1812-1815) under Captain Babcock. He supervised the construction of dykes around Pea Patch Island.
The work continued after the War of 1812. Captain Babcock and Lt. Henry Brewerton supervised the construction of a star structure that Colonel Joseph G. Totten designed in 1815. The work started in 1819 but ran into problems due to errors attributed to Babcock unilaterally altering the original design. However, a court-martial acquitted him of charges of neglect in 1824.
The army first stationed troops at the fort in 1825.
Captain Richard Delafield
Captain Richard Delafield replaced Babcock as the construction supervisor. Due to previous construction errors and a fire incident in 1831, the authorities decided to take down the entire fort and reconstruct it.
Delafield took down the star structure in 1833 and designed a massive polygonal one to replace it.
The Gale family restarted litigation
However, progress on constructing an imposing polygonal masonry structure got bogged down when the Gale family under James Humphrey reopened litigation over their legal rights to Pea Patch Island.
Legal arbitrators eventually ruled in favor of the state of Delaware in January 1848.
A pentagonal structure for Fort Delaware
The authorities eventually set aside the plan to replace the original star structure with a polygonal one. Engineer Totten came up with a new pentagonal structure design.
The moated pentagonal fortification, constructed between 1848 and 1868, eventually replaced the original star structure. Most of the construction had been completed by 1860 before the American Civil War broke out in 1861.
Major John Sanders supervised the construction until he died in 1858. Lieutenant William Craighill and later Major John Newton completed the work. The first garrison commander at Fort Delaware was Captain Augustus Gibson. He had about 20 soldiers under his command.
Fort Delaware was a prisoner-of-war camp
The Union authorities turned Fort Delaware into a prisoner-of-war camp for captured Confederate soldiers. Many of the soldiers came from the battles of Vicksburg and Gettysburg (Tracy Bryant, University of Delaware Research). They also detained several Confederate Army generals, including Brigadier General Johnston Pettigrew, at the fort.
The prisoners at Fort Delaware included federal soldiers convicted of crimes.
Cases
Deaths at Fort Delaware
Although the Union (federal) authorities built hospitals to care for POWs held at Fort Delaware, the mortality rates among prisoners were extremely high.
Records show that by the middle of 1863, the prisoner population at Fort Delaware had swelled to about 13,000, with a cumulative total of more than 30,000 by the end of the war. About 2,500 men died from various causes.
Most deaths resulted from a smallpox epidemic that ravaged the fort in 1863. But substantial numbers also died of various medical causes, such as pneumonia, malaria, typhoid, acute gastrointestinal conditions, and complications of nutritional problems, such as scurvy. A few prisoners succumbed to their battlefield injuries.
The planners did not design the facility to accommodate POWs, so it lacked structures to accommodate large numbers of prisoners. The influx of Confederate prisoners led to the hasty construction of mostly wooden makeshift structures to serve the purpose. The crowded, unsanitary conditions and scanty rations led to the outbreak of smallpox and other diseases. They buried many at Finn's Point National Cemetery, New Jersey (Tracy Bryant, University of Delaware).
Some prisoners attempted to escape imprisonment by undertaking a perilous escape through the currents of the Dela­ware River, but only a few succeeded.
Fort Delaware hauntings
Folklore claims that the ghosts of the men who suffered and died at Fort Delaware during the Civil War haunt the old facility. Locals ascribe paranormal phenomena at the fort to ghosts, poltergeists, and demonic spirits lurking in prison halls and tunnels.
Some believe that most of the ghosts at Fort Delaware were Confederate prisoners who, after surviving the hellish ordeal of the Gettysburg battlefield, went through another round of horrors at Fort Delaware under General Albin F. Schoepf, nicknamed General Terror.
Paranormal tours
Fort Delaware is open to the public for guided tours organized by various tour companies. Fort Delaware State Park also offers a guided tour. The state park, established in 1951, is accessible only by ferry.
Some tour companies, such as the Diamond State Ghost Investigators, offer investigation tours in the fall. They let visitors go on a guided search for the alleged ghosts haunting former prisoner quarters, kitchens, mess halls, and other spooky areas of the old fort.
They offer ghost-hunting equipment such as home video camcorders, EMF detectors, temperature sensors, and data recorders. Visitors may also bring their ghost-hunting equipment.
Some visitors claimed to have experienced paranormal phenomena during the tours. Others claimed to have suffered attacks or felt ghosts standing near, touching, pushing, and pulling them. Many reported hearing strange noises.
Got something to say about this case? Leave a comment or get in touch if you have new information or media you think we should add.
Videos
Photos
Featured Image: Fort Delaware on Pea Patch Island, Delaware. Painted in the 1870s. Pic credit: Public Domain via Wikimedia Commons.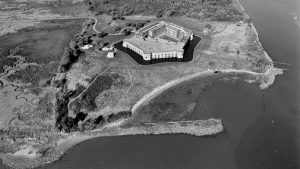 Where to find
[put_wpgmp id=1]
Explore
In the media
In Season 4, Episode 13 of the paranormal and reality television series Ghost Hunters, which aired on Sci-Fi in June 2008, the TAPs team traveled to Fort Delaware on Pea Patch Island to investigate the claims of ghost hauntings.
The team included Kris Williams, Jason Hawes, Grant Wilson (II), Steve Gonsalves, Kristyn Gartland, and Dave Tango. Mark Fusetti also joined the TAPs team to search for the alleged Civil War-era ghosts roaming the old fort.
Links
References
https://web.archive.org/web/20060915045103/http://www.visitthefort.com/historyx.html, "Toward an Impregnable Coast," accessed on April 16, 2023.
https://www.onlyinyourstate.com/delaware/ghosts-fort-delaware-de/, "This Abandoned Fort In Delaware Is One Of The Most Haunted Places In The World," accessed on April 16, 2023.
https://www.cem.va.gov/pdf/InterpretiveSigns/ConfederateBurials-TheFortDelawarePrison.pdf, "Confederate burials in the national cemetery," accessed on April 16, 2023.
https://destateparks.blog/2020/05/04/history-of-pea-patch-island/, "History of Pea Patch Island," accessed on April 16, 2023.
https://www.battlefields.org/visit/heritage-sites/fort-delaware-state-park#:~:text=During%20the%20course%20of%20the,aboard%20the%20Delafort%2C%20a%20ferryboat., "Fort Delaware State Park," accessed on April 16, 2023.
https://networks.h-net.org/node/4113/discussions/5174829/ghosts-confederacy-%C2%A0fort-delaware, "Ghosts of the Confederacy at Fort Delaware," accessed on April 16, 2023.
https://www1.udel.edu/researchmagazine/issue/vol2_no2_security/escape_from_fort_delaware.html, "Escape from Fort Delaware," accessed on April 16, 2023.
https://www.diamondstateghostinvestigators.com/team/, "Diamond State Ghost Investigators," accessed on April 16, 2023.
https://destateparks.com/History/FortDelaware, "Fort Delaware State Park," accessed on April 16, 2023.
Entry Details
Published
Comments