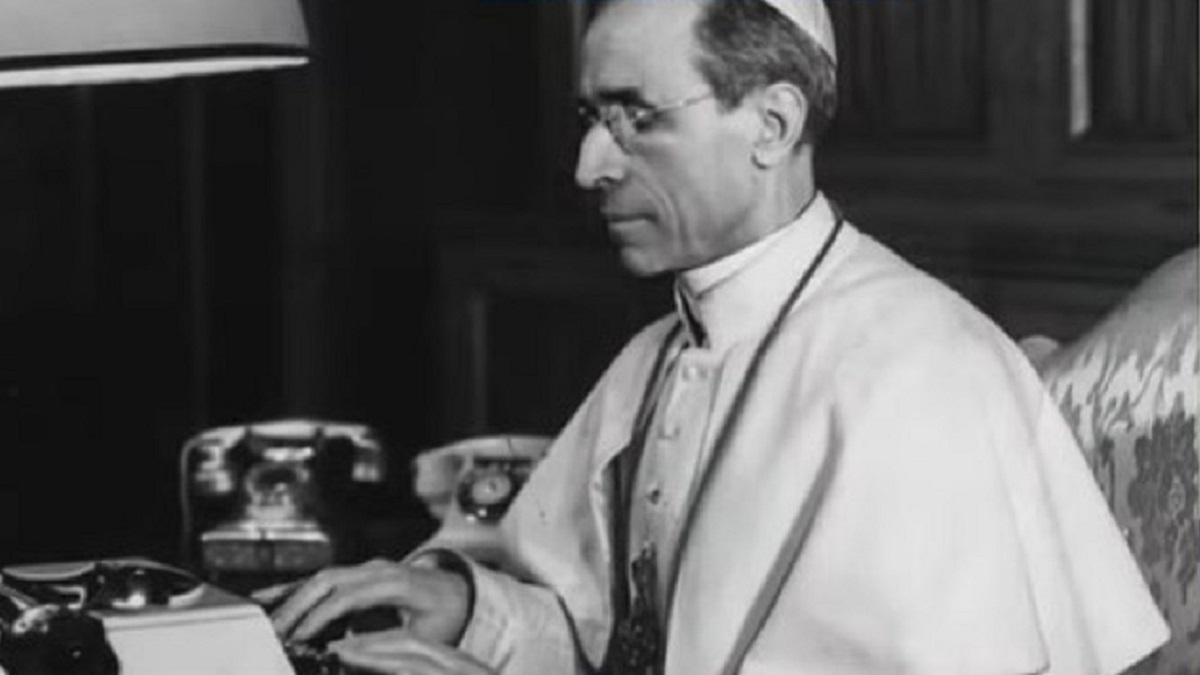 Pope Pius XII allegedly helped the US recover a bell-shaped alien spacecraft that crashed in northern Italy. Pic credit: NewsNation/YouTube
The Vatican is reportedly under pressure to respond to allegations by UFO whistleblower David Grusch that Pope Pius XII helped the US retrieve an alien spacecraft that crashed in Italy in 1933.
Paranormal Papers reported that Grusch claimed that the Vatican knows more about non-human or extraterrestrial intelligence than it has admitted.
The whistleblower also alleged that after the collapse of Benito Mussolini's regime in 1943, Pope Pius XII tipped off the US that the dictator's government was in the custody of a bell-shaped alien spacecraft.
The UAP allegedly crashed in 1933 outside the northern Italian town of Magenta, Lombardy.
In 1944, operatives from the Office of Strategic Services (OSS) allegedly recovered the UAP from a facility operated by the aerospace company SIAI-Marchetti, near Vergiate in Lombardy.
The Vatican not responding to Grusch's allegations
NewsNation's Banfield reported that they have been investigating Grusch's allegation that the Vatican knows about non-human intelligence on Earth.
They were also investigating whistleblower allegations that in 1943-1944 Pope Pius XII helped the US government recover an alien spacecraft that Mussolini's government recovered in 1933 from a crash site in northern Italy.
NewsNation's Susanna Pinto reported that about a week ago, she contacted the Vatican press office for a response to Grusch's allegations, but the Vatican has not responded.
She was not surprised that the officials did not immediately respond to her inquiry because of the controversial nature of the allegation. She said it was not unusual for the Vatican to be reticent about controversial issues.
Extraterrestrial intelligence raises theological questions
Pinto added that credible information about life on another planet or in another part of the universe raised theological questions that the Church may not want to address.
The Church has always taught that God created humans in his image. Christian scriptures and theology have nothing to say about other forms of intelligent biological life on other planets.
The discovery of biological life on other planets would thus raise difficult theological questions, such as whether God made non-human biological species in his image or whether they could get salvation through Christ and go to heaven.
Even more importantly, it would raise questions that challenged the Church's assumptions about the centrality of humankind in God's transcendent purpose.
However, some believe the concept of non-human intelligence is not entirely novel to Church doctrine. Christianity believes in superbeings, such as angels and demons.
Vatican opened up Pope Pius XII's archives
NewsNation's Banfield asked Pinto whether she expected that the Vatican would eventually respond to her inquiry.
Pinto noted that Pope Francis opened the archives relating to Pope Puis XII's pontificate to historians and scholars in 2020.
Scholars have been going through the archives to study the main events of Pope Puis XII's pontificate (1939-1958).
However, there is no news that they have found any relevant information about the Vatican's alleged knowledge of extraterrestrial life.
They have also not found information suggesting Pope Pius XI may have helped the US recover an alien spacecraft in 1944.
She added that the Vatican has a vast collection of records and documents related to the two decades of Pope Pius XII's pontificate.
Scholars thus have plenty of material to wade through, and it might take a long time before anyone stumbles upon the information that UAP enthusiasts are interested in.
The Vatican has an astronomical observatory
Pinto also noted that the while the notion that the Vatican knows something about extraterrestrial life may seem far-fetched, they have an entire department dedicated to the study of astronomy and astrophysics.
The Vatican Observatory has a well-established legacy in astronomy, astrophysics, and cosmology.
They have been studying the connection between the scientific view of the universe and the theological one. They have also been trying to reconcile both world views.
The school is an active center of studies and research involving scholars and students of astronomy and astrophysics from different countries.
Thus, the claim that the Vatican may know something about life in other parts of the universe was not as far-fetched as some might think.