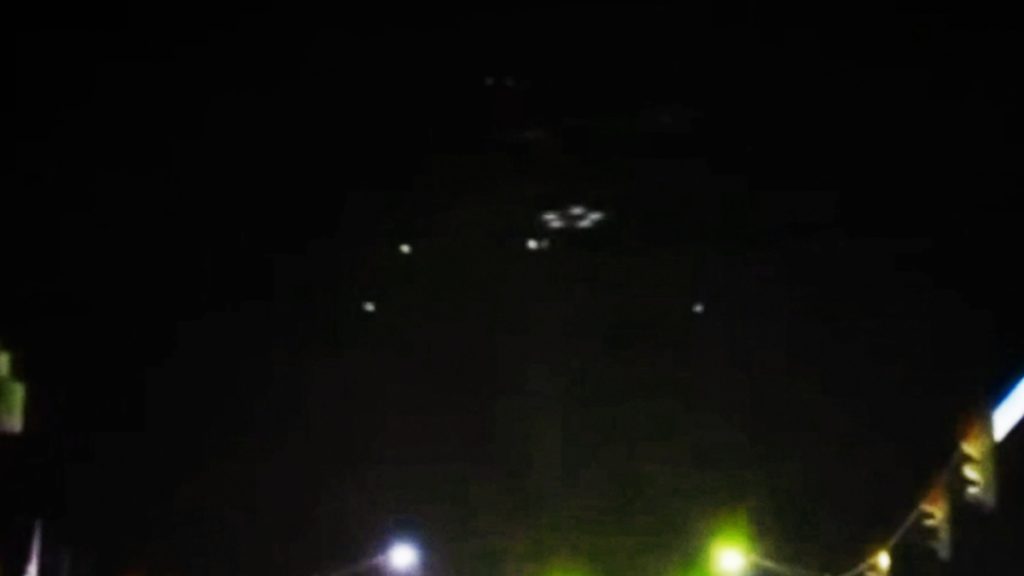 Residents of Middletown, Ohio, reported a UFO sighting on Wednesday night. They saw mysterious rotating green lights in the skies above their town around 10:30 p.m.
Some residents took photos, while others shot videos of the strange lights and shared them on social media.
Rotating green light UFO over Middletown
According to WCPO Cincinnati, witnesses said the rotating lights hovered over the city before traveling across the night sky and disappearing beyond the horizon (see videos below).
Kelly Little, a resident, told WLWT5 that the lights appeared in the sky around 10:30 a.m. The witness said they were unlike drone lights or anything they'd ever seen before.
Kevin Riley told the news outlet that he snapped photos of the strange aerial phenomenon.
Bryce Garrick also witnessed and filmed it near Butler Tech on Routh 4. He described it as "weird." Many witnesses felt scared because no one could tell what they were. He added that some people thought they were aliens.
Although many residents claimed to have witnessed the lights, the Butler County Sheriff's Office said they did not receive any reports.
UFO skepticism
Some residents suggested the UFO might have been a drone.
Bryan Simpson, president of the Cincinnati Astronomical Society, did not witness the lights, but he saw videos published online. He wasn't sure what they were but said they streaked across the sky and disappeared too fast to have been a drone.
He expressed skepticism, saying it could be a social media stunt. He added that any TikToker could have faked it with available technology.
Las Vegas family reported alien UFO crashed in the backyard
The latest alleged UFO sighting follows media reports that a family in Las Vegas told police that a UFO crashed in their backyard.
Paranormal Papers reported that the family claimed they saw a humanoid creature about 8-10 feet tall. The alien emerged from the crashed UFO and hid behind a forklift in their backyard.
They described the creature as having big staring eyes.
Las Vegas residents also reported sighting a mysterious green light streaking across the skies moments before the alleged crash.
Responding police officers later installed cameras on the family's house to monitor the yard.
A previous Middletown sighting proved to be non-extraterrestrial
It is not the first time that residents of Middletown have reported a UFO sighting.
In 2015, Fox19Now reported that a video surfaced online purporting to show mysterious blinking red lights over the city.
The footage sparked a debate on social media platforms. Some UFO enthusiasts suggested the lights might be from an alien UFO spacecraft.
However, some online sleuths quickly dispelled rumors about alien UFOs over Middletown when they revealed that the lights were from the suits of a group of skydivers.
Gene Newson, the owner of Start Skydiving, revealed that a group of 18 people went skydiving during nighttime over the Middleton Regional Airport.
He explained that the skydivers attached lights to their suits as a safety measure.