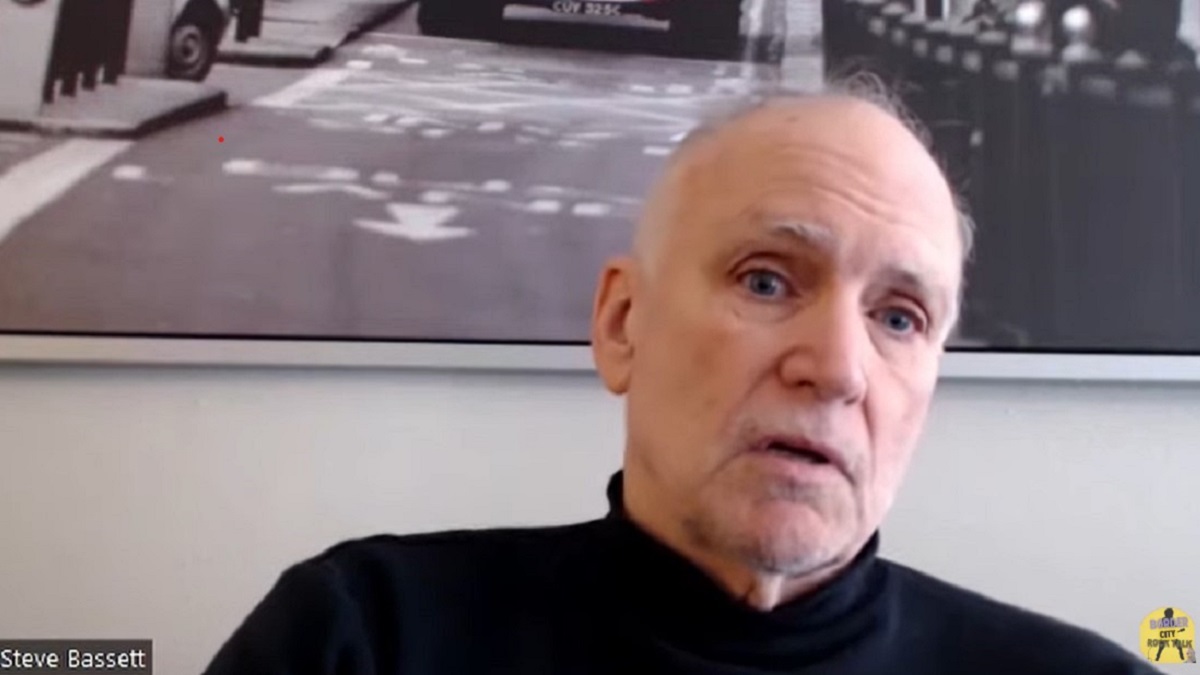 UFO disclosure advocate Stephen Bassett said the U.S. President was soon to admit the existence of extraterrestrial intelligence. Pic credit: Border City Rock Talk/YouTube
Stephen Bassett, executive director of the Paradigm Research Group that advocates for UFO disclosure, said that David Grusch's whistleblower claims and upcoming congressional hearings would force President Joe Biden to admit to the public that non-human extraterrestrial intelligence exists.
The veteran UFO lobbyist added that Grusch's claims were "a bomb going off," and that things are "getting ready to blow sky-high."
In an interview with the Washingtonian, Bassett said that people should expect more shocking UFO disclosures in the coming months.
Grusch is "one hundred percent legit."
Bassett told the Washingtonian he believed Grusch's allegations due to his credentials.
Grusch, 36, is an Air Force veteran who served in Afghanistan. According to The Debrief, he served as a Senior Technical Advisor for Unidentified Aerial Phenomena analysis with the National Geospatial-Intelligence Agency (NGA). He was also a Senior Intelligence Officer with the National Reconnaissance Office (NRO).
He worked with the UAP Task Force and held Top Secret / Sensitive Compartmented Information (TS/SCI) Clearance.
Bassett argued that it was unlikely that someone with Grusch's professional background would file a baseless whistleblower complaint with the Intelligence Community Inspector General (ICIG) and share claims he made up with congressional intelligence committees.
Grusch confirmed that the U.S. has custody of alien technology.
Bassett insisted that the information Grusch shared with the media confirmed that the U.S. government possesses alien technology.
He said that whistleblower allegations that the U.S. authorities retrieved crashed UFOs and alien bodies did not surprise him.
Grusch confirmed what he (Bassett) and many other UFO and alien disclosure advocates have been saying for years.
He said the disclosures created problems because the Senate and White House were not ready to talk publicly about UFO spacecraft and dead alien bodies.
"This was a bomb going off," he concluded.
Senate is under pressure
The UFO disclosure advocate argued that Grusch's explosive claims put Senator Mark Warner, the Senate Select Committee on Intelligence chairman, in a difficult situation.
Warner is in a "tough position" because, after the disclosures, the public expects Congress to act. Grusch forced them to start investigations by telling the media about the existence of a secret UFO retrieval program.
Bassett added that people also expect Congress to hold public hearings.
U.S. president will soon publicly admit the existence of aliens
Stephen Bassett argued that President Joe Biden would be under immense pressure during and after the congressional hearings.
Once congressional hearings start and witnesses, including Grusch, testify about UFO programs, the president will have to come out publicly within two weeks to make a statement admitting the existence of extraterrestrials.
He predicted that the congressional hearings would be the most watched in history. Hundreds of millions of people around the world will tune in to watch the testimonies. The questions and revelations will cause a stir.
Bassett does not see how the U.S. president could remain silent for more than two weeks following the earth-shaking disclosures that will come from the hearings.
"After two weeks of that, what are you [President Biden] going to do?" Bassett asked rhetorically. "You've got to go and make an announcement."
The government knows that E.T.s are behind UFOs.
Bassett added that the U.S. authorities know that extraterrestrial aliens are behind UFO phenomena.
He claimed they have known for decades that non-human extraterrestrial intelligence was behind UFOs, but they kept the truth secret.
They would need to admit it after the congressional hearing.