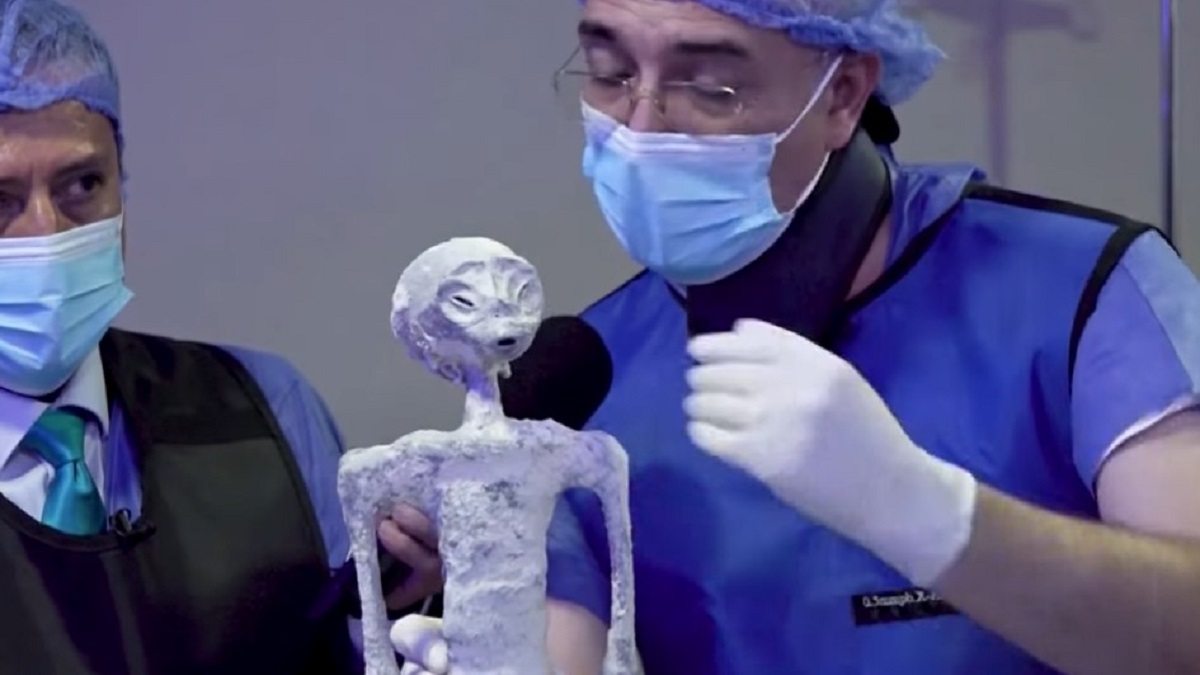 Doctors reportedly examined Jamie Maussen's "alien corpses" and concluded they were not forgeries. Pic credit: via Daily Mail/YouTube
Medical scientists reportedly examined the "alien corpses" that UFO researcher Jaime Maussan displayed before the Mexican Congress during a hearing last week.
They concluded they were not forgeries and could be of extraterrestrial origin.
Paranormal Papers reported that Maussan, a controversial UFO researcher, exhibited two allegedly "mummified alien corpses," while testifying under oath before the Mexican Congress.
After conducting a CT scan examination of the corpses, the scientists reportedly concluded they could be of extraterrestrial origin.
Mexican scientists reportedly did CT scans on the alien corpses
Medical experts at the Noor Clinic, Huixquilucan, Mexico City, reportedly did CT scans of the skeletal specimens, the Daily Mail reported.
Dr. José de Jesús Zalce Benitez of the Noor Clinic, described as an "associate" of Maussan, said that CT scans suggested they were not forgeries.
The report by Dr. Benitiez came after Maussan made stunning claims about the corpses that met with a skeptical reception from scientists and the international news media.
Skeptics alleged that the specimens, named Clara and Mauricio, were likely forgeries. Some suggested the skeletons were artificially assembled from pieces taken from different sources.
But Benitez denied claims they were assembled. He reportedly said the bones "belong to a single skeleton that has not been joined to other pieces."
Experts allegedly found eggs inside one of the "alien corpses"
Benitez said each specimen was a "single skeleton" and a "complete organic being." He also claimed that they were intact biological organisms and that the specimen named Clara "was in gestation."
A YouTube video shows the team passing the specimens into a CT scan machine (see the YouTube video above). It shows them examining the scan and concluding that there were objects inside the abdomen that appeared to be "eggs."
Maussan claimed the specimens were "not part of our terrestrial evolution"
While presenting the allegedly "mummified" alien corpses during Mexico's first congressional hearing on UAPs on Tuesday, September 12, UFO researcher Maussan claimed they found them in "diatom [algae] mines" in Peru in 2017.
He alleged they were intelligent non-human species at least 1,000 years old and unrelated to any species native to the Earth.
Maussan also claimed that researchers at the Autonomous National University of Mexico detected non-human DNA in them.
"These specimens are not part of our terrestrial evolution," he said.
"Whether they are aliens or not, we don't know, but they were intelligent and they lived with us. They should rewrite history," he added.
Alien corpses have humanoid features
The two specimens Maussan presented to the Mexican Congress had humanoid features. They were about two feet tall and had elongated heads and flat faces with eyes, noses, and lips.
They also had three-gingered hands, a humanoid torse, hip bones, and legs.
The bones were reportedly light, and the mouth toothless with implants of the metals osmium and cadmium.
It is not the first time Maussan has made sensational claims about alien finds. In 2015, he claimed to have found the remains of a humanoid alien creature.
However, experts who examined it concluded they were the remains of a deformed child.