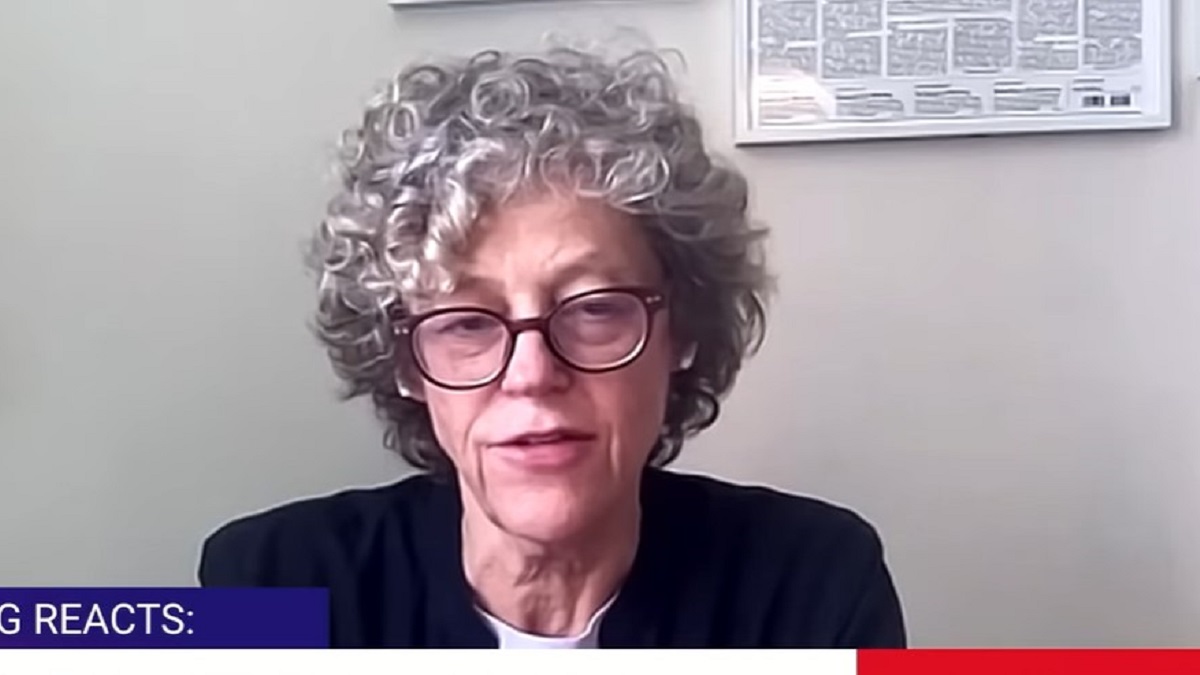 UAP investigator Leslie Kean said Grusch's claim that the government was in the custody of "non-human biologics' was explosive. Pic credit: The Hill/YouTube
UAP investigator Leslie Kean said that David Grusch's claim that the government is the custody of "non-human biologics" was probably the most explosive. She said it was hard to imagine that the U.S. is secretly keeping evidence of extraterrestrial life.
Kean admitted she had no way of knowing whether the claim was true. But she talked to people within the intelligence community who said it was true.
She was more focused on seeking evidence of crashed alien spacecraft in government custody because there was a better chance of obtaining them than specimens of extraterrestrial beings.
Who is Leslie Kean?
Kean has been reporting on UAPs for many years. She is best known for co-authoring a groundbreaking investigative report with Helen Cooper and Ralph Blumenthal.
The report, Glowing Auras and Black Money: The Pentagon's Mysterious UFO, published in the New York Times in December 2017, was one of the first in-depth exposé on the alleged secret UFO retrieval program.
Grusch gathered UFO evidence from 40 witnesses
Grusch claimed during questioning at the congressional hearing that he gathered evidence of the alleged UFO retrieval program from more than 40 individuals with different levels of involvement.
But he did not share information about who the 40 were. He also did not reveal how many had first-hand knowledge or direct access to UAP material and biological specimens of extraterrestrial origin.
Keane said she did not know who the 40 were but suggested some might have come forward to testify privately to Congress.
She added that some might have talked to her and Ralph Blumenthal for their explosive report published in June in The Debrief.
The people who spoke with her and Blumenthal corroborated David Grush's testimony.
More people waiting to come forward
Kean said she believed that many of the 40 Grusch gathered evidence from did not want to speak publicly because they feared for their safety.
Many are under official restrictions, while others fear repercussions. They were concerned about their safety and threats to their jobs or careers.
They were also afraid of retaliation by the government, superiors, and employers. Kean alleged that Grusch suffered retaliation for filing a whistleblower complaint and sitting for an interview with Ross Coulthart.
She suggested that more people were waiting in the wings to see how things unfold. She believed they would come forward to support and corroborate Grusch's claims when they believed it was safe to do so.
We might also see more individuals with direct access to the programs at a level Grusch did not have.
Paranormal Papers reported that Kean said we should expect more mind-blowing disclosures about UAPs.
Reps asked House Speaker to form select committee to investigate UAPs
Kean confirmed reports that some members of the Congress, including Representatives Tim Burchett, Matt Gaetz, Anna Paulina Luna, and Jared Moskowitz, asked Speaker Kevin McCarthy to form a select committee to investigate UAPs.
The select committee would be involved in the collection of information and address issues related to oversight.
The select committee would also have subpoena authority. It would be able to subpoena witnesses and address the problem of the overclassification of UAP records.
It will work to get more records released to the public.