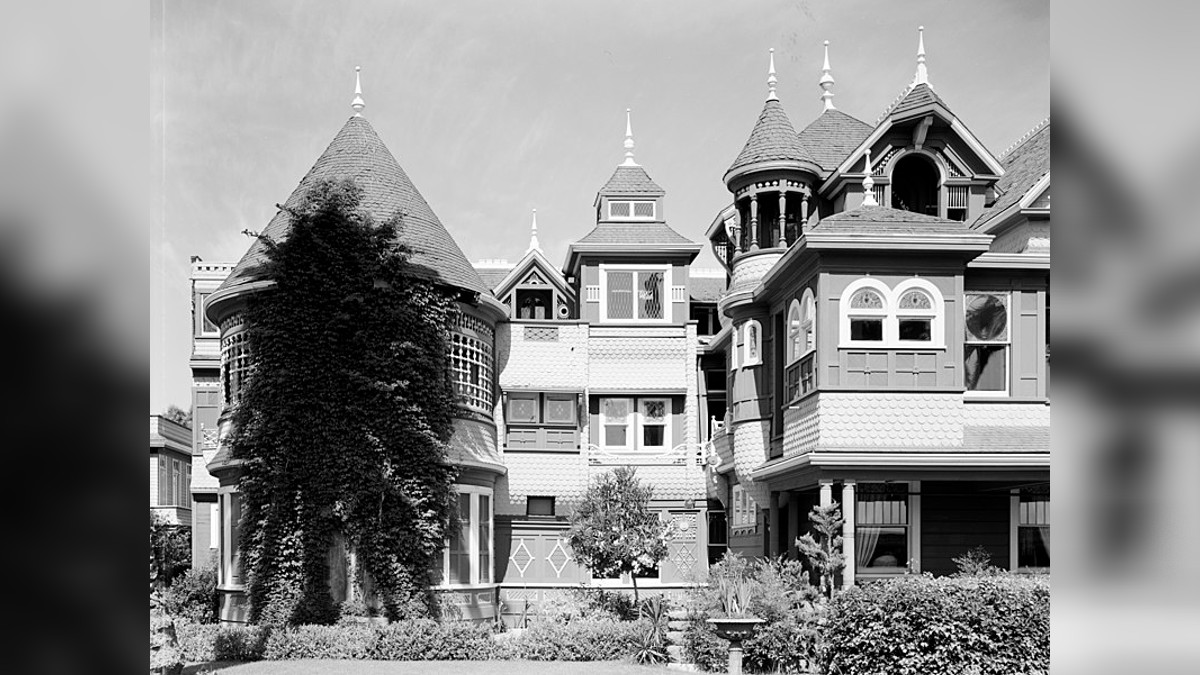 Winchester Mystery House can be found in San Jose, California, and was once the USA's largest private residence.
History
Winchester Mystery House was built by Sarah Winchester, the heiress to the Winchester rifle-making family fortune. The house is a blend of Victorian and Gothic architecture styles, and today, it sits rather incongruously near downtown San Jose close to the Joseph P. Sinclair Freeway.
The original house was an eight-room cottage surrounded by acres of land. After first setting eyes on it in the 1880s, Sarah Winchester began to add to the original building, continuously changing her plans so that the house grew in a somewhat random fashion.
The story goes that prior to an earthquake in 1906, the house was at its biggest. At this point, it allegedly comprised 200 rooms, 10,000 windows, almost 50 fireplaces, and 2000 doors and trap doors. Apparently, not even Sarah could assuredly identify the original eight rooms.
Additions and modifications were made to the house right up until Sarah's death in 1922. Many of these modifications made no sense and would often be hastily covered up by yet another change.
To this day, no one really knows why Sarah continuously made changes to the house. It is possible that she did this as a way to try to come to terms with her grief, for Sarah had lost her father-in-law, her husband, and her young daughter.
Apparently, Sarah (who was herself a spiritualist) was under the influence of a medium named Adam Coons, who told her that she was haunted by the ghosts of the souls who had been killed by a Winchester rifle.
Coons told her she should move west and build a new home. According to the medium, the building should never stop, as this would prevent the angry spirits from attacking her.
Today, the house remains a bizarre place. Rooms are built within rooms, staircases lead nowhere, doors open onto walls, and windows are built into floors.
Sarah was clearly obsessive, but she was not insane. The house contains symbols, allusions, and encryptions. For example, in one room, the parquetry has been designed in a strange pattern. The effect is clear when the sun shines on the boards; the lighter-colored boards will appear darker, and vice versa for the usually darker boards.
Although the reasons for the house remain unclear, it remains, perhaps, a metaphor for a perturbed and unsettled mind – one that was understandably conflicted.
Today, the house is open to the public, and guided tours are available.
Cases
However, the Winchester Mystery House isn't just a strangely shaped building created by a troubled woman, it is also a place with many strange happenings, and ghostly sounds and sightings have been numerous.
Footsteps, Slamming Doors, and Odors
Tour guides have reported hearing odd footsteps and doors being slammed around the house – often coming from places that are not open to the general public.
Even though the kitchen has long been inoperable, staff still say they can sometimes smell chicken soup emanating from it. Also, there is a rocking chair that appears to rock backward and forward by itself.
Grateful Tourist
Perhaps the most famous story attached to the house is that of a tourist. Upon finishing their tour, they thanked the staff and said what a great idea it was to have actors in various rooms throughout the house. The tourist was particularly impressed by the actress in the kitchen who played Mrs. Winchester.
The problem was that the management had hired no actors. When the kitchen was searched, no trace of the person was found.
Ghostly Appearances and Sounds
One of the carpenters who helped to build the house has supposedly been seen, as has the alleged ghost of a small boy. The boy was seen many times by one of the ex-members of staff.
Stories abound of a man dressed in 1900s clothing who appears in the basement. An organ can sometimes be heard being played somewhere in the house. Door handles are known to turn, seemingly without anyone touching them, and loud bangs can be heard – bangs that sound very much like gunshots.
A man with jet-black hair has been reportedly spotted pushing a wheelbarrow along the hallways. He's also been seen repairing the fireplace in the ballroom. It's thought he may have been a former handyman of the property who stuck around after death and continued to work.
A modern-day handyman working on restoration was standing on a ladder one day when he felt someone tap him on the shoulder. But he turned to find no one was there. He went back to work only to feel someone pushing on his back; he reportedly fled the room.
Hollywood actress Helen Mirren played Sarah Winchester in the 2017 movie Winchester, which was filmed at the house. The celebrity recalled that she had found the place spooky and suggested that Sarah's spirit remained in the house, though she added that she didn't necessarily mean that in a ghostly way.
Got something to say about this case? Leave a comment or get in touch if you have new information or media you think we should add.
Videos
Photos
This slideshow requires JavaScript.
Where to find
Explore
In the media
Ghost Brothers Season 2, Episode 3 on TLC.
Ghost Adventures Season 5, Episode 8 on Travel Channel.
Ghost Hunters Season 2, Episode 11 on Syfy.
Most Haunted Live! (USA) 2007.
Winchester movie (2017), starring Helen Mirren
Links
National Parks Service — Winchester Mystery House 
References
smithsonianmag.com, "The Heiress to a Gun Empire Built a Mansion Forever Haunted by the Blood Money That Built It," accessed August 09, 2017.
exploreyourspirit.com, "The Haunted History of the Winchester Mystery House," accessed August 10, 2017.
destinationamerica.com, "A Deeper Look At The Winchester Mystery House," accessed August 10, 2017.
ghostsofohio.org, "Winchester Mystery House," accessed August 10, 2017.
ancient-origins.net, "Winchester Mystery House – Anything But an Ordinary Millionaire's Mansion," accessed August 10, 2017,
https://www.mercurynews.com/2016/10/06/three-ghost-stories-of-the-winchester-mystery-house/, "Three ghost stories of the Winchester Mystery House," accessed March 8, 2023.
Entry Details
Published
Last modified on March 8th, 2023 at 5:43 pm
Comments