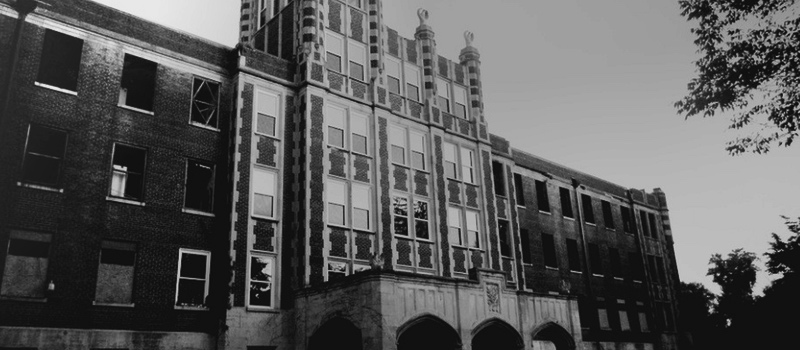 Waverly Hills Sanatorium in Louisville, Kentucky is widely considered to be one of the most haunted places in America.
History
The sanatorium was built in 1910 as a specialist hospital to treat patients who had tuberculosis. Originally, the building held 40 to 50 patients, but was expanded in 1926 to look after the rapidly growing number of people suffering from the disease.
Because tuberculosis was such a contagious disease, anyone suffering from it was taken away from the rest of the population. There was no guarantee of surviving tuberculosis at this time; patients knew that if they went to Waverly Hills then they might not be coming back. Even the staff lived there full-time.
Waverly Hills was a self-contained community. Animals were reared for meat, vegetables were grown, and there was even a water treatment facility.
The building itself is an enormous, Gothic-style construction and could house over 400 patients. When it opened it was regarded as one of the most modern sanatoriums of its time.
Waverly Hills continued to operate as a tuberculosis center until an antibiotic was developed to successfully treat the disease. The sanatorium finally closed down in 1962.
Following renovation work, the building was reopened the same year as a geriatric hospital, only to be closed down in 1981 after the state found out about the horrible neglect of patients.
The following years were not kind to Waverly Hills, as vandals and decay laid siege to it. In fact, the building was on the verge of being condemned.
Thankfully, in 2001, in stepped Charles and Tina Mattingly. These new owners are paranormal enthusiasts and have made many changes and improvements. In conjunction with the Waverly Hills Historical Society, they work to restore Waverly Hills to its former glory.
The plan is to transform the building into a luxury hotel, catering for those interested in history and the paranormal.
In all, it is estimated that 6000 people met their end at Waverly Hills. The treatments for tuberculosis were often brutal, involving electroshock therapy, putting heavy sandbags on a patient's chest, and operations to collapse a lung or remove ribs. It goes without saying that patients felt little benefit…
Cases
Timmy the Little Boy
It is believed that Timmy is a six- or seven-year-old boy who passed away at the hospital and has remained there ever since. Some visitors bring a ball with them and ask Timmy if he would like to play.
They report that the ball moves, seemingly being manipulated by an unseen force, but critics contend that this is simply due to the floors being uneven.
Suicide in Room 502
A pregnant nurse is alleged to have committed suicide in Room 502. The story goes that she was impregnated by one of the doctors, who then rejected her.
Heartbroken, the young lady decided to hang herself. Another version of the story is that it was the hospital's owner who got the woman pregnant, and that she jumped from the room rather than hanging herself.
Regardless, visitors have spoken of a tormented entity in the room.
The Death Tunnel
This is an underground tunnel that goes from Waverly Hills' main entrance all the way down to the bottom of a steep hill (a total distance of some 500 meters).
The tunnel was used to receive supplies in winter when the weather was bad and trucks couldn't get up the hill. However, it is believed that doctors used this tunnel to move the dead.
The tunnel meant they could have moved the bodies without causing distress to the living patients. Now a paranormal hotspot, there are reports of strange shadows, disembodied voices, and inexplicable footsteps. A number of investigators have also reported chilling EVPs…
Mysterious Happenings
Guides at Waverly Hills have described their own spooky experiences of the building. One guide related the tale of walking up a stairway when he felt himself being shoved from behind.
He was by himself at the time and cannot explain what happened. He fell so hard against the stairs that he still has a scar today.
News
Got something to say about this case? Leave a comment or get in touch if you have new information or media you think we should add.
Videos
Photos
This slideshow requires JavaScript.
How to find
Explore
In the media
Ghost Adventures Season 3, Episode 6 on Travel Channel.
Links
References
The Waverly Hills Sanatorium, accessed July 25 2017,
Mysterious Universe, "The Ghosts of Waverly Hills", accessed July 25 2017,
Spiritual Travels, "Ghost Hunting at Waverly Hills in Louisville, Kentucky", accessed July 26 2017.
Julian Cheatle updated Waverly Hills Sanatorium on 23 Aug , 2017.