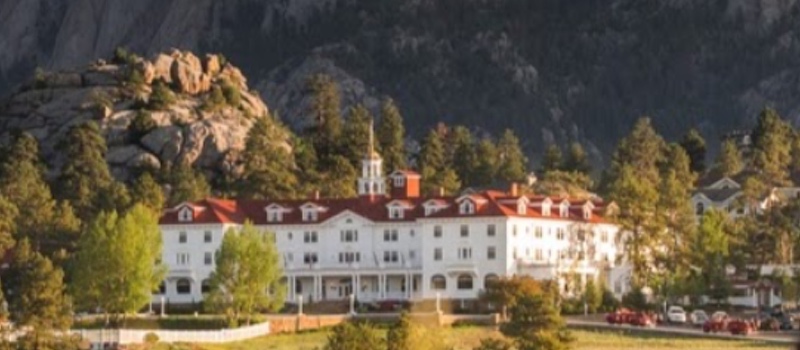 The Stanley Hotel is an historic, luxury hotel in Estes Park, near Denver, Colorado.
History
The hotel was built by an inventor called Freelan Oscar Stanley. Arriving in the area in 1903, Stanley was suffering from tuberculosis and was rather weak. After spending a summer in the area he found his health to be much improved, so he decided to come back every summer.
Having been used to rather sophisticated company on the east coast, Stanley and his wife, Flora, found that Estes Park did not give them satisfactory stimulation. Because of this, they decided to build a grand hotel to attract people to the area.
When the hotel opened in 1909, visitors were amazed at the opulence of the hotel and compared it to existing hotels back east. Electric lights, telephones, and en suite bedrooms all combined to make the hotel a very impressive place to stay.
As well as building the hotel, Stanley also helped to introduce improvements to Estes Park. By 1919, the town had a waterworks and a power plant, both of which owed much to Stanley.
Sadly, the hotel was in a sorry state by the 1970s and was close to being demolished. It was saved, however, by a visit from the author, Stephen King, who came to stay in the hotel and was inspired to write The Shining, a book that was subsequently made into a film starring Jack Nicholson as the hotel caretaker who goes mad.
The Stanley Hotel today stands restored and resplendent, having had a great deal of investment to return it to its former glory. These days it is a holiday retreat for the wealthy, who can enjoy spa treatments and various culinary experiences, while a range of tours showcase the history of the incredible building.
Cases
Lots of paranormal activity has been reported in the hotel over the years. This activity includes the sound of children playing and running on upper floors, people being seen in hallways and then hiding, and cupboard doors being unlocked and opened in guests' rooms overnight.
Room 217
It is alleged that Room 217, or rather what happened in it, may have started the strange happenings in the Stanley Hotel.
One evening in 1911, a thunderstorm cut the power to the hotel. The story goes that a chambermaid named Elizabeth Wilson entered Room 217 with a lit candle in order to relight the gas lamps. Unbeknown to the unfortunate Elizabeth, there was a gas leak and, as soon as she entered the room, there was a huge explosion.
Legend says that this event opened a gateway to another realm or dimension, clearing the way for spirits to enter the hotel.
The Stanleys
Mr. and Mrs. Stanley are said to haunt the hotel. Mr. Stanley has been seen in the billiards room, in the lobby, and even propping up the bar, while Mrs. Stanley has been heard playing the piano – something for which she was well known when she was alive. A number of guests have reported these strange occurrences.
The concert hall is also supposed to be haunted. Some people have said they have heard a voice saying "Get out!" Keys on the piano in this room have been said to move by themselves.
Lucy
Lucy is a little girl who had run away from home. She ended up hiding in the hotel's basement and tragically died.
While on a tour of the hotel, Stephanie Reidl took a photo as she went down into the concert hall basement. On inspection, the photo seemed to show a little girl in a pink dress with a very deathly look on her face.
Ghostly Figures in Windows
As well as Lucy, other figures have allegedly been appearing in photos, often peeking through windows of the hotel. These photos, however, are generally believed to be hoaxes.
News
Got something to say about this case? Leave a comment or get in touch if you have new information or media you think we should add.
Videos
Photos
This slideshow requires JavaScript.
How to find
Explore
In the media
Ghost Hunters Season 3, Episode 5 on Syfy.
Ghost Adventures Season 4, Episode 3 on Travel Channel.
Links
References
stanleyhotel.com, "A Spirited History", accessed August 10 2017.
strangerdimensions.com, "The Strange Hauntings of the Historic Stanley Hotel", accessed August 10 2017.
atlasobscura.com, "The Stanley Hotel", accessed August 10 2017.
James Wray updated The Stanley Hotel on 06 Sep , 2017.