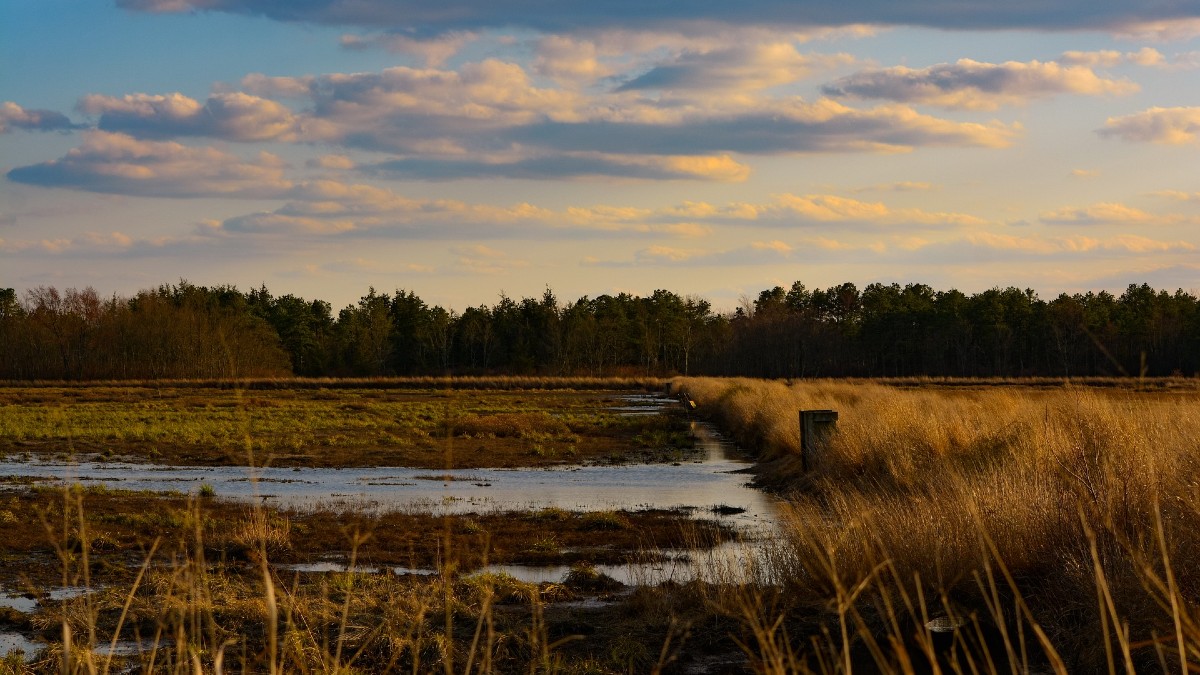 New Jersey's Pine Barrens is a 1.1 million-acre woodland area covering seven counties. It is an area with an abundance of ghost towns and wide-sweeping rural landscapes.
It's also famous for being one of the most haunted places in America, with plenty of ghouls, apparitions, and cryptids calling the vast expanse home.
History
The Pine Barrens were settled by the Lenni Lenape Indians in about 1200AD, but it wasn't until the mid-1690s that the area began to morph into what we know it as today.
By 1694, a number of European settlements had started to appear. Later, the advent of the iron industry meant that the Pine Barrens grew wealthy. In fact, New Jersey produced the bulk of the iron used during the Revolutionary War.
Many other industries thrived, too, including glassmaking, cotton, and clay. However, New Jersey suffered greatly when many people moved west to Pennsylvania to work in the attractive coal industry. This explains the excessive number of abandoned towns in the Pine Barrens. Some of the towns were simply abandoned overnight.
In 1978, Congress stated that the Pine Barrens were to be protected by the Pinelands National Reserve to ensure that the ecology of the area could be preserved.
Cases
The Jersey Devil
The Jersey Devil may be familiar to a number of you, and it's definitely the best-known paranormal story attached to the Pine Barrens.
This beast is alleged to have been born to a local lady, Mrs. Leeds, in 1735. Mrs. Leeds already had twelve children, and she is supposed to have said to friends that "the Devil can take the next one." Well, it seems he took her up on her offer… The baby transformed into a terrifying monster, described as having wings, hooves, and a horse's head, the Jersey Devil has been terrorizing residents ever since. Other notable features include a forked tail and sharp claws.
Recorded sightings go back to 1820 when Joseph Bonaparte (Napoleon's brother, no less) claimed to have seen the beast on his estate.
When livestock killings occurred in the 1840s and 1920s, the Jersey Devil was thought to be the culprit. The beast is also thought to have taken children and animals; the animals' remains were discovered, but the children's were never found.
January 1909 saw a spate of sightings and attacks. Public panic ensued, to the point where schools were temporarily closed and a $10,000 bounty was offered for the creature.
Sightings have dwindled in the last century or so, although a lot of people still believe in the legend.
There have also been separate stories of a large ghostly black dog and a white stag which both roam the woodlands. Thankfully, both these creatures are thought to be benevolent and may actually help lost or injured humans.
Ghosts
Although the Pine Barrens has countless ghosts, some, in particular, stand out. The first of these is the ghost of Captain Emilio Carranza, a Mexican pilot who is still regarded as the greatest aviator in Mexican history.
Carranza, a friend of Charles Lindbergh, flew to America on a goodwill visit in 1928 after Lindbergh had completed a flight to Mexico City. He set off for home in the middle of an electrical storm, ignoring all warnings, and died when his plane went down near Sandy Ridge.
A monument was erected to honor Carranza's memory. Strange footprints appeared on the monument, yet no one can explain where they came from.
Locals say that if you park at the gate of his memorial and shout "Emilio" three times, you will see his plane in the sky.
Another ghostly tale involves a little boy who is said to haunt Burnt Mill Road in the Atco area. Killed in a hit-and-run, the boy appears on the road, apparently searching for the driver who killed him.
Yet another notable spirit is that of James Still, an African American doctor who, legend has it, was lynched when he was found to be practicing medicine. Some believe, however, that he died a natural death. Either way, his ghost can be seen wandering around, but he appears to be a friendly spirit who likes to help those who are lost or hurt.
The Devil's Puddle
Located near Winslow, this body of water is renowned for supernatural activity – so much so that it's known as "The Devil's Puddle."
It has been suggested that the water has medicinal qualities but that these are closely guarded by evil spirits in the water. Ghostly hands would apparently grab those who ventured too close, pulling them down to a watery grave.
Local lore tells us that ghostly shapes have been seen near the water and that unexplained patches of quicksand have swallowed people and horses before disappearing without a trace.
Got something to say about this case? Leave a comment or get in touch if you have new information or media you think we should add.
Videos
Photos
This slideshow requires JavaScript.
Where to find
Explore
In the media
The Legend of the Jersey Devil, on Travel Channel.
The Monster Hunter Season 3, Episode 12.
Links
Pinelands Preservation Alliance 
References
onlyinyourstate.com, "One Of The Most Haunted Forests In North America Is Right Here In New Jersey," accessed July 27, 2017,
weirdnj.com, "Tag Archives: Pine Barrens," accessed July 27, 2017,
mysteriousuniverse.org, "The Cursed Blue Hole of New Jersey," accessed July 27, 2017,
https://www.njvid.net/show.php?pid=njcore:16572&retc=njcore00000000028, "Ghosts of the Pines," accessed April 4, 2023.
Top image pic credit: JennVanE/Pixabay
Entry Details
Published
Last modified on April 6th, 2023 at 2:08 pm
Comments