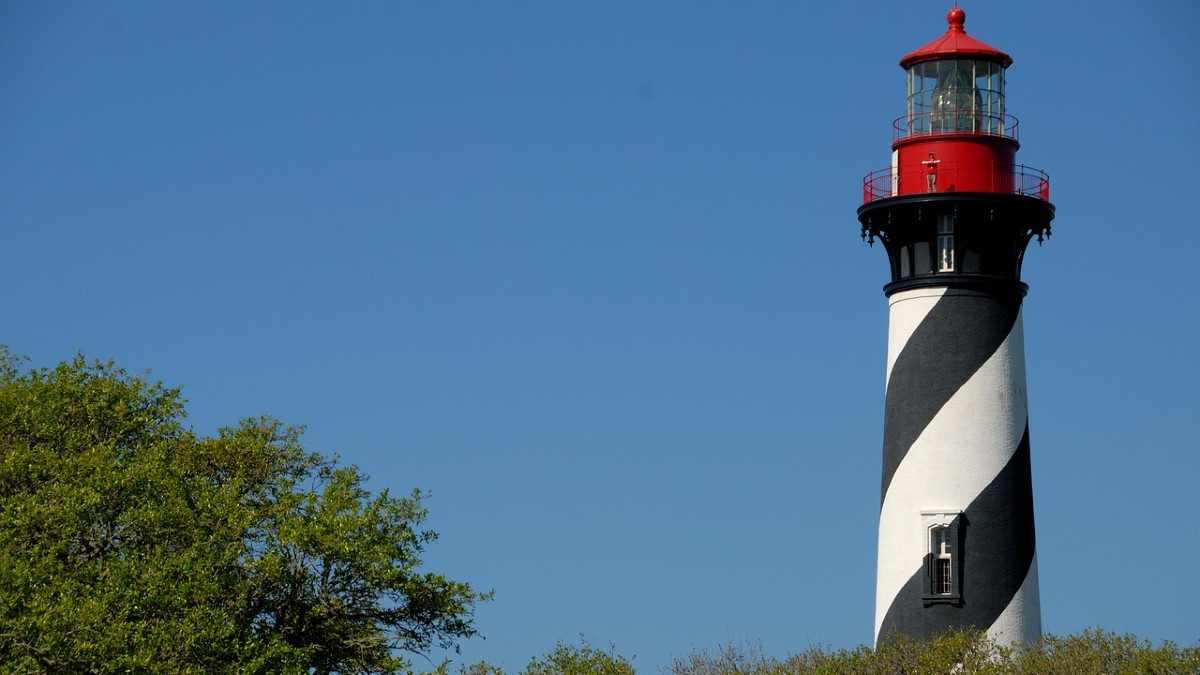 The St. Augustine Lighthouse is in St. Augustine, Florida. Its lighthouse tower and adjacent innkeeper's house have been the subject of a number of paranormal investigations over the years, and there are regular ghostly sightings recorded.
History
There has been a structure of some kind on this site since the 1500s. It was in 1874 that the St. Augustine Lighthouse, in its current incarnation, began to guide ships safely into shore, making it the oldest brick building in the area. The lighthouse keeper's house was built two years later to house the keeper and their assistants.
In total, there are 219 steps to the top of the lighthouse – and these steps are full of history.
With a long-held reputation for supernatural occurrences, the lighthouse has attracted numerous visitors who wish to find out more about the strange events that have taken place there.
Cases
Presence of Spirits
A number of spirits are thought to be present, including that of Peter Rasmussen, one of the first keepers of the St. Augustine Lighthouse. Peter had a fondness for cigars, and staff and visitors report being able to smell a cigar in the lighthouse.
Joseph Andreu was another keeper. His ghost has been seen at the top of the lighthouse. Joseph died over a century ago, falling 60 feet to his death while he was painting the outside of the tower.
The best-known spirits (and perhaps the most chilling story associated with the lighthouse) are those of Eliza and Mary Pittee, daughters of Hezekiah Pittee, who was hired as superintendent of lighthouse construction from 1871 to 1874.
The girls were playing in a cart that was being used to transport materials when the cart broke free and gathered speed, eventually crashing into the water and trapping the girls underneath. Sadly, Eliza and Mary didn't survive the accident.
On pretty much any given night, the girls can still be heard laughing from the tower. Visitors have seen Eliza walking around, wearing the same blue dress she was wearing when she died. The pair often leave wet footprints on the floors and have even been known to untie a tour guide's shoelaces. They are considered to be playful and mischievous rather than malevolent.
It is believed that a man hanged himself here in 1929. Although there is no evidence to support this, many people have seen what seems to be a man dangling from a rafter on stormy nights.
The lighthouse keeper's home is also home to numerous ghosts. Major William and Kate Harn, 19th-century keepers, are said to haunt an old Victorian parlor. William died from tuberculosis, and the staff say they still regularly hear him coughing.
William is also said to inhabit his rocking chair during tours, and he has been known to violently rock the chair when a guide referred to him using the wrong title. The Major is clearly still proud of his military service. Shadows, thought to be Williams wife, Kate, have also been seen wandering around the rooms.
Some visitors have also said that they felt very cold, and then a strange, tall man appeared before them, only to vanish shortly afterward.
Unexplainable Events
Aside from the ghostly apparitions, the lighthouse and innkeeper's house are also known for events that just cannot be explained.
The last lighthouse keeper refused to sleep in the keeper's house after he heard voices and footsteps and saw lights go on and off by themselves.
Staff lock the door at the top of the tower every night, but sometimes it will be wide open when they arrive at work the next morning. There are also reports of chairs being moved around or even overturned. Items go missing from the gift shop, only to mysteriously reappear at a later date, and music boxes sometimes come on all by themselves.
Guides have spoken of their own experiences, including having their ankle grabbed during a tour and having some arm hairs plucked off. A shadowy figure has been spotted in the tower, and a hand has been seen coming through a door.
Investigators have reported some weird occurrences; perhaps the creepiest of these is the sound of a woman's voice: she simply says, "Help me."
Other reports include a figure leaning over a railing, something moving quickly on a staircase, a presence on a landing, and a hand grabbing a railing.
Burial Ground
Before the current lighthouse was constructed, thirteen pirates were caught and punished for their crimes. They were put to death, and it is thought that they were buried underneath the ground where the lighthouse keeper's house now stands. The hauntings in the basement of the house are attributed to these pirates.
Got something to say about this case? Leave a comment or get in touch if you have new information or media you think we should add.
Videos
Photos
This slideshow requires JavaScript.
Where to find
Explore
In the media
Ghost Hunters: Season 2, Episode 19 on Syfy Channel.
Most Terrifying Places in America: Part 5 on the Travel Channel.
Links
References
Ghosts and Gravestones: St. Augustine Frightseeing Tour, "Haunted Guide to the St. Augustine Lighthouse," accessed July 26, 2017,
staugustine.com, The St. Augustine Record, "A Look Back: Haunted History at St. Augustine Lighthouse," accessed July 26, 2017,
syfy.com, "St. Augustine Lighthouse," accessed July 26, 2017,
hauntedplacestogo.com, "The Hauntings of the St Augustine Lighthouse in Florida," accessed July 26, 2017.
Top image pic credit: Paul Brennan/Pixabay
Entry Details
Published
Last modified on April 6th, 2023 at 2:07 pm
Comments