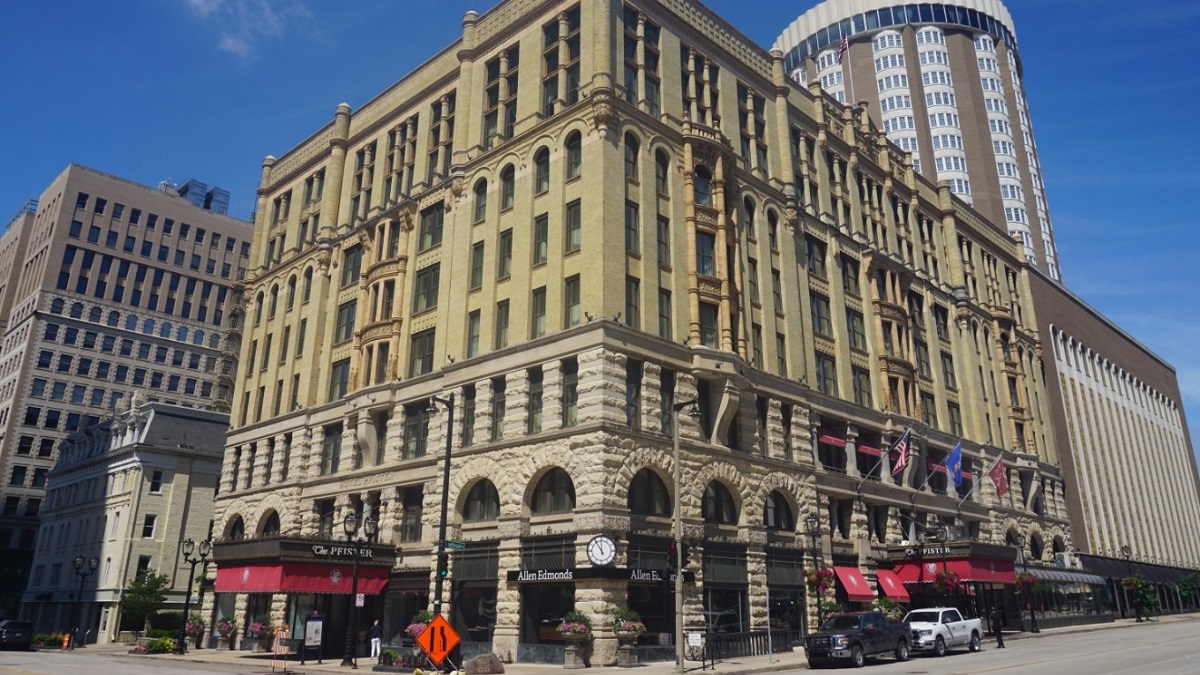 The Pfister Hotel is a historic structure at 424 East Wisconsin Avenue in the East Side Commercial Historic District of Milwaukee.
The East Side Commercial Historic District developed on the east side of the Milwaukee River as part of the central business district between 1854 and 1900.
The hotel, built in the 1890s, is often described as one of the most haunted in America. It is on the National Register of Historic Places.
It became a member of the Historic Hotels of America in 1994.
History
Guido and Charles Pfister buil the hotel
The German immigrant and businessman Guido Pfister, owner of the Milwaukee-based Guido Pfister Tanning Co. (later the Pfister and Vogel Leather Co.), and his son, Charles, built the hotel for $1 million in the late 1890s. They opened the hotel in 1893, dubbing it the "Grand Hotel of the West."
Guido and Charles hired architect Henry C. Koch to design the building. It is a Romanesque Revival-style structure constructed from limestone, stone, and brick.
The Pfister Hotel opened in 1893 as an ultra-modern luxury hotel with state-of-the-art facilities, such as electric power and fireproofing. It also had thermostat-regulated temperature controls installed in every room.
The hotel became known as one of the most luxurious in the country. It attracted famous and affluent guests, celebrities, and dignitaries, such as singer Sarah Vaughan, the jazz vocalist Carmen McRae, Al Jarreau, comedian Henny Youngman, and actress Joan Rivers.
It hosted the Wisconsin Republican Party convention in July 1894.
Many U.S. presidents stayed at the Pfister Hotel
Distinguished guests at the hotel included President William McKinley, who briefly stayed there in 1897. Other U.S. presidents who reportedly stayed at the hotel included Theodore Roosevelt, William Howard Taft, Woodrow Wilson, Warren G. Harding, John F. Kennedy, and Barack Obama
Pfister Hotel has won many awards, including the AAA Four Diamond award. It is also known for its vast collection of Victorian art. The art dealer Henry Reinhardt helped Charles amass the collection now on display at the hotel.
Visitors can book an appointment or take a self-guided tour to see the famous art collection.
Charles took over from his father in the early 1900s
Guido managed the hotel after it opened in 1893, but beginning in the early 1900s, Charles began playing an increasingly prominent role in managing the business.
Charles introduced multiple innovations, including his famous Indian Punch, a house specialty popular with patrons at the English Room bar and nightclub during Prohibition.
Charles sold Pfister Hotel to Ray Smith in 1927
Charles suffered deteriorating health in the 1920s. He sold the hotel to an employee Ray Smith after he suffered a stroke in April 1927.
Smith had worked for the Pfisters for many years and was close to the family.
Charles Pfister died in November 1927 from pneumonia.
Ben Marcus
The Pfister Hotel changed hands in 1962. Ben Marcus, an investor in the movie theatre and the hospitality industry, purchased and renovated the hotel.
Marcus wanted to expand the Pfister Hotel, but he also wanted to preserve the original building. So, instead of modifying the original structure, he constructed a separate 23-story building behind it.
The new structure included the famous Crown Room bar and nightclub.
Crown Room was a center of Milwaukee nightlife for several years, featuring live performances by jazz celebrities such as Carmen McRae and Sarah Vaughan.
Cases
Hauntings
Alleged ghost sightings, hauntings, and other paranormal phenomena at the Pfister Hotel date back many years. Some believe that the ghost of founder Charles Pfister haunts the hotel.
However, sensational news reports in 2009 that many major league baseball (MLB) players refused to stay at the hotel due to fear of ghosts drew attention.
The players alleged they experienced paranormal activity at the hotel. They reported seeing shadowy figures and experiencing poltergeist activity, such as objects moving by themselves, lights dimming or going on and off, electrical appliances going on and off, and TV sets switching on and off when no one was there.
They also reported hearing knocking sounds and other strange noises.
But skeptics have suggested that the reported strange activity at the hotel might have been part of a marketing pitch the hotel management arranged with famous sports celebrities.
Adrian Beltre (L.A. Dodgers)
In 2001, the Los Angeles Dodgers third baseman Adrian Beltre reported strange occurrences while staying at the hotel. He said he heard phantom sounds in the hallway and repeated knocking on his door. When he opened the door, there was no one there.
Later in the night, he heard pounding on the wall behind his headboard. Scared, he fetched his bat to defend himself.
The noise continued for much of the night, and he slept for only a few hours during his three-night stay.
Carlos Gomez (Minnesota Twins)
Later in 2008, the Minnesota Twins outfielder Carlos Gomez also reported strange occurrences while staying at Pfister Hotel.
The two-time MLB All-Star and Gold Glove Award winner reported hearing phantom voices from his bedroom while he was in the shower. When he came out of the shower, no one was in the bedroom, but he noticed his iPod was on, although he had switched it off.
The device began moving by itself as if it was being agitated by the vibrations of a ringtone. It moved toward the table edge, and Gomez had to prevent it from falling off.
When he picked up the device, it started playing music by itself. Puzzled, he switched it off and put it in the middle of the table. But it switched on again and began moving toward the table edge.
The Associated Press reported that Gomez did not want to stay at the hotel when his team returned to Milwaukee the following year to play the Brewers. He stayed there only after a teammate agreed to share the room. He checked into his room with a Bible for protection (Chris Jenkins and Colin Fly, Associated Press, July 2009).
He later describes the hotel as scary.
Brendan Ryan (St. Louis Cardinals)
St. Louis Cardinals shortstop and defender Brendan Ryan reportedly encountered a ghost in his room. He claimed to have seen a bright object and experienced a sharp drop in room temperature that left him chilled.
Phil Rozewicz strange story
Milwaukee Brewers visiting clubhouse manager Phil Rozewicz told the Associated Press in 2009 that a player reported that while staying at the hotel, he woke up at night to find the blinds and the windows open.
He shut the windows and drew the blinds before returning to bed. But in the morning, he found the blinds drawn and the windows open again.
He was so scared by the incident that he refused to return to his room. He spent the night at a rundown motel nearby (Chris Jenkins and Colin Fly, Associated Press, July 2009).
Florida Marlins players reported strange occurrences
Florida Marlins players also reported paranormal phenomena. The Palm Beach Post reported in 2009 that the last time the players stayed at the hotel, many insisted on sharing rooms due to fears about their safety.
Pablo Sandoval (San Francisco Giants)
San Francisco Giants Pablo Sandoval (nicknamed Kung Fu Panda) reported poltergeist activity at the hotel in the summer of 2009.
The two-time All-Star and three-time World Series championships winner claimed he saw his door opening and shutting on its own when he woke up in the early hours.
Later in the summer of 2010, Sandoval and teammate Edgar Renteria made headlines when they reportedly refused to stay with the team at the hotel due to fear of ghosts.
They stayed at the nearby Intercontinental.
 C.J. Wilson (Texas Rangers)
During an appearance on ESPN in June 2010, Texas Rangers C.J. Wilson claimed strange occurrences at Pfister Hotel.
The professional baseball pitcher and auto-racing enthusiast said he heard scratching sounds on the wall late at night. Electrical appliances, including his bedside lamp, also went haywire.
The lamp switched on and off on its own.
Texas Rangers star Colby Williams saw a frightening apparition
Other Texas Rangers players, besides C.J. Willson, reported strange occurrences.
According to Wilson, his teammate Colby Preston Lewis (nicknamed Cobra) saw a ghost resembling a skeleton. The alleged encounter shook the burly 6 feet 4 inches tall player.
He consulted with the team chaplain the next morning and missed a scheduled media appearance that day.
Los Angeles Dodgers star Mookie Betts
The Orange County Register reported in May 2023 that Los Angeles Dodgers star Mookie Betts refused to stay at Pfister when his team played the Brewers in Milwaukee. Instead, he arranged to stay with friends at an Airbnb.
He told the Orange County Register that he had heard stories about ghosts at the hotel and did not want to take chances.
Several other MLB players reported paranormal activity at Pfister Hotel: Bryce Harper (Philadelphia Phillies), Justin Upton (Atlanta Braves), Michael Young (Philadelphia Phillies), Brandon Phillips (Boston Red Sox), and Giancarlo Stanton (Florida Marlins).
Got something to say about this case? Leave a comment or get in touch if you have new information or media you think we should add.
Videos
Photos
Top image courtesy of Michael Barera is used under Creative Commons license CC BY-SA 4.0.
Where to find
[put_wpgmp id=1]
Explore
In the media
Links
References
https://www.thepfisterhotel.com/, "The Pfister Hotel: Celebrating 47 consescutive years as a four diamond hotel," accessed on May 18, 2023.
https://www.thepfisterhotel.com/boutique-hotel/pfister-history, "The Pfister Hotel: A historic Milwaukee hotel: Over 130 years of magic beginning in 1893," accessed on May 18, 2023.
https://www.historichotels.org/us/hotels-resorts/the-pfister-hotel/history.php, "The Pfister: History & Story," accessed on May 18, 2023.
https://city.milwaukee.gov/ImageLibrary/Groups/cityHPC/DesignatedReports/vticnf/HDEastSideComm.pdf, "Historic designation study report: East side commercial historic district," accessed on May 18, 2023
https://www.americanghostwalks.com/articles/milwaukee-ghosts-major-league-paranormal-activity-, "Major League Paranormal Activity at Milwaukee's Pfister Hotel," accessed on May 18, 2023
https://archive.jsonline.com/news/milwaukee/50546667.html/, "Associated Press: Is Pfister ghost picking on baseball players? Visiting teams fear boos at posh hotel," accessed on May 18, 2023.
https://www.the-sun.com/sport/8108510/inside-the-haunted-pfister-hotel-mlb-stars-ghost-fears/, "Inside the haunted Pfister Hotel which MLB stars refuse to stay in and go for Milwaukee AirBnBs instead over ghost fears," accessed on May 18, 2023.
https://www.ocregister.com/2023/05/09/dodgers-mookie-betts-rents-airbnb-to-avoid-haunted-milwaukee-hotel/, "Dodgers' Mookie Betts avoids 'haunted' Milwaukee hotel by staying in Airbnb," accessed on May 18, 2023.
https://www.espn.com/mlb/story/_/id/9315544/justin-upton-more-mlb-players-spooked-milwaukee-haunted-hotel-espn-magazine, "The haunting of MLB's A-List," accessed on May 18, 2023.
https://www.si.com/mlb/dodgers/news/dodgers-news-mookie-betts-opts-out-of-staying-at-spooky-hotel-with-rest-of-team, "Dodgers News: Mookie Betts Opts Out of Staying at Spooky Hotel with Rest of Team," accessed on May 18, 2023.
Entry Details
Published
Comments