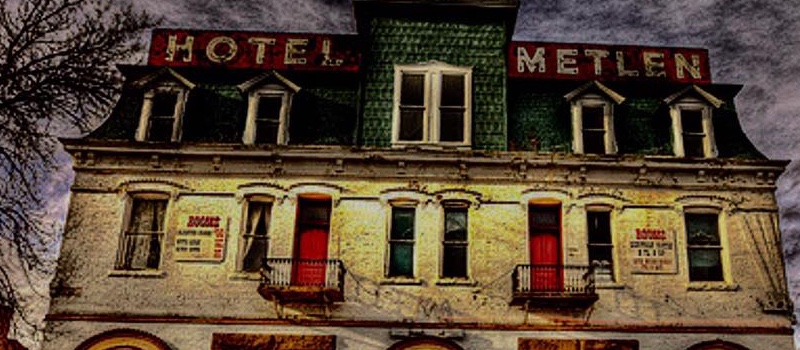 | | |
| --- | --- |
| Other Name/s | N/A |
| Address | Metlen Hotel Bar & Cafe, South Railroad Avenue, Dillon, MT, United States |
| Location | United States, Montana |
| Type | Hotel |
| Activity reported | Haunting |
Hotel Metlen is in Dillon, Montana, and has been the subject of several paranormal investigation and many reports of unexplained disturbances.
History of Hotel Metlen
The Hotel Metlen was built in 1897 and still has many of its original furnishings. The 32,000ft building has 42 rooms for guests along with two bars, a restaurant and dining area, a shop and live poker and gaming area.
The hotel has a rich, and at times violent, history with some reports saying there have been deaths in every one of its rooms.
There have been many reports over the years that the hotel is haunted, with sightings including a woman in a white dress who inhabits one of the lower rooms and an area around the bar.
Other apparitions have included a man in a cowboy hat and a woman in a black bonnet, both behind the bar.
The hotel, which was up for sale at the time of writing, has had the third floor shut to the public for 20 years.
The floor has been subject to numerous reports of strange phenomena, including a regular smell of cigar smoke and the sound of voices.
Cases
The hotel has seen many reports of paranormal activity, though they have tended to be a little vague as to exactly when each sighting or experience occurred.
The Dancing Lady
Staff and guests at Hotel Metlen claim to have seen a female figure in a white dress floating around the bar area and on the dance floor. These reports extend to Room 19, which is located above the dance floor. It's not clear if this is a patron who loved to dance and then died or perhaps someone who met with foul play on the premises. The reports don't mention the style of the dress, so it's quite hard to place the period the apparition they claim to have seen might have come from.
Hotel Metlen News
Got something to say about this case? Leave a comment or get in touch if you have new information or media you think we should add.
You May Also Like
Videos of Hotel Metlen
[Best_Wordpress_Gallery id="2″ gal_title="Hotel Metlen Videos"]
Photos of Hotel Metlen
[Best_Wordpress_Gallery id="1″ gal_title="Hotel Metlen"]
How to find Hotel Metlen
Explore
In the media
Featured in Ghost Hunters Season 13 Episode 7.
Links
References
James Wray updated Hotel Metlen on 20 Nov , 2016. [mashshare]