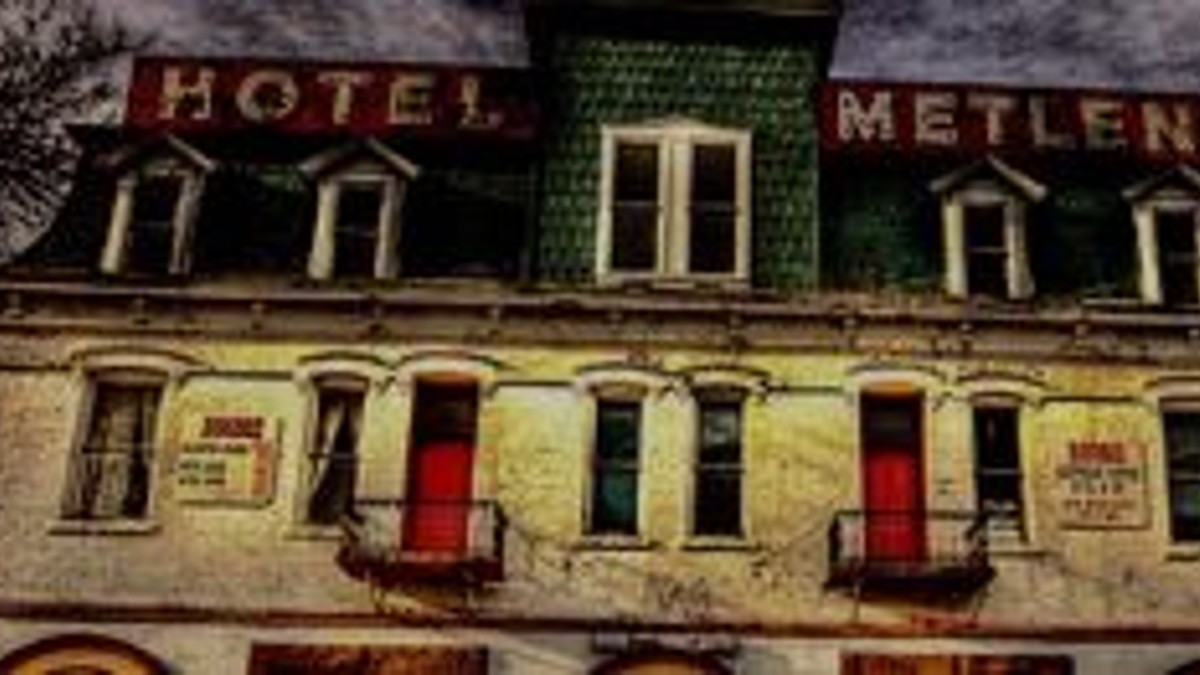 | | |
| --- | --- |
| Other Name/s | N/A |
| Address | Metlen Hotel Bar & Cafe, South Railroad Avenue, Dillon, MT, United States |
| Location | United States, Montana |
| Type | Hotel |
| Activity reported | Haunting |
The Hotel Metlen is considered a real landmark of the old West, and it still sits proudly in the frontier town of Dillon, Montana It has been the subject of several paranormal investigations and many reports of unexplained disturbances.
History
The Hotel Metlen was built in 1897 by J.C. Metlen, who came from a prominent local ranching family. The place was constructed for about $100,000, which is the rough equivalent of $3 million today.
The 32,000ft building has 42 rooms for guests along with two bars, a restaurant, a dining area, a shop, and live poker and gaming area.
The Metlen was considered to be a luxurious destination venue, and it proved popular with everyone from politicians and cowboys to the occasional celebrity. It was well placed right beside the railroad for ease of access.
Today, this charming hotel looks like it has remained in the days of the old Wild West, and it still has many of its original furnishings, along with a large selection of hauntings from its heyday.
The hotel has been closed to guests since 2008, but there are still two functioning bars, complete with a dance floor, that caters to Dillion's residents and tourists.
The hotel has a rich, and at times violent, history with some reports saying there have been deaths in every one of its rooms.
There have been many reports over the years that the hotel is haunted, with sightings including a woman in a white dress who inhabits one of the lower rooms and an area around the bar.
Other apparitions have included a man in a cowboy hat and a woman in a black bonnet, both behind the bar.
There is a third floor, which has been shut to the public for 20 years. The floor has been subject to numerous reports of strange phenomena, including a regular smell of cigar smoke and the sound of voices.
The hotel was up for sale at the time of writing. The venue was owned by Dorothy Alley for many years, but she passed away in the 1990s. As of 2018, the premises remained within her family.
Cases
The hotel has seen many reports of paranormal activity, though they have tended to be a little vague as to exactly when each sighting or experience occurred.
The Dancing Lady
Staff and guests at Hotel Metlen claim to have seen a female figure in a white dress floating around the bar area and on the dance floor. These reports extend to Room 19, which is located above the dance floor. It's not clear if this is a patron who loved to dance and then died or perhaps someone who met with foul play on the premises.
The reports don't mention the style of the dress, so it's quite hard to place the period the apparition they claim to have seen might have come from.
Multiple and varied paranormal sightings
In 2018, the Metlen's general manager Bailey Murphy told the local press that there are many strange phenomena occurring at the old hotel. Bailey said that items often inexplicably move or go missing and that locked doors mysteriously open, and furniture moves.
Bailey also stated that staff and patrons had heard the footsteps of boots on the hardwood floors, which the manager believes to be the ghosts of the cowboys who frequented the establishment.
The manager also reassured the press that the ghosts had been friendly to date. He was quoted saying, "The ghosts that are here had a good time. We like to say we are the caretakers of their place."
Ghost Adventures
The crew of Travel Channel's Ghost Adventures filmed at the Metlen for an episode broadcast in 2016. The presenters claimed to have interactions with the former deceased owner, Dorothy Alley, as mentioned above. They also claimed to capture the outline of an older woman on a thermal imaging camera.
News
Got something to say about this case? Leave a comment or get in touch if you have new information or media you think we should add.
Videos
[Best_Wordpress_Gallery id="2″ gal_title="Hotel Metlen Videos"]
Photos
[Best_Wordpress_Gallery id="1″ gal_title="Hotel Metlen"]
How to find
Explore
In the media
Featured in Ghost Adventures: Season 13, Episode 8.
Links
References
https://www.monstersandcritics.com/tv/possesion-and-ghostly-figures-in-hotel-metlen-as-ghost-adventures-head-to-montana/, "Possession and ghostly figures in Hotel Metlen as Ghost Adventures head to Montana."
https://nbcmontana.com/news/local/hotel-metlen-rich-symbol-of-dillons-old-west-history, "Hotel Metlen a rich symbol of Dillon's Old West history."
James Wray updated Hotel Metlen on 20 Nov , 2016.