Lake Shawnee Amusement Park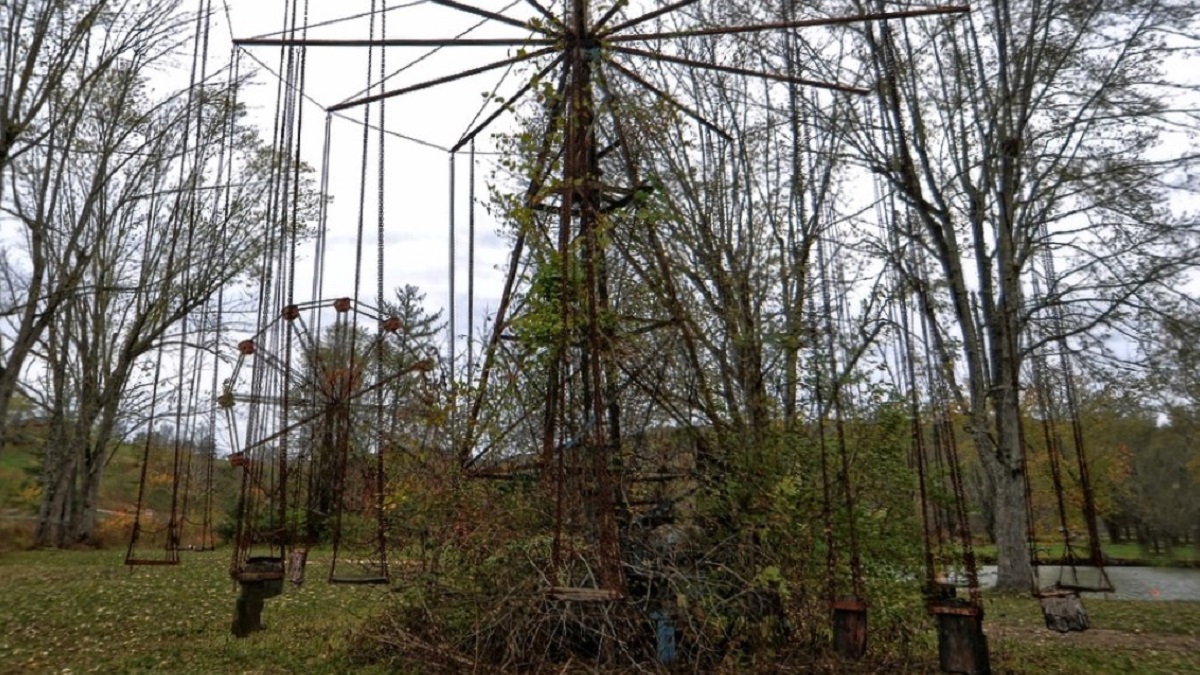 Lake Shawnee Amusement Park is an abandoned park in rural West Virginia, United States.
The park and the land have a long history of strange occurrences and tragic deaths. Folklore claims that Conley T. Snidow built the park on an ancient Native American burial ground.
Massacres reportedly occurred on the land before he acquired it. Tragic deaths also occurred during the years the park operated. The deaths inspired tales about hauntings and other paranormal activity.
History
Mitchell Clay
The first owner of the land was an early English settler named Mitchell Clay.
Clay arrived in West Virginia with his family in 1775. The family acquired about 800 acres of land for farming near Lake Shawnee, Princeton, W. Virginia. He raised a large family of 14 children.
West Virginia legend says that in 1783, a massacre occurred while Clay was away hunting. Native American Shawnees attacked his family and killed two of his children. The victims were his youngest son Bartley and daughter Tabitha (Chris Bradford, The Sun, September 2022).
They captured a third child, his eldest son Ezekiel. They took Ezekiel to their settlement in Ohio, where they tortured and burned him (Michelle James, The Register-Herald, October 25, 2015).
Clay vowed vengeance. He led a group of settlers who attacked the Native Americans and killed them.
Conley T. Snidow built the Lake Shawnee Amusement Park
Lake Shawnee Amusement Park is near Lake Shawnee in Princeton, West Virginia.
Conley T. Snidow, a local entrepreneur, acquired the land in the 1920s and built an amusement park to serve the coal mining communities in and around Mercer County, West Virginia.
The park, featuring facilities such as a Ferris wheel and swing rides, opened in 1926. Snidow added other facilities, such as a swimming pool, water slides, a dance hall, cabins, and a race track. Some sources claim the park also hosted a speakeasy.
The park became a popular resort for the families of coal miners from surrounding rural communities in the Princeton area of Mercer County.
Tragic deaths at the Lake Shawnee Amusement Park
However, the park started gaining notoriety after a series of strange and tragic fatal accidents occurred there.
An 11-year-old boy drowned in the swimming pool when his arm got stuck in the pool drain. According to an account, the boy's mother dropped him off at the park and left. She couldn't find him when she returned. So she alerted the park authorities. They found the boy dead in the pool.
In a separate incident, a six-year-old boy drowned in a lake nearby.
In 1934, a man reportedly came to the park with a gun and shot a woman who spurned him. In 1966, a little girl died when a truck delivering soda backed into her swing. The swing hit the vehicle, and the girl died.
Legend claims that about six park visitors died when Snidow operated the park between 1926 and 1966. Public safety authorities closed the park in 1966 after it failed a safety and health inspection.
Gaylord White reopened the park in 1986
Gaylord White purchased the property in 1986 and reopened the park. He had worked at the old park when he was a young man.
He wanted to replicate the feel and appearance of the old park. So he went in search of dealers who could supply antique park facilities. He noticed that one of the swings he purchased had the same serial number as the swings at the old park, indicating they were the same.
He also added new facilities such as paddleboats, bumper boats, and an entertainment stage.
However, the park closed in the early 1990s due to increasing insurance rates. But he tried to keep the site active by organizing events, such as fishing tournaments.
A Native American burial ground
While they worked to develop a part of the land for mud-bogging tournaments, the workers began unearthing artifacts, including pottery and arrowheads. The artifacts suggested that Native Americans once occupied the site (Michelle James, The Register-Herald, October 2015).
Suspecting that the artifacts might be of historical significance, the White family contacted researchers from Marshall University who unearthed more artifacts. As the archeological excavation continued, it became evident that the Shawnees who occupied the land before European settlers arrived used it as a burial ground.
The researchers uncovered skeletal remains of young children, suggesting that the Native Americans had used the lot primarily for burying dead children.
They estimated that the Shawnees buried about 3,000 people there. They also speculated that an outbreak of flu, smallpox, or other diseases wiped out the Native Americans living there in the 1700s.
Lake Shawnee Abandomed  Amusement Park
The discovery of children's graves led to rumors that the land was cursed. Stories about paranormal phenomena, including hauntings, began circulating in Mercer County communities and beyond.
People became convinced that the site was haunted by the ghosts of the children buried there. Visitors stopped coming to the park out of fear, and the White family had to abandon it.
Cases
Paranormal activity at the Lake Shawnee Amusement Park
Local legend says that the park is also haunted by the ghosts of children who died there.
Tour guides describe the Lake Shawnee Abandoned Amusement Park as one of the most haunted places in the country. The park has attracted the attention of paranormal enthusiasts who hunt for ghosts or research alleged paranormal phenomena.
Paranormal investigators and visitors claim to have witnessed strange happenings at the site.
Some reported seeing ghosts of children there, while others claimed to have heard strange Native American ritual chanting at night. The swings sometimes moved when no one was there.
A member of a team of paranormal investigators filming for a Discovery Channel show reportedly got locked in a ticket booth, although nobody was around. She tried to push the door open, but it got stuck. She panicked and started yelling for help.
Gaylord White also claimed that while clearing the bush after he purchased the land, he saw the apparition of a little girl dressed in pink. He said he believed it was the ghost of a girl who died at the park years ago.
The park is open to paranormal tours
The abandoned Lake Shawnee Amusement Park still belonged to the White family as of 2015, according to The Register-Herald.
Gaylord and his wife, Jewell, and son, Gay, provided tours during the 1990s. But Gay passed away in 2013. Gaylord passed away soon after, leaving Jewell to manage tours with help from other family members.
The park's official website and Facebook account show it is still open for tours in 2023. It also remains one of the top tourist destinations in West Virginia.
Paranormal enthusiasts who want to learn about the property and paranormal activity there can book a guided tour or go ghost hunting.
According to the official website, the Lake Shawnee Abandoned Amusement Park hosts an annual Halloween event.
Got something to say about this case? Leave a comment or get in touch if you have new information or media you think we should add.
Videos
Photos
Top image courtesy of Forsaken Fotos used under Creative Commons license CC BY 2.0.
Where to find
[put_wpgmp id=1]
Explore
In the media
Multiple paranormal interest TV shows have investigated Lake Shawnee Amusement Park since the 2000s.
ABC Family's Scariest Places on Earth and Travel Channel's Most Terrifying Places in America (2010) investigated the site in 2002 and 2010, respectively.
Discovery Channel's Ghost Lab (2010), History Channel's The UnXplained (2019), and Travel Channel's Portals to Hell with Jack Osbourne and Katrina Weidman also investigated the park.
Links
References
https://web.archive.org/web/20190619045900/https://www.register-herald.com/news/life/the-haunted-history-of-lake-shawnee/article_08935a42-a55a-536a-94a8-11893a806589.html, "The Haunted History of Lake Shawnee," accessed on April 15, 2023.
http://lostamusementparks.napha.org/Articles/WestVirginia/Lake%20Shawne%20Amusement%20Park.html, "Lake Shawnee Amusement Park – Princeton, West Virginia," accessed on April 15, 2023.
https://www.facebook.com/lakeshawneeevents/, "Lake Shawnee," accessed on April 15, 2023.
https://www.wvlakeshawnee.com/, "Website: Lake Shawnee Abandoned Amusement Park," accessed on April 15, 2023.
https://visitmercercounty.com/places/lake-shawnee/, "Mercer County website:Lake Shawnee Abandoned Amusement Park," accessed on April 15, 2023.
https://www.the-sun.com/news/6310305/kids-killed-haunted-theme-park-burial-ground/, "Plagued with death: Horror deaths of six children who were killed in mysterious circumstances at 'haunted' theme park built on burial ground," accessed on April 15, 2023.
https://www.mirror.co.uk/news/weird-news/americas-most-haunted-theme-park-27517277, "America's 'most haunted' theme park built on sacred burial ground shut when children died," accessed on April 15, 2023.
https://www.slate.com/blogs/atlas_obscura/2014/05/13/lake_shawnee_in_west_virginia_is_an_abandoned_amusement_park_with_a_history.html, "Lake Shawnee: An Abandoned Amusement Park With a History of Death," accessed on April 15, 2023.
https://www.nydailynews.com/news/national/abandoned-west-virginia-amusement-park-bloody-history-article-1.1497567, "Abandoned West Virginia amusement park has a bloody history," accessed on April 15, 2023.
Entry Details
Published
Comments