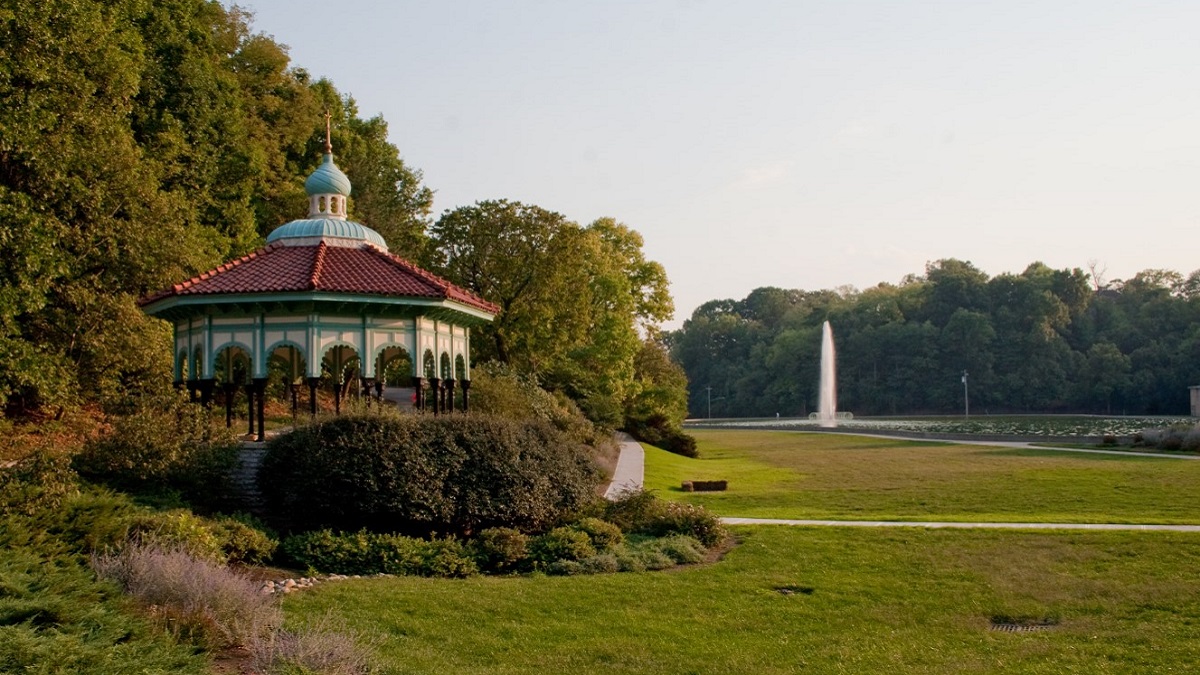 Eden Park is a 186-acre urban park on Walnut Hills, a hilltop neighborhood in Cincinnati overlooking the Ohio River Valley. The park is between East Walnut Hills and Mount Adams, a short distance from the University of Cincinnati.
The park hosts the Cincinnati Art Museum and the Krohn Conservatory. Prominent landmarks include the Mirror Lake and the "haunted" Spring House Gazebo overlooking the lake. The park is also famous for its scenic walking paths and groves.
But Eden Park has a dark side to it. Folklore claims the ghost of a Cincinnati resident from the Prohibition era haunts the park.
History
The property known today as Eden Park used to belong to the influential Longworth family of Cincinnati. Nicholas Longworth ( 1783-1863) was a famous vintner known for his brand of Catawba wine from grapes grown in his vineyard.
He was also a real estate mogul. Among his properties in the area was a parcel of land that he called the Garden of Eden. He used the land as a vineyard and horticulture garden.
His son, Joseph Longworth (1813-1883), sold the land to the city authorities in 1869. It includes the land on which the Cincinnati Art Museum now stands.
The city renamed the property Eden Park after acquiring it from the Longworths.
Cases
Augusta Imogene Remus
Local folklore claims that the ghost of Augusta Imogene Remus, the wife of the famous attorney, pharmacist, and bootlegger George Remus (aka "King of Bootleggers"), haunts the Spring House Gazebo overlooking the Mirror Lake in Eden Park.
Imogene and George Remus met in Chicago
Imogene was George Remus's second wife. They met in Chicago when he practiced as a criminal lawyer and owned pharmacies. She married the German-born Remus in June 1920 after divorcing her first husband, Albert Holmes, in 1917. She had a daughter, Ruth, with Holmes.
Lillian was George's first wife, with whom he shared one daughter, Romola, a stage and film actress. Lillian divorced George in March 1919, alleging infidelity after she found out that he was keeping Imogene as his mistress.
George was an attorney and a certified pharmacist but diversified into bootlegging after the U.S. Congress passed the enabling legislation, known as National Prohibition Act (Volstead Act), to enforce the Eighteenth Amendment prohibiting alcohol in the United States.
The Volstead Act, passed in October 1919, came into effect on January 17, 1920.
George took advantage of his legal knowledge and prior establishment in the pharmaceutical trade to exploit loopholes in the Volstead Act.
He and Imogene relocated to Cincinnati, where he acquired distilleries. By 1921, he had earned himself the title of King of Bootleggers by selling bonded liquor his distilleries produced under government licenses to his pharmacies and then diverting it to the underworld liquor trade.
Some sources claimed that at the height of his bootlegging empire, Remus owned more than 31 percent of the liquor in the United States, although, according to legend, he was a teetotaler who never took alcohol.
He made millions selling an estimated 3 million gallons of whiskey in only four years (Sarah Brookbank, Cincinnati Enquirer, October 27, 2017).
He and Imogene also became prominent members of the Cincinnati high society due to their lavish spending and ostentatious lifestyle funded by profits from bootlegging.
But his success was short-lived.
Mabel Walker Willebrandt
In 1925, state prosecutors led by Mabel Walker Willebrandt indicted Remus of violating the Volstead Act (Karen Abbott, The Ghosts of Eden Park, 2019).
Willebrandt, known to her colleagues as "the First Lady of Law," became the first female U.S. Assistant Attorney General after her appointment in 1921.
According to Abbott in The Ghosts of Eden Park (2019), Willebrandt's superiors delegated the unwanted job of bringing Remus to justice to her because they assumed she would not have the grit and tenacity to prosecute Remus successfully. Besides the supposed handicap of her gender, she was only 32 years old and hard of hearing.
However, as soon as she got into office, Willebrandt applied herself to the task with a verve that surprised everyone. By 1925, only a few years after her appointment to the office of the assistant attorney general, she had succeeded in securing an indictment and conviction of Remus on multiple violations of the Volstead Act.
A court sentenced Remus to a two-year sentence. He served his sentence at the Atlanta Federal Penitentiary.
Franklin Dodge
While Remus served his sentence, Imogene, to whom he transferred his assets and granted legal control over his finances (power of attorney), started an affair with Franklin Dodge (1891–1968), a former agent of the Bureau of Investigation.
Dodge was working as an undercover prohibition agent when he met Remus serving his two-year sentence at the Atlanta Federal Penitentiary. Dodge learned from George that his wife Imogene had power of attorney on his behalf. So, he purposely resigned from his job and started an affair with Imogene to gain access to Remus's wealth.
Dodge and Imogin liquidated Remus's assets, sold his distillery business, and hid the proceeds. They then tried unsuccessfully to get rid of Remus by first attempting to get him deported and later by hiring someone to kill him.
The efforts failed.
Imogene filed for divorce
Much of the details about the scheme to deprive Remus of his wealth came from Congressman Fiorello Henry La Guardia's disclosures on the floor of Congres in March 1926.
Imogene filed for divorce while Remus was in prison, accusing him of cruelty, and applied for a restraining order. The two reportedly had a heated exchange when she visited him in prison. Imogene claimed he shouted curses at her and told her to get a divorce if she wanted one.
After George left prison early in 1927, she took steps to finalize their divorce.
George Remus shot Imogene at Eden Park
Early on October 6, 1927, when they were due to appear in court to finalize the divorce, Remus, driven in a Buick by a chauffeur, followed the cab carrying Imogene and her daughter, Ruth, from her hotel to the courthouse.
When Imogene noticed the Buick, she alerted the cab driver, and a chase ensued through Walnut Hills. The Buick caught up with the cab, hit it from behind, and ran it off the road. Remus jumped out of his vehicle and approached the cab.
Fearing he wanted to harm her, Imogene panicked, scrambled out of the cab, and ran. Remus chased the woman dressed in black across the street into Eden Park. He caught up with her near the Spring House Gazebo overlooking the Mirror Lake.
Grabbing her by the wrist, he pressed the nozzle of his revolver against her midsection and pulled the trigger (Sarah Brookbank, Cincinnati Enquirer, October 27, 2017). A bullet from the pearl-handled gun pierced her vital organs, injuring her fatally.
The incident happened in broad daylight in the presence of many park visitors. Ruth also witnessed the incident. She tried unsuccessfully to stop the shooting but could only prevent Remus from firing a second shot.
Remus left the scene of his crime and went to a downtown police station, where he turned himself in. Meanwhile, a witness helped Ruth rush Imogene to the hospital, but she died at the hospital two hours after being shot.
Media outlets got wind of the incident and sent reporters to the downtown police station. Remus told reporters he felt peace for the first time in two years. He added he believed he did the right thing.
Remus represented himself in his murder trial
Remus represented himself in the trial that followed, pleading temporal insanity. Ruth testified against her stepfather.
Remus argued that after trusting his wife and transferring his assets to her, he felt betrayed by her infidelity and attempts to defraud him of his wealth. He said her actions caused him to experience temporary insanity.
The court acquitted him of murder charges in December 1927, but he spent some months in a mental asylum. The Cincinnati Enquirer reported rumors that some of the jury members received bribes.
Remus lived a quiet life afterward and married a third time. He suffered a stroke in 1950 and died in 1952 at 73.
Imogene's ghost still haunts Eden Park
Legend claims that Imogene's ghost haunts the Spring House Gazebo. Locals have reported sighting the ghost-like figure of a woman dressed in black near the old structure. Some claim to have seen the mysterious figure gazing out from the gazebo over the Mirror Lake reflecting pool.
Tour operator Dan Smith told The Enquirer that many park visitors reported seeing the ghost. Some took photos that appeared to show an apparition of a woman in black.
According to some accounts, the mysterious woman dressed in a flowing black dress and black hat was sometimes only a dark shadow or silhouette. At other times, it looked like a woman in distress.
Some residents speculated that the distressed woman was Imogene, regretting the actions that led to her death.
Spring House Gazebo in Eden Park
The Cincinnati Preservation Association website promotes the Spring House Gazebo in Eden Park as a Halloween destination.
The gazebo, according to the association, is a Moorish-style structure. It is the oldest structure in the Cincinnati Parks system, designed by Architect Cornelious M. Foster in 1904.
Got something to say about this case? Leave a comment or get in touch if you have new information or media you think we should add.
Videos
Photos
Top image courtesy of Greg Hume used under Creative Commons license CC BY-SA 3.0.
Where to find
[put_wpgmp id=1]
Explore
In the media
The HBO crime drama series Boardwalk Empire (September 2010-October 2014) follows the career of the New Jersey gangster Enoch "Nucky" Thompson, played by actor Steve Buscemi. The series also featured George Remus, played by actor Glenn Fleshler.
Season 2 shows Nucky introducing Remus to a Department of Justice official Jess Smith who helps Remus get government licenses to produce liquor for medicinal purposes.
Links
References
The Ghosts of Eden Park: The Bootleg King, the Women Who Pursued Him, and the Murder That Shocked Jazz-Age America, Karen Abbott, 2019.
https://www.cincinnati-oh.gov/cincyparks/visit-a-park/find-a-parkfacility/eden-park/, "City of Cincinnati: Eden Park," accessed on April 10, 2023.
http://www.naturalohioadventures.com/eden-park-overlook.html, "Eden Park Overlook," accessed on April 10, 2023.
https://www.wcpo.com/entertainment/local-a-e/the-ghosts-of-eden-park-chronicles-dark-chapter-of-cincinnati-bootlegger-george-remuss-life, "The Ghosts of Eden Park' chronicles dark chapter of Cincinnati bootlegger George Remus's life," accessed on April 10, 2023.
https://cincinnatipreservation.org/haunted-spring-house-gazebo-in-eden-park/, "Haunted Spring House Gazebo in Eden Park," accessed on April 10, 2023.
https://www.cincinnati.com/story/news/2017/10/27/ghost-eden-park-definitely-out-there-90-years-after-she-murdered/790591001/, "The ghost of Eden Park is 'definitely out there' 90 years after she was murdered," accessed on April 10, 2023.
https://www.wlwt.com/article/is-it-haunted-gazebo-at-eden-park-has-spooky-history/37900294, "Is it haunted? Gazebo at Eden Park has spooky history," accessed on April 10, 2023.
https://www.npr.org/2019/08/08/749321598/the-ghosts-of-eden-park-seems-fittingly-haunted-by-prohibition, "'The Ghosts Of Eden Park' Seems Fittingly Haunted By Prohibition," accessed on April 10, 2023.
Entry Details
Published
Last modified on April 13th, 2023 at 12:08 am
Comments