Eastern State Penitentiary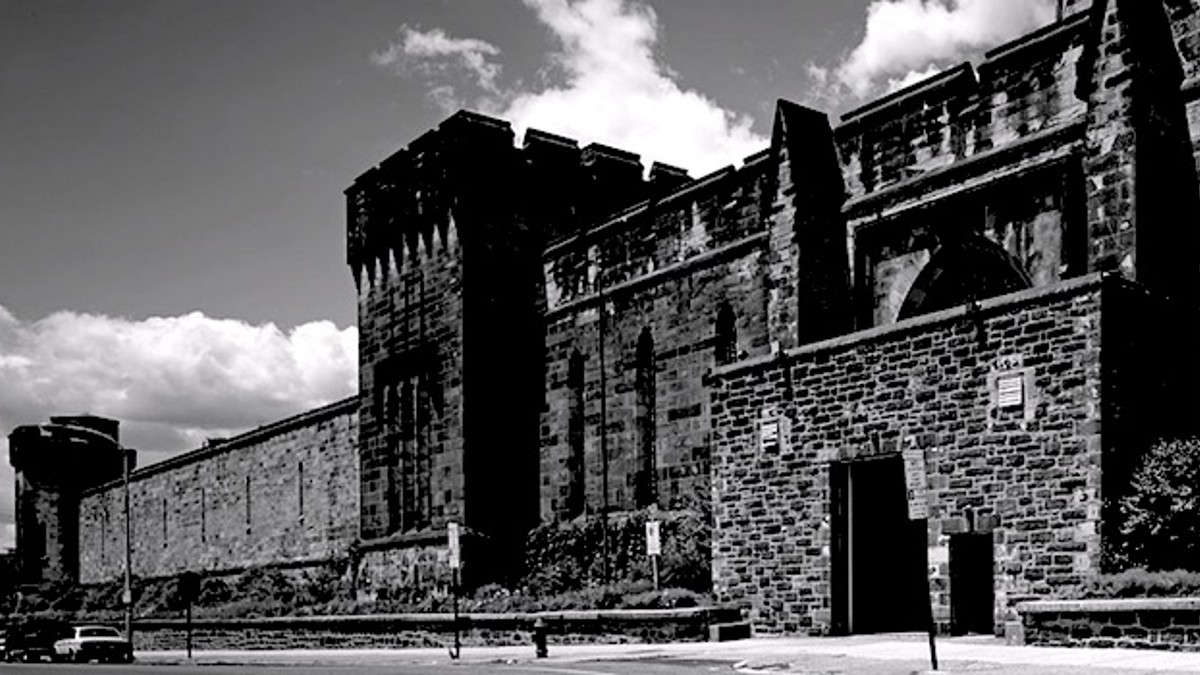 Eastern State Penitentiary in Philadelphia, USA, is known as one of the world's most haunted places.
This prison housed thousands of dangerous and violent inmates in appalling conditions for 150 years.
Many believe that the souls of those who died within the confined spaces of the penitentiary remained behind, perhaps, still searching for a way out.
History
The penitentiary was the most expensive building of its time in the USA, and construction began in 1822. It was constructed on 9.8 acres of land on the outskirts of Philadelphia. The city subsequently grew around the prison, meaning its crumbling buildings are now slap bang in the middle of the city.
Its design would become a prototype for over 300 prisons in the USA. The architect, John Haviland, borrowed the 'hub and spoke' design from Europe.
Designed to use the Quaker idea of prisoners living in tiny cells and having no human contact (other than an occasional visit from a guard), each prisoner stayed in their cell for 23 hours of each day. No contact with other inmates was allowed.
The idea behind this was that the prisoners would find God. What was more likely to happen was that the prisoners would be driven insane. When the prison first opened, the doors on each cell were only wide enough to fit food through them, which helped with the prisoners' isolation.
If a prisoner stepped out of line, the punishments were Machiavellian and severe. They included the "iron gag," where an iron collar was clamped onto the prisoner's tongue, then chained to their wrists which were tied high behind their back. Any movement, even a small movement, resulted in the tongue being torn and bleeding profusely.
Charles Dickens paid a visit to the prison in the 1840s. He recorded his shock at the conditions and the psychological torture administered by the staff and described the prisoners as being "buried alive."
1913 saw the eventual reformation of Eastern State Penitentiary. The prison had originally been designed to hold 250 people, but over 1700 prisoners were held there in the early part of the twentieth century.
As the prison population grew, new cells had to be built, some of which had questionable conditions. Some cells were even built below ground without windows, light, or plumbing.
Over the next few decades, the number of inmates continued to grow, and by the 1960s, the old structures started falling apart.
The prison, which once housed Al Capone for eight months, was finally abandoned in 1971, but it is still possible to get inside. The complex was left abandoned and crumbling for two decades; however, today, it is a thriving museum that offers tours of the spooky cells.
The site attracts many paranormal investigators each year, as well as television shows such as Ghosthunters.
Cases
TThe Locksmith
One of the creepiest things to happen in the building was to a locksmith who was doing some repairs to Cell Block 4.
He removed a 140-year-old lock from a door. As he did so, an enormous force passed over him and he couldn't move.
Pained faces appeared on the wall, and strange, distorted shapes flashed around the cell block. The locksmith said there was one dominant form that seemed to invite him towards it.
Apparently, his experience affected him for many years. He described having something akin to an out-of-body experience, and he felt drawn to the negative energy that was in front of him.
Some people believe the locksmith opened some sort of gateway to the past and gave the spirits trapped there a way to get out.
Hauntings in Cell Block 12
Cell Block 12 is believed to be haunted by a ghost. Witnesses describe him as being a very dark, human-like figure who stands still and quiet – until you get too close, whereupon he disappears.
Each person who has seen him reports a sense of malevolence and anger emanating from him, with some saying they felt physically sick after their experience. Other reports from Cell Block 12 include the sound of someone laughing quietly. Some people have said they have heard whispering.
Shadows, Figures, Cold Spots and Voices
Visitors have said they have been convinced they have seen shadows or apparitions out of the corner of their eyes.
These shadows would dart away and disappear into other cells. A number of volunteers at the prison have reported seeing figures walking along the corridors – when there is no one else in the building…
The Death Row area of the prison has also had its fair share of sightings, as has the guard tower.
The figure who haunts the guard tower is thought to be a man who was murdered by an inmate while on duty.
This man doesn't move or do anything, but just stands there, guarding the prison even in death… Others working inside the prison have mentioned cold spots that they can't explain and hearing weird noises coming from inside the prison, even when it is empty.
People have heard footsteps or the sound of someone sobbing coming from inside closed cells.
Some people have even recorded strange voices and Electronic Voice Phenomena (EVP) during their visit and said they had found orbs and weird shapes in their photographs that they are at a loss to explain.
Got something to say about this case? Leave a comment or get in touch if you have new information or media you think we should add.
Videos
Photos
This slideshow requires JavaScript.
Where to find
Explore
In the media
Ghost Adventures Season 2 Episode 5 on Travel Channel.
Ghost Hunters Season 1 Episode 5 on Syfy.
Fear Season 1 Episode 7 on MTV.
Most Haunted Live! USA special event, June 1 2007.
Twelve Monkeys (1995 movie) — filming location.
Animal Factory (2000 movie) — filming location.
Transformers: Revenge of the Fallen (2009 movie) — filming location.
The Suffering on Playstation 2 — includes documentary on Eastern State Penitentiary.
Punk Rock Girl (Dead Milkmen music video) — filming location.
Alpha Girls (2013 movie) — soundtrack recording location.
Inside America's 'most haunted building' — Daily Mail
17 spooky photos of Philadelphia's Eastern State Penitentiary — Mental Floss
Is Eastern State Penitentiary Really Haunted? — NPR
The 10 most haunted places in the world — Monsters & Critics
Links
References
www.ghost-story.co.uk, Eastern State Penitentiary, Philadelphia, USA, accessed July 12 2017.
www.thoughtco.com, Haunting Ghost Stories of Eastern State Penitentiary, accessed July 12 2017.
https://www.insider.com/eastern-state-penitentiary-philadelphia-tour-2019-7#as-my-tour-of-the-eastern-state-penitentiary-came-to-an-end-i-was-left-with-a-chilling-feeling-28, "I toured the abandoned Eastern State Penitentiary in Philadelphia, and what I saw seriously creeped me out," accessed January 31, 2023.
Entry Details
Published
Last modified on January 31st, 2023 at 5:14 pm
Comments