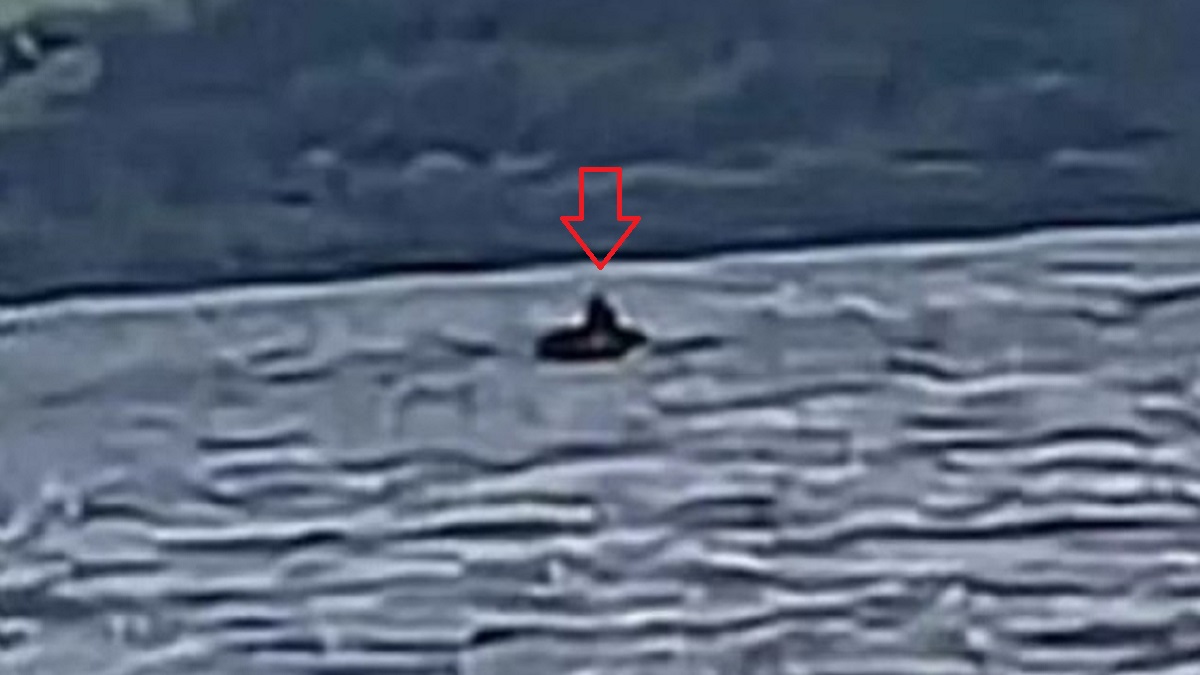 A family encountered the Loch Ness Monster while vacationing in the Scottish Highlands. Pic credit: via Daily Star/Twitter
A family vacationing in the Highlands of Scotland is the latest to report sighting the Loch Ness Monster.
During a boat trip across the famous Loch Ness, south of Inverness, Steve, his wife, and children reported sighting the mysterious cryptid surfacing.
Steve snapped a photograph of the dark shape that he believed to be Nessie.
He showed the boat captain the photograph. He was impressed with the quality of the photo and urged Steve to submit it to the Official Register of Loch Ness Monster Sightings.
Nessie researcher Gary Campbell manages the register.
The register has kept records of reported sightings since 1996.
A 'black shape' surfaced from below calm water
Steve and his family from Manchester visited Loch Ness on Thursday, August 17.
The boat trip across the lake was nearly over, and they were returning to the dock on a calm day when they suddenly saw the water heaving about 200 meters ahead.
A mysterious black shape emerged at a spot in the direction of the Urquhart Castle.
"All of a sudden I saw this black shape. It was a bit of a distance away, about 200 meters, near Urquhart Castle," Steve said, according to the Daily Star.
The shape appeared momentarily. It seemed to be the head and back of a humped creature.
The 44-year-old had his camera ready. Before it disappeared, he managed to snap a photo of it.
Spate of Nessie sightings
The sighting comes after Paranormal Papers reported that the prolific Nessie hunter Eoin O'Faodhagain captured footage allegedly showing Nessie stalking a boat on the lake.
The video showed a dark mass drifting in the water.
O'Faodhagain previously reported sighting what seemed to be two Nessies sharing the lake. The alleged discovery led to speculation that the Nessie may have found a mate.
Nessie hunters claimed they found the cryptid's lair
The latest sighting also comes after Nessie hunters claimed they discovered a network of underground caverns that could be the monster's hidden lair.
According to the hunters, the caves were part of a system of interlinked underground caverns. Passages with multiple entrances connect the spacious caverns.
The caverns could explain Nessie's elusiveness, the monster hunters suggested. Nessie stays out of sight by hiding in deep and inaccessible spaces.
Big Search for the Loch Ness Monster
Meanwhile, a search for Nessie organized by The Loch Ness Centre in Drumnadrochit and the Loch Ness Exploration started on August 26. It ends on August 27.
The organizers said the search, employing drones with infrared devices and hydrophones, was the biggest since the Loch Ness Investigation Bureau in 1972.