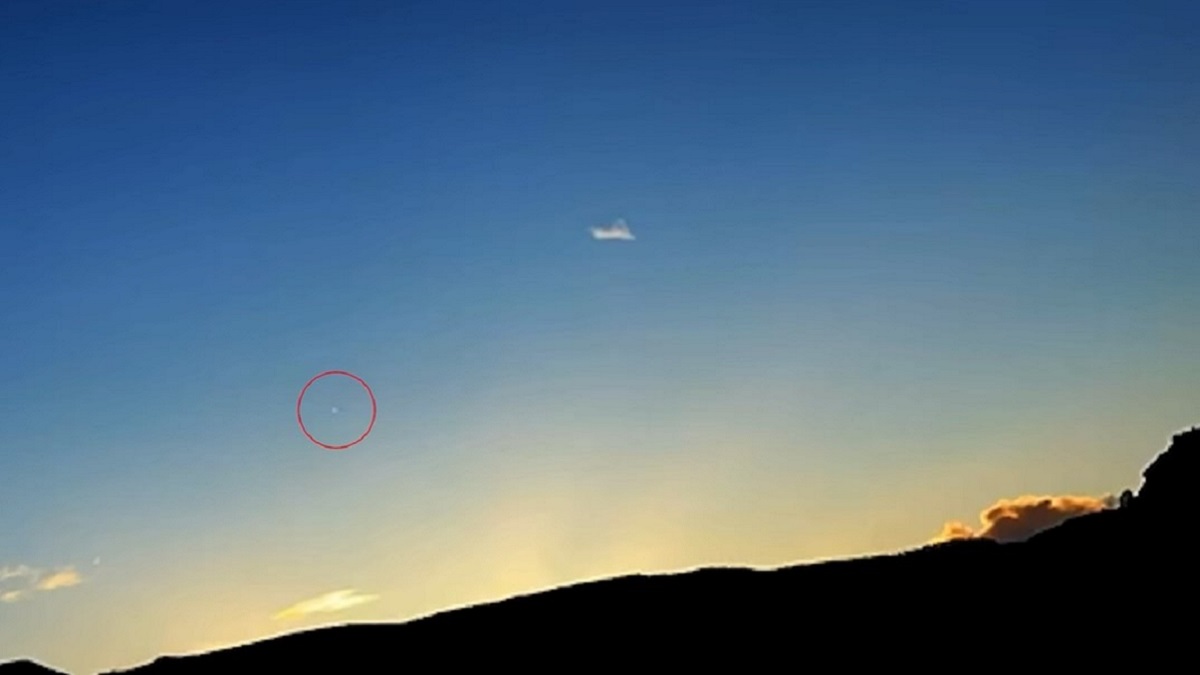 Former US Navy Seal Shawn Ryan filmed a UAP over Sedona, Arizona. Pic credit: Shawn Ryan Clips/YouTube
Former US Navy Seal Shawn Ryan reported filming a bright dot UAP over Arizona.
Ryan, a military veteran best known for his Shawn Ryan Show podcast, claims that while hiking in the Arizona desert around Sedona, he saw a strange object in the sky above.
The encounter made a deep impression on him and made him a believer.
Ryan captured a UAP on his iPhone
The sighting occurred at dawn while he was hiking near Sedona, Arizona (see video below).
Ryan prepared before dawn to capture a video of the sun rising in the east over the famously picturesque Sedona landscape.
He said it was dark and the stars were twinkling in the skies when he started filming a time-lapse video of the sunrise.
Just before sunrise, he saw light rays peeking from behind the horizon, so he knew exactly where the sun would appear. He started filming as the stars and moon faded while the sun lighted the sky.
As he looked over the horizon, he saw a UAP appear in the sky.
Ryan first thought it was an airplane passing
The former CIA contractor said that when he first noticed the strange object in the sky, he thought it was just an airplane approaching.
But he noticed that despite the apparent high altitude, the object had no vapor trail.
He tried shifting his position to get a different angle of the object, but it seemed to hover at one spot, like a bright dot in the sky.
Mysterious bright dot UAP in the sky
He turned away from it for a moment, and when he looked back, it had disappeared.
Thinking it was probably only a momentary illuminated spot in the early dawn, he ignored it and focused his attention once more on capturing a time-lapse video of the sunrise.
But as the sun rose in the sky, the object appeared once again. It was nothing impressive or dramatic, just a bright dot in the sky.
He admitted that he didn't know what it was, what it stood for, or how to interpret it. But he knew it wasn't just an optical illusion but a UAP.
Former Marine reported sighting a military UFO in Sumatra
Paranormal Papers reported that Ryan previously interviewed Michael Herrera, a former Marine who claimed he stumbled upon a group of US black ops officers operating a football field-sized flying saucer in the Sumatran jungle.
Herrera claimed that he and his military unit from the 31st Marine Expeditionary Unit were participating in a humanitarian mission after a devastating earthquake in the Sumatran region of Indonesia in 2009 when they chanced upon the alleged UAP.
The "men in black" guarding the UAP were reportedly hostile toward them. They surrounded Herrera and his colleagues and matched them away from the clearing in the forest near Padang City.
They threatened the soldiers with arrest and prosecution if they ever reported what they saw in the Indonesian jungle.
Former Navy pilot claimed UAP sightings not rare but routine
The latest report also comes after former Navy pilot Ryan Graves testified before the House Oversight Committee hearing that UAP sightings were not rare or isolated among commercial and military pilots.
He claimed that pilots routinely reported encountering UAPs while flying.
Graves is the executive director of Americans for Safe Aerospace and a former Navy F/A-18F Super Hornet pilot.
He served with the Red Rippers (Strike Fighter Squadron 11/VFA-11) in 2012 aboard the USS Enterprise (CVN-65) during Operation Enduring Freedom. He also served on board the USS Theodore Roosevelt (CVN-71) as part of Operation Inherent Resolve in 2015.
The former military pilot claimed that while attached to the Naval Air Station (NAS) Oceana, Virginia Beach, members of his squadron routinely reported sighting UAPs he described as a dark grey or black cube inside a clear sphere.